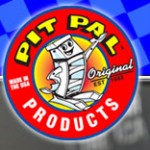 Made in the USA, Pit Pal Products now has nine ways to store aerosol cans and keep workspaces neat and organized, including the newest aerosol can solutions: 18- and 24-Can Vertical Aerosol Racks.
Great for use in trailers, shops or garages, these wall-mounted Pit Pal products neatly store brake cleaners, degreasers, spray paints, polishes and more; even cold beverages! Dimensions: 32"H x 5"D, with widths varying with amount of can storage.
Let Pit Pal Products outfit your garage, shop or trailer needs.
Call Pit Pal at 1-888-748-7257 or visit online at www.pitpal.com for more information.