PDRA's Switzer Dynamics Pro Nitrous presented by MoTeC class has always been a fan favorite, but in recent years has gained even greater popularity as the class develops more of an elite status. Just qualifying for an event puts racers in an exclusive club thanks to the tightest competition of any class in the PDRA. On race day, it would be no surprise to see any of the 16 qualifiers make it to the final round. The field is often separated by less than a tenth. These flame-throwing cars of all makes and models capture the attention of fans while the larger-than-life personalities behind the wheel capture their hearts.
Inspired by PDRA fans and racing community, NITROUS WARS began as a grassroots movement in which word-of-mouth exploded around drivers, teams and engine builders. And so, PDRA embraced its "race within a race" to make Flatout Gaskets NITROUS WARS official.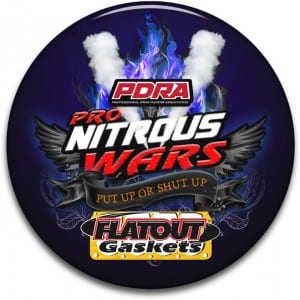 In 2016, PDRA will present the Low Qualifier of each race with the coveted NITROUS WARS nitrous bottle trophy. Not unlike the NHL Stanley Cup, each driver and/or team will take the nitrous bottle home for the month. It will be theirs to bedeck how they choose with written messages, decals, etc. Expect to see this coveted trophy photographed in precarious places, seen throughout social media, and hoisted with all the bragging rights it affords. The trophy will be returned at the following race to be presented to the next Low Qualifier. This will continue throughout the season and the driver with the most low qualifying runs for the season will keep the nitrous bottle trophy and secure their place in nitrous history as "The PDRA 2016 Quickest Nitrous Driver in the World."
"All you hear over the winter is everyone working on their engine program, making it better," stated Lizzy Musi, who not only holds the MPH record, but is also one of the few females to make a bid in Pro Nitrous. "In the Musi camp I know for sure we have picked up some horsepower over the past few months. My dad has been working day and night trying to make his stuff faster. I think this year we will have some tight races and some new records in the nitrous category. As the MPH record holder, I am hoping to clasp onto it and take the E.T record as well! It's all about hard work and determination, and a good working race car! Nitrous Wars will for sure bring some excitement to the table!"
"Controversy is great for the sport of drag racing," added Jay Cox, who has been vocal during the offseason about his plans to dominate in 2016. "I love controversy. I love smack talk. I love everybody on the edge. I don't want anybody getting their feelings hurt, but no matter what anyone wants to say, controversy is good for the sport. It gets the fans involved. I'm looking forward to it."
The 2016 NITROUS WARS is presented by Flatout Gaskets, a division of Flatout Group. Flatout Gaskets provides proven performance in race engine applications with premium designs, outstanding engineering, materials and coverage.
"Flatout Gaskets is proud to be backing this increasingly exciting class and Nitrous Wars program for 2016," stated Flatout Group's Mark Adelizzi. "I personally hope this traveling trophy becomes the Stanley Cup of Drag Racing. We'll also be sending over a bottle of champagne for the winning race team!"
The NITROUS WARS begin at the PDRA Series Open in Tulsa, Oklahoma at Tulsa Raceway Park. Everyone will be looking to start the season off well, hoping to be the first-ever to lay claim to the coveted nitrous bottle trophy. Two of the class' biggest smack talkers have even more at stake as they prepare to duke it out in a special grudge match. Jay Cox and Tulsa Raceway Park co-owner Keith Haney have been touting their programs all offseason long, but now it's time to put that talk to the test.
Tune into the PDRA MotorMania Live Feed to watch the Cox/Haney grudge play out live March 10-12. Watch round by round qualifying competition to see who will be the first ever NITROUS WARS trophy holder. And don't miss live eliminations as the 2015 Champions seek to defend their titles. View the event page for more information.