In only their second season as the world's premier eighth-mile drag racing association, the PDRA is already expanding their class line up. Pro Open Outlaw will debut at select events on the PDRA tour in 2015 with an eight car field. Powershield Coatings, a division of Toefco Engineered Coating Systems, has stepped up to sponsor the class.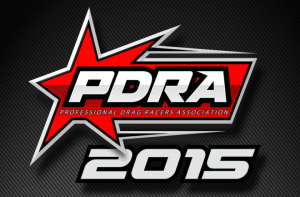 Pro Open Outlaw (PO) will be a unique addition to the PDRA lineup of professional categories. As signified by the class name this will be a true outlaw class, open to dragster and altered body types. Few rules will govern the class. Other than the obvious SFI safety standards, rules include 14-71 blowers only- cast or billet. Screw blowers are prohibited, as is nitromethane. Transmissions must use torque convertors. Turbos are limited to 88mm. Wheelie bars are required. Pro Open Outlaw will operate on a pro ladder with a .400 pro tree. Weights have been set at 1700 lb minimum for small blocks and 1900 lb minimum for big block entries.
"We're excited about creating new classes for the PDRA, as we did last year with Pro Boost," stated PDRA Race Director Bob Harris. "Pro Boost was a huge success and we're sure Pro Outlaw will be as well. New ideas like this make the show more exciting."
This new professional category will be featured at the Spring Nationals (Rockingham Dragway, April 9-12), the Summer Drags (US 131 Motorsports Park, June 25-27), a new stop on the PDRA tour at Maryland International Raceway, July 16-18, Dragstock (GALOT Motorsports Park, September 11-13), and the season finals at Virginia Motorsports Park, October 22-24.
Artie McElwee, owner of Powershield Coatings, was instrumental in founding the PDRA's sixth professional category. Besides being a businessman of the sport, McElwee is a die hard drag racing enthusiast and has fielded an outlaw dragster since the early 1990s. The Powershield Coatings dragster is driven by Artie's brother Mark while Artie manages the team and assumes tuning duties. The team has been highly successful in their tenure, most recently winning the Outlaw World Championship in Bradenton last year.
"We decided as a company and a family to sponsor this class to allow not only ourselves a place to race but many other great teams and families," expressed McElwee. "Having various styles of cars with some rules, nothing complex to manage, is like the old Super Eliminator days in another sanctioning body – run what ya brung type. We do not want this class to get out of hand cost wise and want this to be an attractive class for many people to race. We're looking forward to seeing it contested."
McElwee will compete with his team in 2015, as well. "We will field my dragster at all five races," he continued. "I have been blessed to have my brother Mark drive it for many years as I tune and manage the team, which by the way is nothing but a class act! We're a bunch of friends and family who just truly love to compete where you can have fun at the same time. We call it tailgating with a race car."
Powershield Coating's parent company, Toefco, has nine divisions in all and serves industries from A-Z. "Our industrial coatings menu serves all of them," explained McElwee. "Not just for motorsports, it goes way deeper, right down to the hotdog rolling machine in the concession stands! Our philosophy is simple, we combine diversification with innovation and state of the art coating techniques, applied by the best people we can find to serve our customers. And let me tell you for 60 years we have done something right!"
National event winners in Pro Open Outlaw will receive $3000.00. Runner up will take home $1500.00 Semi-final payout is $750.00 and first round losers receive $500.00. Interest in the class is already growing. Bama Boys Racing in conjunction with Kelly Trucking have stepped up as an associate sponsor for the class and Rage Fuel Systems have come on board and will sponsor a PO Number One Qualifier Award in the amount of $300.00 at each of the five events. Racer interest is also showing early promise for great fields that will provide exciting competition for racers and fans alike.

For full details and class rules visit www.pdra660.com.