Adding to the excitement leading up to the Professional Drag Racers Association (PDRA) debut at the all-new GALOT Motorsports Park for Dragstock XIII, Pat Musi Racing Engines has announced an incredible contest to be held at the event.
Musi will be raffling off one of his complete 565 cubic inch carbureted engines specially designed for bracket racers. The grand prize winner will also receive a certificate good for $500 worth of Lucas Oil products, and the winners of the second and third place drawings will each receive $500 cash.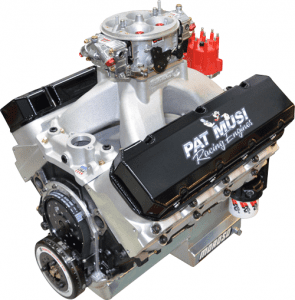 To purchase raffle tickets, contact Mason Harris at (804) 641-8999. Cash, check, or money order will be accepted. Tickets will also be available at the Musi Racing trailer beginning Thursday, September 8 during the Thursday Thunder test session at GALOT Motorsports Park, and sales will continue until the conclusion of the last round of qualifying on Saturday. Tickets are $100 each and there is no limit on how many can be purchased by each individual. As long as the minimum of 165 tickets have been sold, the drawing will be held and winners will be announced before the start of eliminations on Saturday, September 10. If the minimum is not met, the raffle will continue through the PDRA Sunshine State Shootout in Bradenton, Florida. If the minimum still is not met by the start of eliminations at the PDRA World Finals at Virginia Motorsports Park on October 22, all ticket purchases will be fully refunded.
The Musi 565 boasts 1000HP and features the following top-notch components hand-picked by Pat Musi:
Dart Big M block w/ splayed caps
Manley 4340 crankshaft, 4.250" stroke
Manley H beam rods
Clevite 77 H series bearings
Musi design Diamond pistons
Total Seal Hellfire ring set
Musi/Bullet roller cam
Bullet lightweight lifter set
Jesel sportsman belt
Edelbrock/Musi 24 deg. CNC heads
Manley Nextek springs
Manley titanium retainers, 10 deg keepers
Severe duty valves
Jesel rockers
ARP stud kit
Edelbrock Big Vic Dominator intake, CNC matched and ported
Moroso Stroker steel oil pan
Moroso prepped 77 HV oil pump
ATI balancer
APD 1150 carburetor
MSD billet distributor
MSD spark plug wires
Completely assembled & dynoed
The engine normally sells for $17,999 complete, but it can be one lucky winner's for only $100.
"We truly value the sportsman racer and have several engine packages that suit their needs," Pat Musi said. "The 565 is one of our best sellers, and you simply can't beat the quality of the engine. It's a sportsman engine with a Pro Mod pedigree. You'll get the same service and support as our championship-winning Pro Mod and Pro Nitrous racers.
"This is something I came up with to help boost the excitement for the race at GALOT, which will be a great one and it's really our home track now so I wanted to do something for the local racers," Musi continued.