When widespread polio vaccinations were becoming popular in the 1970s, there was a one in 2.4 million chance that the oral vaccine would lead to paralytic polio. At 2 years old, Jamie Fowler was that one in 2.4 million. He was at first paralyzed from the neck down, then only his right leg was damaged after his fever broke. By the time he reached middle school, Fowler's back and hip had deteriorated to the point he required a wheelchair to get to school. When his classmates were trying out for the football team, he was stuck on the sidelines.
"Growing up in school with a physical handicap, I always wanted to be that quarterback or that star baseball player," Fowler remembers. "I wanted to do all those cool things and I never could because my leg always held me back."
Today, Fowler isn't letting his handicap hold him back from living his dream of racing fast doorslammers. He's competing in the PDRA's MagnaFuel Top Sportsman, wheeling a Tommy Mauney-built '63 Corvette tuned by Pro Nitrous veteran Todd Howard and powered by a nitrous-assisted Fulton 738 ci engine.
"When we shut that car door, for those few brief seconds going down the track, I'm as equal as anybody out there," Fowler says. "I don't have a physical handicap. My leg does not hold me back. In a sense, for those few seconds, I'm the quarterback. It's an adrenaline rush. It's good for the soul."
Fowler realized at an early age that a strong mindset could help him overcome some of the limitations forced upon him by his underdeveloped leg. He started spending his evenings in the weight room of his local gym, gradually building up strength in the parts of his body that hadn't been affected by polio.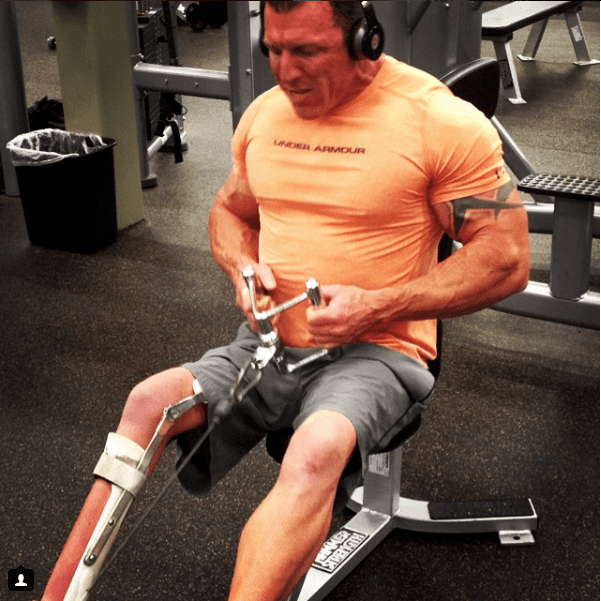 "Polio is a muscle disease. It eats muscle," Fowler explains. "If I sat around and tried to be a couch potato, the muscle is going to deteriorate a lot quicker. In my mind, in order to combat the post-polio effects that happen later in life, I said, 'Well, if it wants muscle, I'm going to give it muscle.'"
After countless hours of training sessions, Fowler's gym buddy encouraged him to enter a bodybuilding competition. Never one to back down from a challenge, Fowler got a spray tan that Friday and was on stage Saturday morning competing against some of upstate South Carolina's best bodybuilders.
"I got on stage and for those few seconds when I walked out on stage, it made everything feel normal," says Fowler, who finished in the top 10 in his first competition. "The adrenaline rush, the lights, the crowd – it's a lot like drag racing."
Fowler enjoyed an illustrious career in bodybuilding, even striking up a product endorsement deal with Jay Cutler's Cutler Nutrition supplement line and placing solidly in the Arnold Classic, Arnold Schwarzenegger's world competition in Columbus, Ohio. But Fowler ultimately found that his handicap would only let him go so far in the bodybuilding world.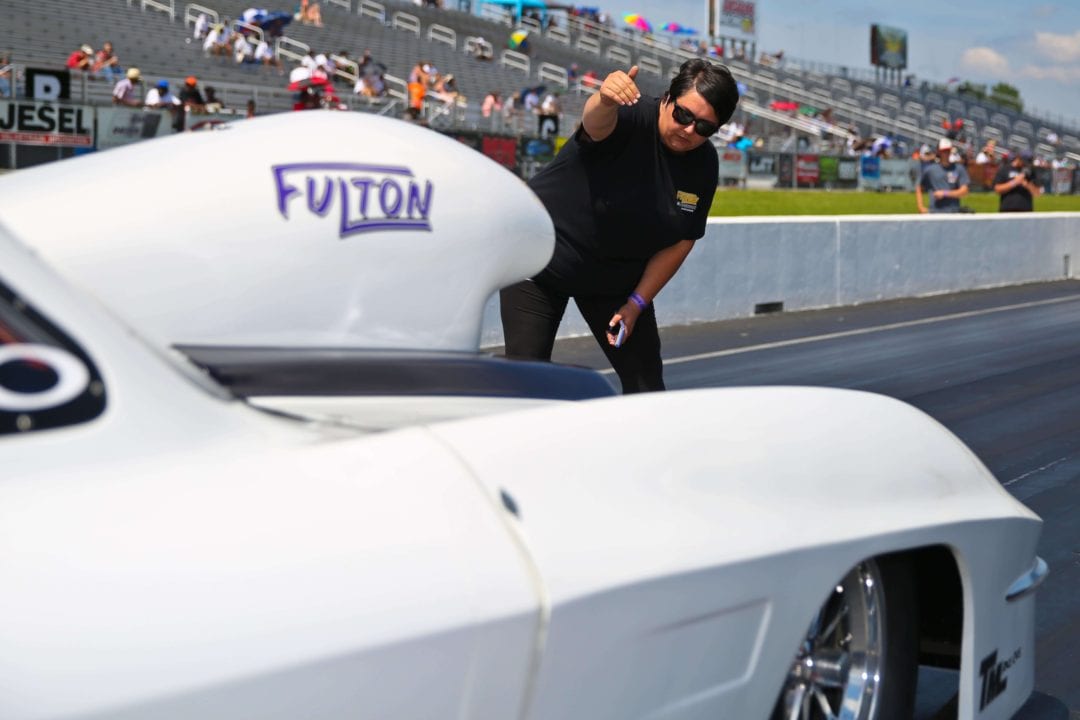 "Sure, I looked great on stage and I was proud of myself and the hard work, but bodybuilding is a very subjective sport," Fowler says. "I was a crowd favorite – I lit up the crowd when I came out – but it was because of the challenges I overcame in life to get there. I totally get that and I appreciate it, but at the end of the day it comes down to the scorecard."
Rather than accepting defeat, Fowler decided to take on the challenge of returning to his first love: drag racing. He had sold his Rick Jones-built Top Sportsman 2001 Camaro when he started a family with his wife, Kelly. The void created by selling out of racing was filled by competitive bodybuilding. When that chapter in his life started to close, Fowler and his family chose to go all-in on the drag racing dream.
"We made a lot of sacrifices to put this deal together," Fowler admits. "We sold our lake house, bought a smaller farmhouse out in the country and just downsized our lifestyle to be here with my family and friends. To me, everyone in the drag racing world is family. It doesn't matter if it's PDRA, IHRA, NHRA – the drag racing family is second to none. It's worth the sacrifices for me and my family to be here."
Fowler fields his split-window Corvette with the assistance of a team made up of family and friends: his wife, Kelly; aunt Deena Totherow, crew chief Todd Howard and his daughter Courtney; childhood best friend Danny Sinclair; and Drew and Austin McClure.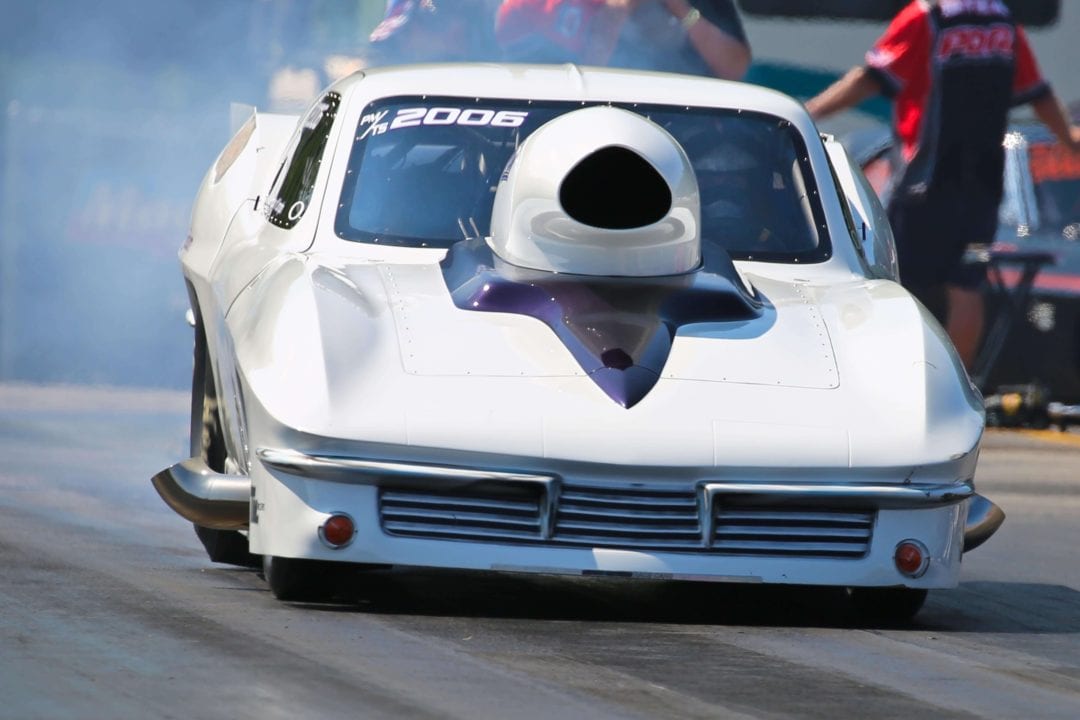 "I can't say enough about how much I appreciate everybody," Fowler offers. "It's a total team effort. I feel bad sometimes because there are still some things with crewing the car that my leg prevents me from doing. I couldn't pay these guys enough money. When they say the car is ready, it's ready. I don't have to second-guess it. That takes a lot of pressure off me."
Moving forward, Fowler dreams of joining his childhood heroes in Pro Nitrous or Pro Modified, but he understands the challenges that come with competing with the quickest and fastest doorslammers on the planet. He also realizes his physical limitations will catch up with him again, but he's going to do his best to keep outrunning them, doing it all with a beaming smile on his face.
"I'm living life in reverse, so to speak," Fowler says. "I started life in a wheelchair and was given the ability to walk again from the wonderful people at Shriners Hospital – the official charity of the PDRA, where I was a patient for two solid years. I rolled in the doors in a wheelchair and walked out on a walker two years later.
"We are constantly battling a clock. With my polio and the deterioration of my muscles, I will eventually wind up back in a wheelchair. Therefore, we are going to live our dreams until that day comes."
This feature appeared in the September 2018 Issue of DRAG ILLUSTRATED (No. 136). To subscribe please visit www.dragillustrated.com/subscribe.