Australian powerhouse racing component manufacturer, Noonan Ultimate Race Engineering, are acknowledging their support for the inaugural Drag Illustrated World Series Of Pro Mod presented by One Cure and J&A Service in a major commitment to the Series.
Recently expanding their operation to the USA, NRE are proving their ongoing commitment to the sport of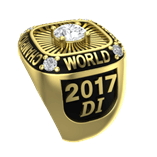 drag racing across the globe. Business Principal & Creative Director Renee Noonan has designed a championship ring befitting the winner of the "Prestigious and thoroughly entertaining Pro Mod Drag Racing Series – The Ultimate Event in the History of the Known Universe".
"The ring itself, I'm pretty excited about. It's something I personally designed," revealed Renee, "With the thought in mind that this is akin to the 'Super Bowl Of Drag Racing' and we are so honored to be a part of this event."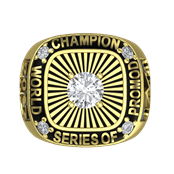 The ring has some very specific design ideas within it. The gold lines represent the total passes at the event. The four corner diamonds signify the four rounds of racing. And the centrepiece 1 carat diamond aligns with the $100,000 winner-takes-all ideal. It will be a truly lasting memento for the winner of Drag Illustrated's very first Championship event. In his recent Facebook Live interview with Renee (below), event organiser and promoter Wes Buck described the ring as "breathtaking". "I thought that $100,000 was a big deal but you know how those racers are, they want that hardware," Wes explained further.
Renee will be at the WSOPM to watch the 16 cars go all out for the Noonan Ring. She hopes to meet the competitors and their crews throughout the event, and will be available to discuss how Noonan Ultimate Race Engineering can assist racers to achieve their goals. "Each of our racers all have individual needs to achieve their dreams and here at Noonan Engineering we ensure that our customers have a voice in addressing those needs, wants and budgets." Renee said. "So don't be shy, come over and say G'day."
For the opportunity to win Free Double Pass Tickets to this amazing event, head over to the Noonan FB page ASAP to enter the competition. (Entries close Friday July 21st at 9pm CST.)