One season; six races; six final rounds; three number-one qualifiers; three wins; three runner-up finishes; both ends of the national class records. The series' points championship. These are the kind of stats and accomplishments that any seasoned driver would be thrilled to call their own, but they belong to 18-year-old Haley James, who just finished up her rookie year in NMRA ProCharger Coyote Modified.
Based out of Albuquerque, New Mexico, James is part of Hellion Racing's "B-Team" and the daughter of Hellion Turbo co-owner Dwayne James. When she's not busy obtaining her business degree at the University of New Mexico, working her day job, or promoting her budding singing career, James can be found at the track or in the shop, working hard to stay competitive.
"I used to go to test and tunes when I had a Jr. Dragster, but my first time driving a race car was at Frank Hawley's," James explains of her limited experience on the track. As a Christmas gift, she was enrolled at Frank Hawley's Drag Racing School, where she learned a lot in a short amount of time and the experience further solidified her passion for motorsports. After her initial session in December 2014 was rained out, James returned to Hawley's in January this year to obtain her competition license.
James' current '91 Ford Mustang was put together by Behind Bars Race Cars and is powered by a potent 302-cubic-inch Coyote motor built by Modular Mustang Racing with the requisite Hellion turbo kit based around a single Precision Turbos 68-millimeter turbocharger. The team also receives support from DiabloSport, UPR Products, MSD, Spearco, Basani, and two local New Mexico shops, Dyno Edge and Yearwood Performance. Dwayne James manages the tuning duties for his daughter.
James' car ran so well and so consistently throughout the year that she and her team did very little work to it other than general maintenance work and a little bit of testing here and there. "We kind of just keep throwing little bits of something in the tuning and seeing what it does," she says.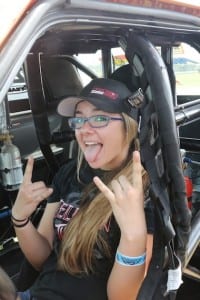 James' rookie season began in March at Florida's Bradenton Motorsports Park with the 21st annual Nitto Tire NMRA Spring Break Shootout. She quickly proved her worth by qualifying second in a highly competitive field with an 8.31 at 164.02-mph pass. On a separate qualifying run, however, she clocked a trap speed of 166.02 mph, which reset the class record. She then went on to cruise through eliminations until settling for a runner-up finish in the final round.
The following month, at the 7th annual Borla Exhaust NMRA/NMCA All Star Nationals at Atlanta Dragway in Commerce, Georgia, James again qualified second with a best run of 8.41 at 164.63 mph. "My dad is trying to make it go as fast as possible and played with the computer a little," she shares. "It was hot, so the track wasn't cooperating, and we put it back to our regular tune after I spun on one of the qualifying runs."
Although she didn't improve upon her Florida numbers, James more than made up for it in eliminations. She wound up taking home the overall win for the weekend and for the first time got to have her photo taken in the Aerospace Components winner's circle. "It felt so awesome. I knew it when I was driving down the track on the last pass, and I started yelling in the car I was so happy," the young woman remembers, laughing.
After two great starts, James was quick to dismiss any naysayers who chalked her initial performance up to beginner's luck. Just a few weeks later was the 15th annual SCT NMRA Ford Nationals at Maryland International Raceway, where James continued to make her mark as one of the top contenders in the class. She picked up her first number-one qualifier with a blistering 8.18 at 165.86 mph to set the elapsed time record for the class, and then wrapped up her weekend with another solid runner-up finish.
In June, James headed to Summit Motorsports Park in Norwalk, Ohio, for the 12th annual McLeod Racing NMRA Ford Super Nationals. She continued her hot streak and absolutely dominated the ProCharger Coyote Modified class that weekend. Not only did James take the number-one spot in qualifying with a class-leading 8.40 at 162.12, she also got her second big win of the year. "On the first test hit I blew the tires off," she recalls. "My dad threw a lot of power at it to see what it could handle, but we got it figured out by the end."
With an incredible season already under her belt, the next stop on James' NMRA calendar was the 10th annual Nitto Tire NMCA/NMRA Super Bowl of Street Legal Drag Racing at Route 66 Raceway in Joliet, Illinois. There, she was number two in qualifying again with an 8.32 at 164.37 effort. She went on to win for the second race in a row and her performance there earned her the right to compete in the special Super Bowl race where she faced NMCA racer Don Baskin.
"I was lucky that I was the slower car because I got to leave first and I didn't have to focus a thousand times harder on the tree," she recalled of her Super Bowl experience. "I cut a decent light, matted it, shifted into second, saw the win light come on and I was like. 'WHOA, that's awesome!'"
Her excitement was short-lived, however, as James' car shut itself off almost immediately after crossing the finish line. Knowing that usually means big trouble; she quickly pulled off to the side and brought the car to a stop. "The fire guys ran over and saw something leaking. I popped the hood, and it ended up just being a stupid oil breather tube screwed into the top of the valve cover that got loose," she notes, grateful the problem was a small one. When the panic abated, James got to do something many NMCA/NMRA racers only dream of: she picked up her blinged-out Super Bowl winner's ring. "It was like, 10 sizes too big for me, but I wanted that ring so bad," she says happily.
To finish out her already storybook season, James and the Hellion B-Team made the trek to Bowling Green, Kentucky's Beech Bend Raceway Park for the 17th annual Nitto Tire NMRA World Finals. There, James poured every ounce of her dedication into qualifying and it paid off with the number-one qualifier after she posted an 8.29 at 162.63 mph run. The pressure was on to perform well in eliminations at the last race of the year and James didn't disappoint when she added another runner-up result to her résumé.
The succession of top finishes all season long earned James the 2015 ProCharger Coyote Modified season championship, an accolade that many racers spend an entire career chasing. The talented young woman has trouble articulating how ecstatic she is to have had such an amazing first season, because even she is surprised at how successful she's been.
"It's so surreal, honestly," James confesses. "This has by far been the craziest year of my life. From never sitting in the driver's seat to winning a championship seven months later, words can't express how grateful I am to everyone who's been a part of this."
Despite her tender age, James is mature enough to recognize her success is the culmination of the hard work and dedication of many others.
"It's cheesy, but the B-Team is like my family. I couldn't do this without them, my dad and my sponsors," she says. "The most important thing to me is not the winning or the points or the records, but about whether or not I'm living up to the expectations of what my team and my dad wants."