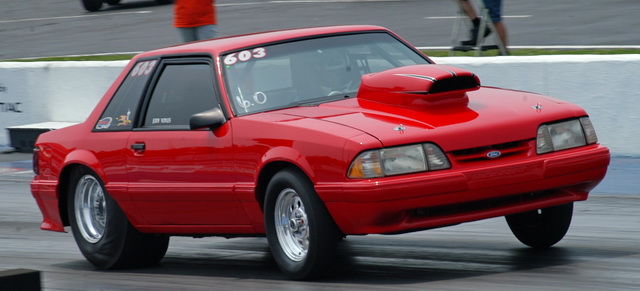 Do you think your manually shifted Ford-powered street machine is one of the quickest in the country? Here's your chance to prove it.
Long-time NMRA True Street supporter, TREMEC, in part with Muscle Mustangs & Fast Fords magazine, has announced that they will once again hold the "Stick Shift Shootout" as part of this year's 20th annual NMRA Nitto Spring Break Shootout – March 6-9, 2014 in Bradenton, Florida.
The rules are simple:
Street-type manual transmissions only
May include race-oriented modifications such as 'face-plated' or 'pro-shifted' gears
Must be hand operated via a single shift handle
Transmissions with multiple levers or air/electronic/hydraulic actuation not permitted
The staging lanes at Bradenton Motorsports Park will be bursting at the seams, as over 100 entrants will battle for top True Street honors, with the fastest eight stick shift cars receiving a special shootout plaque to recognize their prowess. From there, things will heat up, as the quickest two manual-equipped vehicles will have an all-out slugfest with a 'winner takes all' best 2-out-of-3 heads-up finale!
The winner will go home with a brand new TREMEC Magnum XL 6-speed transmission system valued at $3,500! The system fits all S197 Mustangs, easily handles up to 700 lb-ft of torque, and even comes with an SFI-certified bellhousing!
In honor of the company's 50th anniversary and to celebrate a great day of True Street racing, TREMEC will also host a Racer Appreciation Party that will take place before the True Street awards ceremony on Saturday, March 8th. Open to all True Street racers, along with their families and crew, the gathering will feature plenty of hot food, cold drinks, and good cheer.
For more information on the NMRA Bradenton, Florida event, or for True Street class rules, please visit  www.nmradigital.com/fl or call (714) 444-2426.