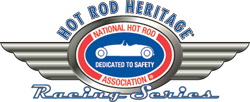 NHRA officials announced the 2014 Series schedule Nov. 9, headlined by a new event at Wild Horse Pass Motorsports Park near Phoenix that will kick off the season Jan. 10-12 featuring all Heritage Series classes.
Entering its seventh season, the NHRA Hot Rod Heritage Racing Series features Nostalgia Funny Cars and Dragsters and has become a fan-favorite touring circuit among drag racing enthusiasts across the United States.
The famed March Meet will be held March 6-9 at Auto Club Famoso Raceway in Bakersfield, Calif., followed by The Nostalgia Reunion at Sacramento (Calif.) Raceway, which has moved to early April. The first of two stops at Firebird Raceway in Boise, Idaho, the Napa Auto Parts Ignitor, will follow.
The series benefits the Wally Parks NHRA Motorsports Museum presented by Automobile Club of Southern California through three Hot Rod Reunions that are produced by the Museum.  The Holley NHRA National Hot Rod Reunion at Beech Bend Raceway Park in Bowling Green, Ky., is the first of the three on the schedule slated for June 12-14, and will be followed by the New England Hot Rod Reunion, at Epping, N.H., Sept. 12-14.  The popular California Hot Rod Reunion presented by the Automobile Club of Southern California will conclude the series, Oct. 17-19 at Auto Club Famoso Raceway in Bakersfield.
"There are lots of museums that collect a bunch of stuff, but there are only a very few small number of museums that actually go out there and do what their mission is and do it through activities like the Hot Rod Reunions," said Larry Fisher, executive director of the Wally Parks NHRA Motorsports Museum. "The money we earn at these Reunions is one of the largest sources of the Museum's funding. We have the unique opportunity not only to give back to the sport, but also give back to racers and fans by preserving our own history. It's a tool that helps keep the Museum alive, and that's a great investment if you ask me."
The Group 2 classes have been added to the event at Rocky Mountain Raceways which also has a new date in early June.  A Funny Car only event will return to Mission Raceway Park in July for its second year on the schedule before the series heads back to Firebird for its Nightfire Nationals event that features both the Top Fuel and Funny Car categories in August.
Tulsa Raceway Park (Okla.) returns as an affiliate event with its annual Nostalgia Nitro National Reunion, Sept. 12-13, that features Funny Car, A/Fuel, Southwest Jr. Fuel and Gassers.
The NHRA Hot Rod Heritage Racing Series consists of two nitro categories — Nostalgia Top Fuel dragster and Nostalgia Funny Car — and two groups of additional classes. Group 1 includes A/Fuel, Jr. Fuel, and 7.0 Eliminator, and Group 2 includes Nostalgia Eliminator I, Nostalgia Eliminator II, Nostalgia Eliminator III, A/Gas, B/Gas, C/Gas, D/Gas, and Hot Rod eliminator. Racers in each class will run a combination of events at which they will score points toward the championships.
The NHRA Hot Rod Heritage Racing Series was developed in 2008 to help preserve NHRA's rich history and tradition while providing racing opportunities for those enthusiasts who enjoy nostalgia drag racing competition.
2014  NHRA Hot Rod Heritage Racing Series Schedule
Event                                                   Location                                           Date                   Classes
Wild Horse Pass Motorsports Park  Phoenix                      Jan 10-12             TF/FC/Groups 1&2
March Meet                           Auto Club Famoso                           Mar. 6-9               TF/FC/Groups 1&2
Nostalgia Reunion           Sacramento Raceway                     April 5-6               Groups 1&2
Napa Auto Parts Ignitor   Firebird Raceway                             April 25-27           FC
Summer Kick-Off             Rocky Mountain Raceways          June 6-7               FC/Group 1&2
Holley National Hot Rod Reunion   Beech Bend Raceway                     June 12-14          TF
NHRA National Open     Mission Raceway Park                   July 18-20            FC
Pepsi Nightfire Nationals        Firebird Raceway                             Aug. 7-10             TF/FC
New England Hot Rod Reunion     New England Dragway                   Sept. 12-14         TF
California Hot Rod Reunion       Auto Club Famoso                           Oct. 17-19            TF/FC
*Nostalgia Top Fuel will count their best 5 of 6 events for points
**Nostalgia Funny Car will count their best 6 of 7 events for points
Affiliate Event
Nostalgia Nitro National Reunion              Tulsa Raceway Park         Sept. 12-13         FC, SW Jr. Fuel, A/Fuel, Gassers
Classes Key
TF – Nostalgia Top Fuel
FC – Nostalgia Funny Car
Group 1 – A/Fuel, Jr. Fuel, 7.0 Eliminator
Group 2 – NE 1, NE 2, NE 3, A/Gas, B/Gas, C/Gas, D/Gas, Hot Rod
(Schedule subject to change)