Melanie Salemi, a Top Dragster standout from Buffalo, New York, will step out of her Toyrific Racing dragster and move into the ever-popular class of Pro Mod for 2015.
The opportunity comes from Jay Santos and his Santos Motorsports Pro Mod team, based in Milton, Ontario, Canada. Santos, who has been competing in Pro Mod since 2011, will start the season with his new teammate and two brand-new '69 Camaros from Jim Salemi's G-Force Race Cars Inc. Mike Stawicki of MSR Performance will provide the supercharged power for both cars.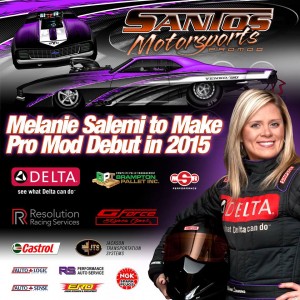 "This is a dream come true," an elated Salemi stated, "I've been working towards something like this in my racing career since I started competing. It's hard to put these emotions into words and to compete at the professional level will be a true blessing.
"I realize that I have a steep learning curve ahead of me, but I'm ready for the challenge—I have the best people surrounding me Jim, Mike, Jay, my dad Roger and my husband Jon. I can't wait to get testing the new car."
Santos and Salemi will focus on the exciting new class of Pro Boost in the PDRA. The team will also compete in Canada on the PMRA Tour, and other selected Pro Mod races throughout the 2015 season.
(Photos courtesy Melanie Salemi/Facebook)