Edelbrock is excited to expand their fuel delivery product line to include popular fuel pump and regulator combinations, all in one kit.
Edelbrock Fuel Pump and Regulator kits take the guesswork out of selecting the right fuel pump and regulator combination for your application. These kits are made up of our top selling combinations for both carbureted and EFI applications.
Fuel Pump and Regulator Kit (#17923) includes a Quiet-Flo fuel pump (#1792) and regulator (#1727). This combination flows up to 160 gph, allowing it to support up to 1,000 hp for carbureted applications.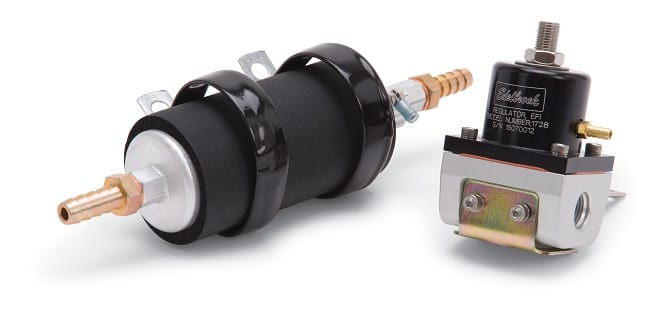 For EFI applications we have two options; Fuel Pump and Regulator Kit (#17943) which includes fuel pump (#1794) and regulator (#1729), as well as Fuel Pump and Regulator Kit (#35943) which includes our in-line street/strip fuel pump (#3594) and regulator (#1728), for a combination that flows 57 gph and can support up to 600 hp.
Features Include:
Three Fuel Pump and Regulator kit combinations to choose from
Available for carbureted and fuel injected applications from 600 to 1,000 hp
Edelbrock Fuel Pump and Regulator kits take the guesswork out of selecting the right combination
Each kit features a high quality Edelbrock fuel pump, regulator and installation instructions