Mike Murillo, best known for being a 14-time drag racing world champion and guest star on Discovery's "Street Outlaws" and Speed's "Pass Time", is about to add another major line item to his professional résumé: TV show co-host. Set to begin airing later this year on MAV TV, Murillo, along with Ken Herring of "Pass Time" and "Pinks All Out" fame, will co-host the new "House of Grudge" television show.
Grudge racing has been getting a lot of attention recently, and Murillo's new show is perfectly poised to take advantage of the popularity boom. Drivers and fans are drawn to the "no holds barred" style of racing, which often features personal battles that are almost as intense as the racing action itself.
"It's a lot like going to a street race, but you're at the track so you won't get arrested," explains Murillo, who wasn't quite sure what to expect when he first got involved with grudge racing after having been a dedicated class racer for so many years.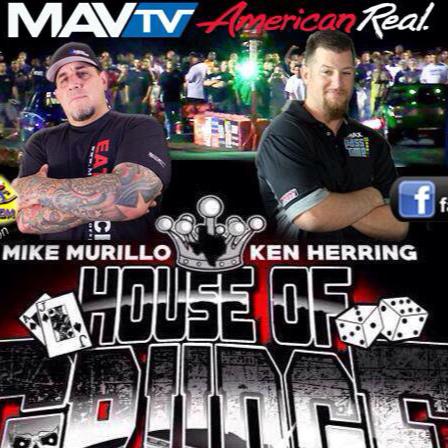 "We have a grudge race event that veteran grudge racer and promoter Atomic Dog hosts that comes through San Antonio twice a year, and I'd never even been until early 2013," he admits, noting that his first experience with grudge racing was during a private test session when he was driving Todd Moyer's Pro Mod car in Houston, Texas. They stayed late to make some runs, and Murillo was caught off guard by how many people showed up to watch the evening's grudge matches. "We were in our pit doing our own thing, and the place was packed more than any race I'd ever been to. We couldn't even get out of our pit at times. I wandered up to the starting line and there were people absolutely everywhere, even up on the starting line. It was crazy! It reminded me of my old street crazy days."
As Murillo watched the action, and recalls how confused he was at first when the scoreboards weren't displaying any times after each run. "I thought the damn clocks were broken, that's how dumb I was," he laughs, although he quickly realized that was how things were done in the grudge world. "They had two- or three-thousand people watching cars go down the track and they didn't even know what they ran. It didn't make any sense to me," he says. Later that season, though, things started to click for Murillo. He recalls being at many big-series class races with "some of the baddest mofos in the world" and saw that the grandstands were surprisingly empty by comparison.
"Some organized racing is dying for some reason," Murillo believes of the typical competitive drag racing event's predictable structure. "Short attention spans don't work well with that format of racing. Now, America has a TV show with a bunch of street racers getting 2.5 million viewers and grudge races with packed stands… I realized there was something I was missing, and I wanted to get involved."
"I am a class racer by trade, and street racer by heart. I realize that I have a long way to go to get the much needed and wanted respect from the veteran grudge racing fans and racers, but I also believe this "House of Grudge" project could turn into something huge for the grudge racing community and fan base. It's just risky enough that it could work, but not too risky that it would be deemed illegal or upset NHRA so that they'd flex their muscles and come down on us," he states.
Murillo and Herring filmed the first of six "House of Grudge" episodes on March 14, 2015 during a grudge racing event at Edinburg Raceway in Edinburg, Texas. "We wanted to get our feet wet with that race," says Murillo. "We didn't want to start filming in a major city with a bunch of people looking at us because we weren't sure how it would go, but it ended up being a huge success!" From there, a second race on March 28, 2015 was filmed at Texas Raceway in Kennedale, Texas, which was also a big hit with spectators.
Although grudge racing is conducted in a controlled environment at the drag strip, the atmosphere is still a little wild. "There are no classes. No 'small tire only' or 'big tire only' stuff," clarifies Murillo. Drivers can choose to race anyone they want, regardless of power adder or car setup. "We test all day, then we shut down just before dark and film literally nothing but grudge racing. We've got guys who bet small money and guys who bet big money – up to several thousand dollars – no fake bullshit. We make the guys show us the money before they run. It's so exciting, and the fans absolutely love it." Murillo also hints that the show is being filmed in a "good cop/bad cop" style, although he won't say which co-host plays which role.
The big question fans will want to know, though, is whether or not Murillo himself will get on the track to run some grudge races with "Lafawnduh", his turbocharged Mustang. Murillo confirms there's a very strong possibility it will happen, so long as he can find a way to overcome the logistical difficulties of managing his co-hosting duties and wrenching on the car between runs.
Although the official televised premier is still a few months away, the show's online audience is steadily growing; the "House of Grudge" Facebook page has almost 25,000 followers. Word is quickly spreading about filming of the upcoming episodes, and the buzz is getting louder and louder. When the show finally airs, it will likely be to a large and highly receptive audience. Could "House of Grudge" be the next big thing in motorsports TV? Tune in to find out!
To learn more about Mike Murillo and Ken Herring's "House of Grudge" on MAV TV, visit http://www.houseofgrudge.tv/.