The next event on the 2015 IHRA Nitro Jam Drag Racing Series schedule is the May 29-30 Summer Nationals at Cordova International Raceway in Cordova, Illinois. The historic drag strip has been a powerful Midwest player in the sport's history since it was constructed in 1956. Cordova Dragway's (as it was known then) radio commercials and its signature event – the 62-year-old World Series of Drag Racing – are the stuff of legends.
Major improvements are under way at CIR as the facility prepares for the Summer Nationals.
First and foremost is the quarter-mile drag strip itself. Milling has begun and paving, orchestrated by General Asphalt Construction of Davenport, Iowa, is scheduled for Wednesday. The shutdown area and return road also are scheduled for resurfacing.
"It's been a number of years since the track has been repaved and the new surface is likely to provide the opportunity for record-breaking runs," said CIR General Manager Bobbi Jo Cox. "We're also doing cosmetic work and painting to many of our buildings."
For fan comfort, old wooden bleachers are giving way to a new, 2,000-seat aluminum grandstand.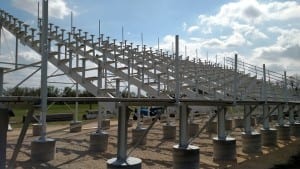 "It's nice to see tracks reinvesting in themselves and making our runs safer," said Canada's Tim Boychuk, driver of the famed Hawaiian Nitro Funny Car. "My first visit to Cordova was last year and we had a blast. Great fans and great times. I know Russell and his team will have a tremendously prepped track for us. We're ready to rock!"
"A facility that is well maintained always makes for better racing," explained Nitro Harley rider Jay Turner. "A well maintained asphalt track makes teams and racers happy. Happy teams and racers makes for happy fans. Happy fans makes for happy IHRA. That's a three-way win!"
"The Larsen Motorsports teams are ready to hit the road for our next race at Cordova International Raceway," said Jet Dragster driver and team leader Elaine Larsen. "We are excited about the new track surface and starting line. Even though jet cars do not require the same preparation as the other classes, it is great to see the improvements made by the IHRA to ensure some of drag racing's best competition."
Tickets now are on sale for the May 29-30 IHRA Nitro Jam Summer Nationals. Fans may save money by purchasing in advance at www.nitrojam.com. Children's tickets are only $10.