Lizzy Musi and Brad McCoy raced to victory Sunday for the second consecutive race at the Professional Drag Racers Association (PDRA) World Finals at Virginia Motorsports Park, winning in Switzer Dynamics Pro Nitrous presented by MoTeC and Drag 965 Pro Extreme Motorcycle, respectively. John Montecalvo won in Extreme Pro Stock during the postponed eliminations.
Pro Extreme low qualifier Terry Leggett earned the event win Saturday night when he defeated world championship runner-up Mattias Wulcan. The Andy McCoy Race Cars Pro Boost event win was awarded to 2017 world champion Jose Gonzales, who was set to face El General Racing teammate Eric Dillard in the final round. Gonzales and Dillard were unable to return for the postponed eliminations Sunday morning.
Dillon Voss went back-to-back in East Side Auto Transport Extreme Outlaw 632, winning the event and securing the world championship. Pilot Electric Outlaw 10.5 low qualifier Mike Decker Jr. also raced to victory in the class's lone appearance on the PDRA 2017 tour.
In the PDRA's sportsman classes, Henry Underwood won in MagnaFuel Top Sportsman Elite 16, Louis Ouimette won in Top Sportsman 32, and Matt Cooke earned the Lucas Oil Top Dragster victory. Tyler Rudolph won on a double breakout in the Campers Inn RV Pro Junior Dragster final round, running 7.877 to Dalton Hayes's 7.871, both on a 7.90 dial-in. The MegaCorp Top Junior Dragster win went to Kaylee Love, who defeated 2017 world champion Brayden Davis, 7.915 on a 7.90 dial to Davis's 8.947 on an 8.96 dial. Mandy Teets-Seal won the eight-round Edelbrock Bracket Bash competition.
PRO NITROUS
Lizzy Musi used a holeshot advantage to defeat two-time Pro Nitrous world champion Tommy Franklin for the second consecutive final round. Musi in Frank Brandao's "King Kong 6" '15 Dodge Dart ran a 3.686-second pass at 206.13 mph alongside Franklin's Musi-powered "Jungle Rat" '69 Camaro running 3.657 at 204.91.
"I knew I had to do my job against Tommy," Musi said. "He's been running so well this weekend. I wasn't shocked when he ran a 3.65 in the final because I knew it was coming from him. It felt good to be able to get the win on a holeshot. I just breathed a sigh of relief when I saw the win light come on."
Musi qualified No. 2 and defeated Randy Weatherford, Jim Sackuvich and John Hall on her way to the final round. The Pat Musi Racing Engines president recorded three of the fastest passes in Pro Nitrous history, tying her own national record with a 206.54 blast against Hall. Franklin was the low qualifier with his national-record 3.653, followed by a barrage of 3.6-second passes to take out James Hancock, Jason Harris and Jay Cox.
EXTREME PRO STOCK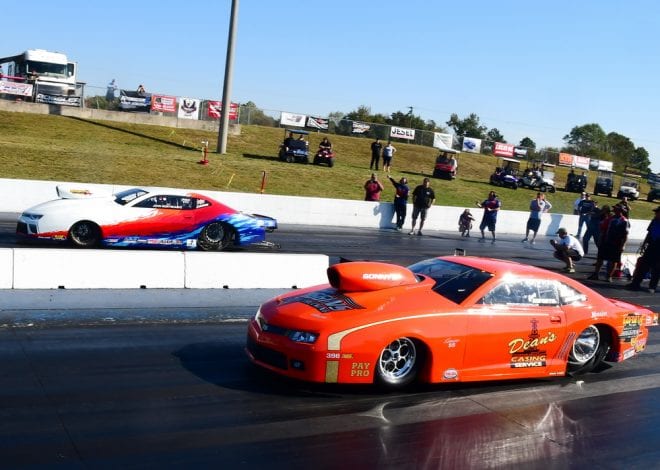 A perfect .000-second reaction time was all John Montecalvo needed to drive around recently crowned Extreme Pro Stock world champion Cary Goforth in the final round. Coming off a record-setting 4.020 in the semifinals, Montecalvo drove his Haas-built '17 Camaro to a 4.052 at 179.33 over Goforth's 4.023 at 177.95 in his Dean's Casing Service/Dewayne Higgins Trucking '15 Camaro.
"What a perfect ending to the season," Montecalvo said. "As a driver, I'm overjoyed to win on a holeshot. They're telling me now it was a .0000 light – that's really cutting it close. I felt good in the car. We made some changes to the clutch linkage for the final round. Man, it certainly reacted. Winning on a holeshot in the final round? That's the way to do it."
A two-time winner on the season, Montecalvo raced out of the No. 3 spot and raced past John Konigshofer, Elijah Morton and Chris Powers. Goforth, who secured his second PDRA world championship at the GALOT fall race, qualified No. 1 and bested mountain motor Pro Stock veterans Lester Cooper, John Bartunek and Jeff Dobbins on the way to his fifth final of the season.
PRO EXTREME MOTORCYCLE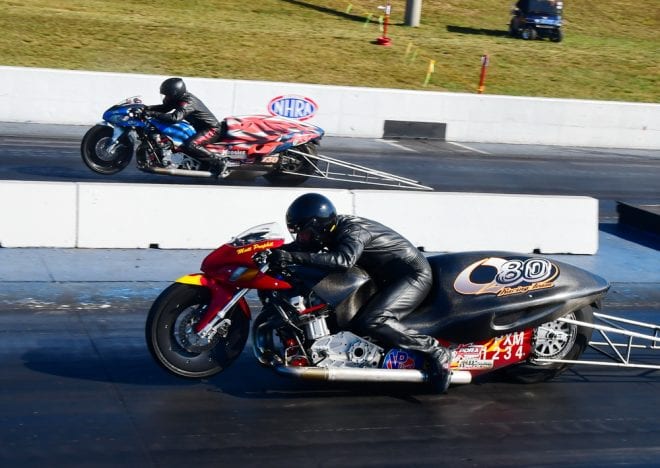 Cleveland, North Carolina's Brad McCoy earned his second consecutive Pro Extreme Motorcycle victory when he rode his Q80 Racing '15 Hayabusa to a 4.041 at 175.37 over Terry Schweigert's 4.062 at 163.97.
"To come out at the end of the year and win two in a row, it doesn't get any better than that," McCoy said. "We worked hard all year and made a lot of changes. We struggled in qualifying and started finding our problem first and second round. We just kept working at it and it paid off in the final."
McCoy, who celebrated his 38th birthday along with the win, qualified fourth before beating Shane Eperjesi, Spencer Allen and No. 1 qualifier Chris Garner-Jones. Schweigert, a Canadian dairy farmer, rode out of the No. 3 spot and charged to round wins over Terry Wynn, three-time PDRA world champion Eric McKinney and T.T. Jones.
EXTREME OUTLAW 632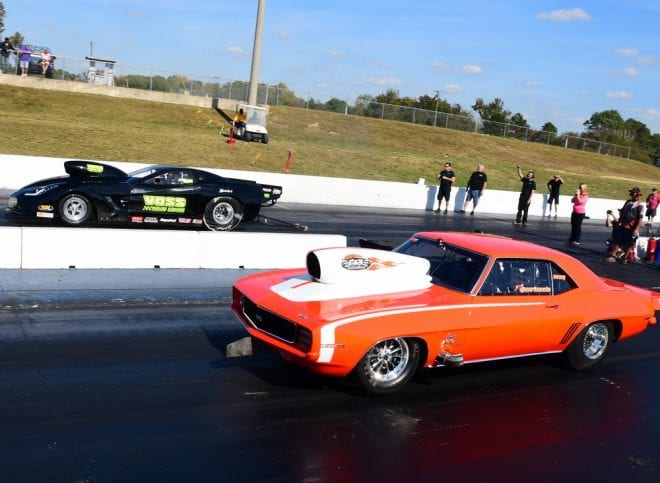 Racing in just the second event with a new Voss Racing Engines '17 Corvette, Dillon Voss qualified No. 1 and won his second consecutive race in Extreme Outlaw 632. He left first on No. 2 qualifier Ken Quartuccio and streaked to a 4.319 at 166.09 to defeat Quartuccio's 4.308 at 169.25 in his '69 Camaro. Voss previously defeated Rocky Raynor and John Lassiter, while Quartuccio bested Robert Sellers and Dominic Augustine before a bye into the final round.
OUTLAW 10.5
Baltimore, Maryland's Mike Decker Jr. was the man to beat in Outlaw 10.5, a class added to the World Finals lineup in the weeks leading up to the event. Decker qualified his supercharged Decker Salvage C7 Corvette in the No. 1 spot and defeated John Carinci's aborted 13-second run with a 4.158 at 191.05 in the final round. He received a bye run in the opening round, then drove to round wins over Ron Green and son Mike Decker III. Carinci raced around Brian Chin and Dale Collins Jr.
TOP SPORTSMAN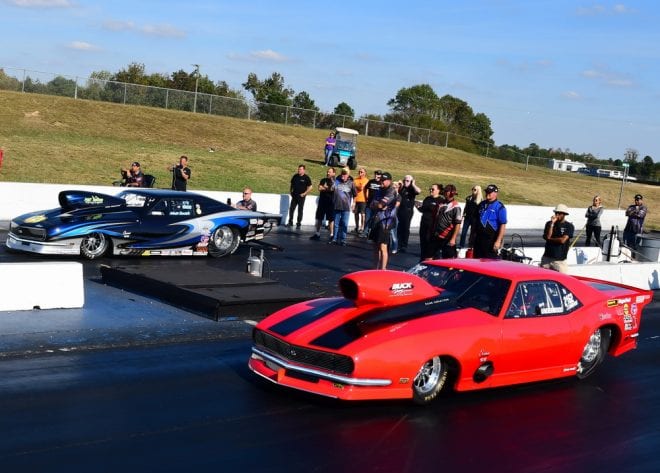 Better at both ends of the track, Top Sportsman Elite 16 driver Henry Underwood ran 4.114 on a 4.01 dial-in to upset low qualifier Matt Smith in Henry Dogay's "Cajun Nightmare" '68 Camaro, who slowed to a 4.077 on a 3.80 dial-in. Underwood earned round wins over Cam Clark, Jordan Wood and Billy Albert before facing the two-time NHRA Pro Stock Motorcycle world champion. Smith's route to the final round included round wins over Tim Lawrence, Scott Duggins and Barry Daniluk.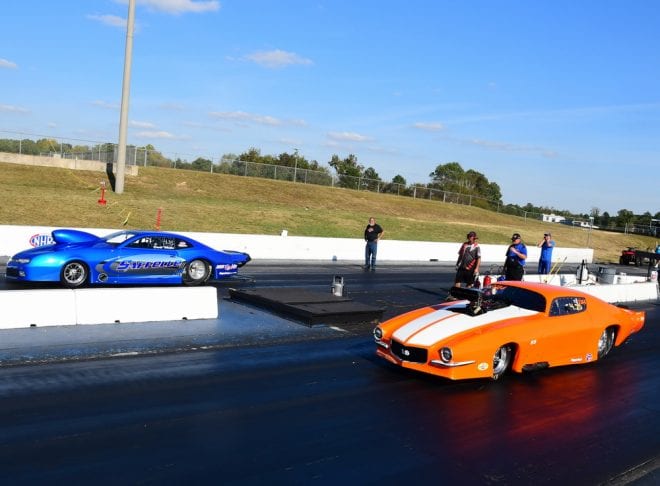 With nearly 100 Top Sportsman cars on the final qualifying order, a 32-car Top Sportsman race was added to compliment the Elite 16 field. Canadian driver Louis Ouimette secured the Top Sportsman 32 event win when final round opponent David Weedon red-lighted.
TOP DRAGSTER
Newly crowned Top Dragster world champion Matt Cooke capped off his season with a second event win in his fifth consecutive final round. Racing from the No. 8 spot, Cooke used a .003 reaction time and 3.968 pass on a 3.93 dial-in to beat Chase Beverly's 3.924 on a 3.91 dial-in. Cooke in his ProCharger-boosted dragster began eliminations with a bye run before taking out Jimmy Sackuvich and Michael Galafaro. Beverly qualified seventh and defeated Bubba Turner, Chaz Silance and Randy Whitlock on his way to the final.
The 2018 PDRA Tour will begin at GALOT Motorsports Park in Benson, North Carolina, with the PDRA East Coast Spring Nationals, April 5-7.