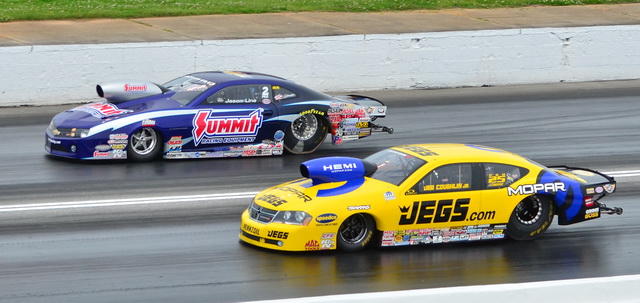 NHRA officials announced Feb. 6, that K&N Engineering Inc. has signed a multiyear agreement to extend the company's sponsorship of the K&N Horsepower Challenge, the longest running specialty event in the NHRA.
"The K&N Horsepower Challenge is an event the Pro Stock racers circle on their calendars each year and winning it denotes the racer and the team as one of the best in the highly competitive category," said Gary Darcy, senior vice president of sales and marketing, NHRA. "We appreciate K&N Engineering's continued support of this premier NHRA program."
The 2014 K&N Horsepower Challenge will take place at the SummitRacing.com NHRA Nationals at The Strip at Las Vegas Motor Speedway, March 29. The lucrative K&N Horsepower Challenge is a special race-within-a-race bonus event showcasing the top seven Pro Stock drivers who have accumulated the most qualifying points starting at the 2013 SummitRacing.com NHRA Nationals in Las Vegas, and continuing through the 2014 Amalie Oil NHRA Gatornationals, March 13-16. An eighth driver is added to the starting lineup via a special fan vote on www.NHRA.com.
The winner of the K&N Horsepower Challenge earns $50,000, and the runner-up receives $10,000. The two semifinalists take home $3,000 each, and the four first-round finishers earn $2,500 each. In addition, the No. 1 qualifier at each NHRA Series event is awarded a $3,000 bonus.
Past winners of the event include 2013 winner Allen Johnson, Vincent Nobile, Greg Anderson, Warren Johnson and Jeg Coughlin Jr.
Fans of the K&N Horsepower Challenge will be able to take part in an exciting sweepstakes which will give one lucky fan the opportunity to win a new Toyota Tacoma. Each of the eight sweepstakes finalists will be paired with one of the eight qualified drivers. The sweepstakes finalist who is paired with the winning driver will win the 2014 K&N Horsepower Challenge Edition Toyota Tacoma.
"Being involved with NHRA and specifically the Pro Stock racers in the K&N Horsepower Challenge has definitely been one of our best marketing relationships," said Steve Williams, K&N Chief Engineering Officer. "Each year, the excitement for the K&N Horsepower Challenge grows and we are pleased to extend our sponsorship of this specialty event.
"We are also delighted to be continuing our partnership with Toyota Racing for the third year, as they have once again provided the custom 2014 K&N Horsepower Challenge Edition Toyota Tacoma for one lucky fan to take home.  Once a year, the NHRA fans and the Pro Stock drivers have a chance to win big in the K&N Horsepower Challenge and we are looking forward to the 2014 event in March."
(Photo by Ian Tocher)