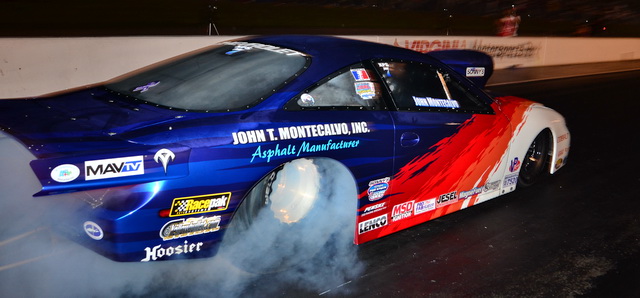 It's been a long journey for John Montecalvo and his ADRL Extreme Pro Stock Team from Center Moriches, New York. After winning the 2009 IHRA and 2010 ADRL World Championships and then finishing second in ADRL points in 2011, Monte and team entered a period of struggles in 2012.
This year was shaping up to be more of the same until the ADRL Simply Phones U.S. Drags VI this past weekend (June 8-9), where Montecalvo and team turned their luck around and returned his famed '08 Cobalt to the winner's circle.
"This win has really turned things around for us," Montecalvo said. "We made an aggressive move in points and boosted the team's morale, two things that we certainly needed.
"It feels great to win again. We always knew this trusty Cobalt had the right ingredients. This weekend it remembered its way to the winner's circle. It's given us many win lights over the years and we believe it's got a few more left in it."
Although the team had a victorious weekend it wasn't without its struggles. Rainy weather and tricky track conditions made it a difficult weekend for many.
With Mother Nature cutting qualifying to only two sessions, Monte took his Cobalt to a respectable 4.145 at 175.52 in the first session and then, like many others, struggled with conditions for the late-night second session. He would end up seventh in qualifying, pitting him against John Pluchino in round one.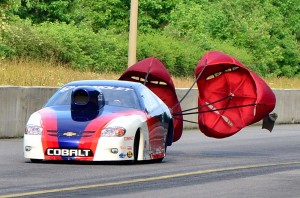 On race day, Montecalvo beat Pluchino to the finish line by .016, picking up his qualifying pace to a 4.129, third fastest for the round. Next Monte faced Pete Berner, who struggled to get down the track, while Montecalvo's familiar red-white-and-blue machine laid down another 4.14 pass to stroll into the semi finals.
Track conditions would plague all four cars in the semis, but Montecalvo did his driving job, managing to stay in the throttle and make a 4.20 pass while Elijah Morton was forced to lift in the opposite lane.
Then, in the final round, Montecalvo faced Lester Cooper, who was enjoying the best weekend of his ADRL career. It was all Montecalvo, though, as the former world champ was out of the gate first with an .018 reaction time and never looked back to take the win with a 4.157 at 174.91 mph.
"All the competitors, along with the ADRL staff, fought the weather all weekend. I credit the ADRL for their hard work – even utilizing a helicopter to help dry the track. Plus, there's nobody better than the Traction Twins at preparing the racing surface. Despite Mother Nature wreaking havoc, they did a great job," Monte pointed out.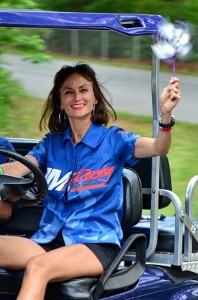 "My team also worked tirelessly all weekend. William, Justin, Jeff, Cindy and of course my wife, Lois Anne; all stayed the course to get us to the winner's circle.
Montecalvo also dedicated the win to Bert Jackson, a fellow XPS competitor who was killed in an on-track accident at the Rockingham (NC) ADRL event in 2011.
"Virginia Motorsports Park was (Jackson's) home track, so it's really special to be able to win here and dedicate this to him. His team was at the track all weekend and helped cheer us to victory," Monte said.
"It's bittersweet, but winning and getting back up in points was especially important to us because we want to be able to compete in the Bert Jackson Shootout at Rockingham Dragway this fall. The ADRL is putting this event on in his memory. The trophy will even be of Bert, which I think is pretty cool."
(Photos by Ian Tocher; Click to enlarge)