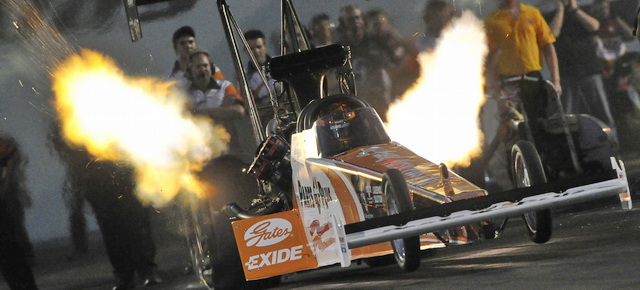 His numbers speak for themselves–six IHRA Top Fuel world championships, 52 national-event wins and two world records.
And now Clay Millican–the most decorated man in the history of the International Hot Rod Association–will be making a triumphant return Oct. 11-12 at his home track,  in the IHRA Summit Racing Equipment World Finals at Memphis International Raceway.
Millican will make his first start in IHRA Top Fuel competition in more than five years and fans will be in for a treat as one of the greatest Top Fuel rivalries in drag racing history will be reborn as Millican takes on Bruce Litton in a battle of the World Champions during the IHRA Nitro Jam season finale October 11-12 at MIR.
"Clay is a legend in the International Hot Rod Association. What he did during his time here is hard to put into words, but the easiest way to put it is that he flat out dominated the sport like few have done before," said Aaron Polburn, president of IHRA Motorsports.
"Having him back in Memphis will make an amazing event even bigger. Seeing him running alongside Bruce will be like old times all over again and that alone will be worth the price of admission."
Millican won six consecutive IHRA Top Fuel championships from 2001-2006, winning 52 races and visiting more than 60 finals during that span. He won 68 percent of the races during his six-year reign atop the IHRA Top Fuel world, including an amazing 21 wins in 24 races in a two-year span. He also set both ends of the IHRA Top Fuel world records and was the first IHRA driver to dip into the 4.40s on the quarter mile.
And the man who was runner-up during nearly all of those Millican wins was Litton. Litton is IHRA's second-most decorated Top Fuel competitor with one championship coming in 2007 and the fifth-most wins in IHRA history under the previous format. Under the new Nitro Jam system Litton has added even more wins to his resume.
From 2002 to 2004 Millican and Litton met in the finals of Top Fuel 17 times, including nine meetings in 12 races in 2002 alone.
Millican, who calls Memphis home, is very much looking forward to his return to IHRA competition and reliving the glory days alongside Litton.
"This is a big deal for me and my whole family. Not only am I racing at my home track, the same track that I grew up racing at every weekend as a kid, but I am also getting to once again go head-to-head with my longtime rival Bruce Litton driving one of his cars," Millican said. "Even to this day I don't think I have raced anyone more than Bruce. We have had some serious battles over the years, but we always remained pretty good friends.
"Memphis is going to be a huge, huge weekend. I am going to have a lot of friends and family there and it is going to be a blast being back with IHRA and racing against Bruce. It is absolutely going to be a fun weekend and we can't wait to see all of our fans out in October."
The 2013 IHRA Summit World Finals will feature nitro-burning Top Fuel Dragster, AMSOIL Prostalgia Nitro Funny Car, Nitro Harley and Fuel Altered, joining a thrilling show starring jet Funny Cars, fireworks and a "monster" finale as the 30,000 horsepower Super Shockwave jet-powered 1957 Chevy takes on the world famous Grave Digger monster truck. The event will also include the world championship races in 10 IHRA sportsman classes.
(Photos by Ian Tocher; courtesy NHRA/National Dragster; click to enlarge)