Clay Millican piloted his dragster to the Top Fuel No. 1 qualifier on Saturday at the 16th annual NHRA Toyota Nationals.
Jack Beckman (Funny Car), Greg Anderson (Pro Stock) and Jerry Savoie (Pro Stock Motorcycle) were also No. 1 qualifiers in their respective categories at the 23rd race of 24 on the Mello Yello Drag Racing Series schedule. The NHRA Toyota Nationals is the fifth event of the of the six-race NHRA Mello Yello Countdown to the Championship.
Millican raced to a track elapsed time record pass of 3.689-secods at 327.87 mph in his Parts Plus / Great Clips dragster during the fourth qualifying session to secure his second No. 1 qualifier of the season and fourth of his career at The Strip at Las Vegas Motor Speedway. Millican will line up against Terry Haddock in the first round of eliminations.
"We know we are capable of running with anyone and we simply have to put together four good runs on Sunday," said Millican who was also the No. 1 qualifier at the U.S. Nationals. "We've made good runs and we will continue to make more good runs. For the little single car team that we are, I am unbelievably happy with everything. It's going to be great. It's just going to keep getting better. It really is. I truly believe that."
Leah Pritchett is qualified in the No. 2 spot and will face Shawn Reed during eliminations. Doug Kalitta is in third followed by points leader and reigning world champion Antron Brown in fourth. Kalitta will race Scott Palmer and Brown will race Terry McMillen.
Beckman secured his fifth No. 1 qualifier of the season, 20th of his career with the track elapsed time record run of 3.871 at 327.43 in his Infinite Hero Dodge Charger R/T during the fourth qualifying session. In the first round of eliminations Beckman will race against Jeff Arend.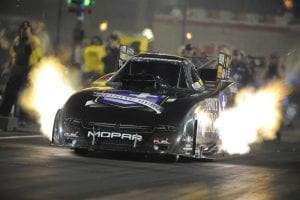 "We got our act together with that .871," Beckman said. "It was a sigh of relief. I told the guys when they picked me up at the top end in the tow vehicle, 'That should at least keep us in the top four.' No way I would have bet that would have stayed No. 1. It's pretty gratifying to leave with the green hat for being No. 1."
Matt Hagan has the No. 2 spot and a matchup with John Hale in the first round while sixteen-time world champion John Force is third and will face John Bojec for the first time in his career. Points leader Ron Capps is in the fourth position and will race Paul Lee in the first round.
In Pro Stock, four-time world champion Anderson took over the No. 1 qualifying position with a 6.677 pass 205.72 in his Summit Racing Equipment Chevy Camaro during the third qualifying session. It is Anderson's seventh No. 1 qualifier of the season, 87th of his career. He will take on Seattle winner Aaron Strong in the first round.
"We made some adjustments overnight and came out this morning and hit the bullseye," Anderson said. "My car made two great runs today and I think it's ready for race day. Great recovery after yesterday. We grabbed some of those small points and those are very important this time of year. So I feel great. I feel great on Saturday night."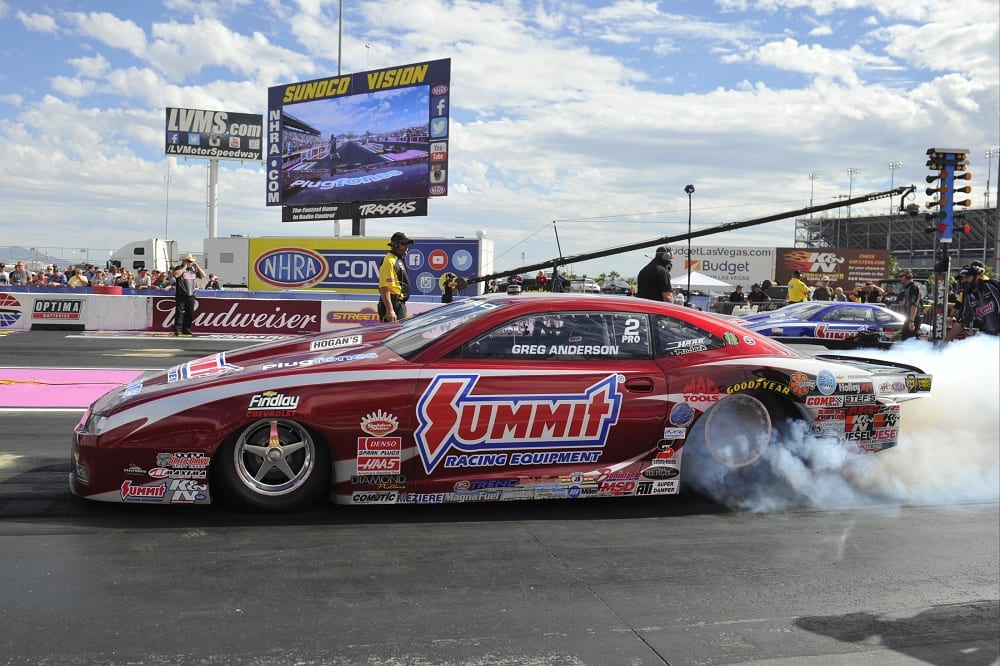 Drew Skillman is in the No. 2 spot facing Shane Tucker followed by Alex Laughlin who will see Jeg Coughlin Jr. in the first round. Points leader Jason Line holds the No. 6 spot and will race veteran Allen Johnson in eliminations.
In Pro Stock Motorcycle, Savoie improved to a 6.880 at 193.96 on his Savoie's Alligator Farm Suzuki in the third qualifying session to secure his second No. 1 qualifier of the season and seventh of his career. Savoie will face Scott Pollacheck in the first round of eliminations.
"Every year this time of the year we usually step up," Savoie said. "Hopefully this year we can give them a run for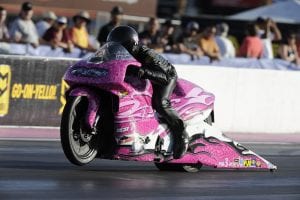 their money. The points are collecting. We qualified No. 1 all four rounds. I said yesterday we should have run an .88 and today we came back and ran an .88. It's exciting, it really is. "
Points leader Eddie Krawiec is in the No. 2 spot and will race rookie Melissa Surber in the first round. Defending world champion Andrew Hines is third and is going to race against Joey Gladstone in eliminations.
Eliminations for the NHRA Toyota Nationals is set to begin Sunday at 11 a.m. FOX Sports 1 (FS1) will have live coverage at 4 p.m. ET.