Mike Coughlin scored his first Top Dragster victory in two years Sunday, beating five tough challengers in elimination action to take the crown of the Summer Spectacle at Lucas Oil Raceway at Indianapolis. The event was the third on this year's North Central Division schedule in the Lucas Oil Drag Racing Series.
"I really don't think this has sunk in yet," Coughlin said from the winner's circle. "I feel like I'm going to wake up tomorrow morning and have to check to make sure that little gold man (Wally trophy) is still sitting by my bed. Maybe then I'll realize I'm not just dreaming. It seems like forever since I've felt this feeling.
"My crew guys, Greg Cody, Tony Collier and Dave Raurk, along with a bunch of input from Dad (Hall of Famer Jeg Coughlin Sr.), have put in so much work to figure this car out the last two months and to come out with a brand-new setup and roll through a really tough divisional race like this is just phenomenal. I couldn't be happier."
After struggling with a promising-at-times but ultimately unpredictable power-adder, Coughlin and crew recently switched to a Fowler F12 roots-style blower made by Columbus, Ohio-based machinist Jeff Fowler. Together with the ComSYNC EFI system the team has been using, Coughlin's black-tipped dragster turned into a true bracket car this weekend, running perfect passes lap after lap.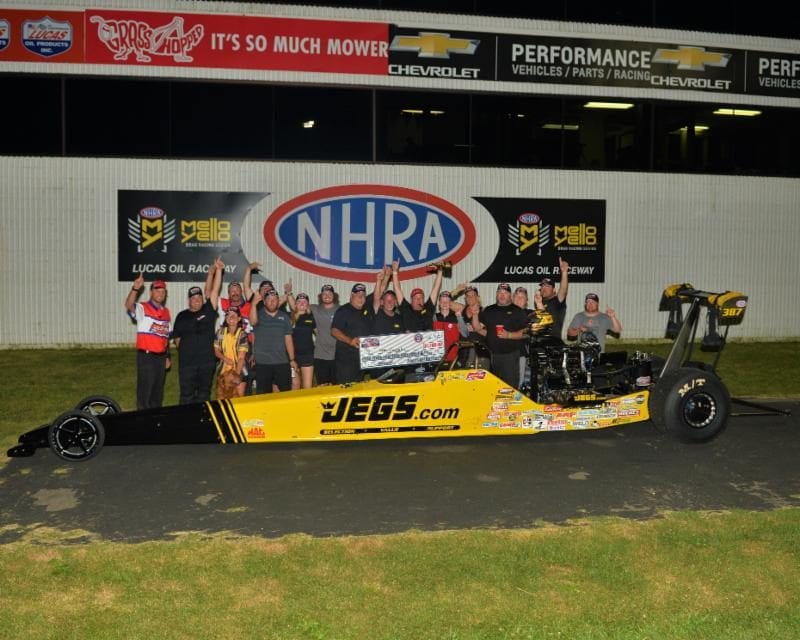 "We made eight runs this weekend, including five in eliminations, and we had zero problems," Coughlin said. "We haven't been able to say that since we won here at this event two years ago. People think a supercharger is a supercharger but that's not the case. The combination between the ComSYNC EFI and this Fowler blower was perfect for us. It feels like it was built specifically for what we do.
"We came here with a helluva lot of enthusiasm having just completed the best test session we'd had in a year and Ryan Micke of ComSYNC made great calls every round. The car did what it was supposed to do every time."
This is Coughlin's 27th NHRA victory (14 national and 13 divisional) and his third since making the switch to Top Dragster (1 national and 2 divisional). He is a two-time Division 3 champion in Top Sportsman (2007 and 2009) and has claimed wins at Indy on six different occasions (2 national and 4 divisional).
"This place is our second home next to National Trail Raceway," he said. "We always seem to do well here, not just me but our whole family. It's a special place for drag racers and winning at Indy is always a big deal.
"It was great having my son Clay with me all weekend and I know he kept my wife Kriss and his brother Jack updated on what we were doing every round. There's a lot of excitement in the air and I'm super pleased to start a stretch of five races in four consecutive weekends with a victory.
"I couldn't do any of this without Dad and my brothers John, Troy and Jeg Jr., plus all the associates back home at JEGS that are always behind us. Thanks to all of them. Now let's go to Chicago and do it again next weekend.