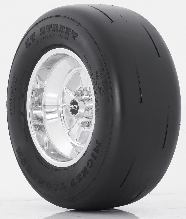 After final testing, Mickey Thompson Performance Tires & Wheels brought the new ET Street Radial Pro P275/60R15 tire, part number 3754X, to the 2012 Radial Revolution "The Night the Lights Went Out in Georgia III" and was  thrilled to see this tire perform. An outstanding 10 out of 14 X275 class qualifiers earned top spots, and every X275 class record was shattered using this tire during qualifying rounds.
"To see this tire perform at this level in with Radial Revolution competitors was absolutely incredible," stated Ken Warner, VP of Sales and Marketing for Mickey Thompson Performance Tires & Wheels.
"This tire was specifically designed for racing applications that require an ultra-high performance tire in this size, and for these types of racing environments. Seeing these results right out of the gate is truly astonishing, and speaks to the proven technology that goes into every product we make."
The ET Street Radial Pro P275/60R15 is specifically for racing, and should not be used on the street. Its design uses next-generation tire technology and a lower tread profile for fast,
consistent, reliable launches and a sticky, responsive grip on the strip.
For more information, visit www.mickeythompsontires.com