Mark Micke and car owner Jason Carter were at a loss for words.
Considering what just took place over the past three days, it was understandable.
Micke put together one of the most impressive stretches in drag radial racing history at Donald Long's Radial vs. The World $101,000-to-win Sweet 16 event at South Georgia Motorsports Park, qualifying No. 1 and making three record-breaking passes. He finished it off in eliminations in the standout blue Malibu on Saturday, grabbing the win by knocking off fellow heavy-hitter Dewayne Mills with a 3.722 at 214.01 mph in the final round.
Standing in the winner's circle with $101,000 cash in hand, Micke was understandably elated.
"It's just unbelievable. We're all a little speechless," Micke said in the winner's circle.
Carter echoed the same shocked sentiment: "I'm just speechless."
Micke's performance did all the talking, starting on Thursday when he fired the opening salvo in his dominant weekend with a 3.677. It was the record at the time, but that barely lasted a day, as a series of runs in the 3.60s turned the radial world on its head.
Micke dealt the final incredible blow, running 3.623 at 214.79 mph for the quickest run in Radial vs. The World history, taking the No. 1 spot into Saturday's eliminations.
He was amazingly consistent when it counted, running in the low to mid-3.70s through four grueling rounds. It started with a first-round 3.743 against Ty Tutterow, followed with a 3.732 at 218.87 against Tim Slavens and continued with a 3.755 at 219.86 in the semifinals against Paolo Giust.
That set up a must-see duel with Mills, who became the first Radial vs. The World driver to reach the 3.60s on Thursday. Micke won comfortably, setting off a memorable celebration at the starting line and wrapping up a thoroughly spectacular weekend. Considering who it came against and how he did it, going wire-to-wire in the top spot, Micke's win was an impressive as it gets
"Man, I'm proud of that," Micke said. "We just came in and kicked ass. I'm telling you, we knew we had the car, we just knew it. We just prepared our ass off and, I'm telling you, I'm just speechless."
While the records came on Thursday and Friday, Micke deserved ample credit for the job he did on the starting line in eliminations. He was .041 or quicker all four rounds, displaying outstanding poise and calm considering what was on the line.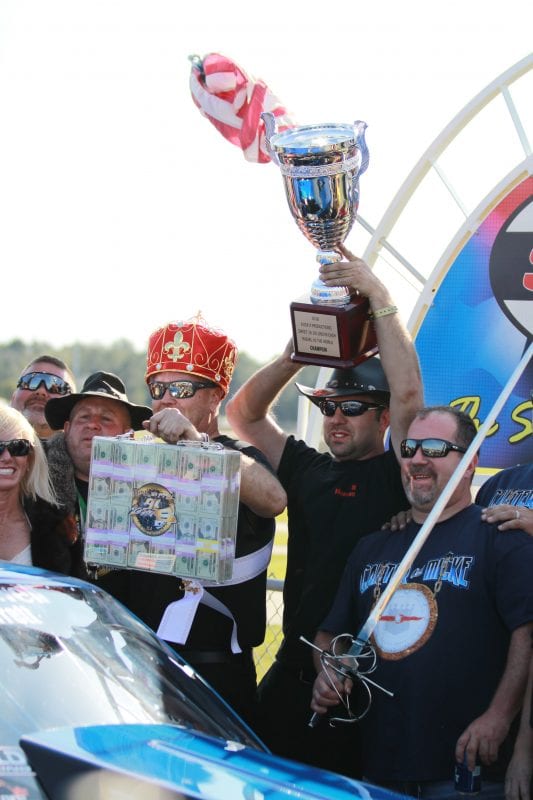 "We kept telling each other not to get overboard," Micke said. "We just put our heads down and just took it one round at a time, and did our thing. We didn't worry about anybody else this weekend. We just did what the race car told us to do and that's it. I guess we relied on our experience. We felt good in the final. I was probably the calmest I've been. It was just ours."
Micke and the team looked at the track before the final round with Mills and figured a 3.72 would win it, and he delivered just that. It was the final sign of how on point everything was the past three days.
It's a level everyone longs for and rarely achieves in the sport, but Mills was nearly flawless in Valdosta. It created one unbelievable moment for Micke, and he hopes he can continue this momentum as long as possible.
"We're going to ride it as long as we can," Micke said. "The racing gods can be pretty rough on you, but I've just learned when we get like this, we're going to ride it out. It will take us where it's going to take us."