Normal
0

false
false
false

EN-US
X-NONE
X-NONE

MicrosoftInternetExplorer4
Normal
0

false
false
false

EN-US
X-NONE
X-NONE

MicrosoftInternetExplorer4
/* Style Definitions */
table.MsoNormalTable
{mso-style-name:"Table Normal";
mso-tstyle-rowband-size:0;
mso-tstyle-colband-size:0;
mso-style-noshow:yes;
mso-style-priority:99;
mso-style-qformat:yes;
mso-style-parent:"";
mso-padding-alt:0in 5.4pt 0in 5.4pt;
mso-para-margin-top:0in;
mso-para-margin-right:0in;
mso-para-margin-bottom:10.0pt;
mso-para-margin-left:0in;
line-height:115%;
mso-pagination:widow-orphan;
font-size:11.0pt;
font-family:"Calibri","sans-serif";
mso-ascii-font-family:Calibri;
mso-ascii-theme-font:minor-latin;
mso-fareast-font-family:"Times New Roman";
mso-fareast-theme-font:minor-fareast;
mso-hansi-font-family:Calibri;
mso-hansi-theme-font:minor-latin;}


/* Style Definitions */
table.MsoNormalTable
{mso-style-name:"Table Normal";
mso-tstyle-rowband-size:0;
mso-tstyle-colband-size:0;
mso-style-noshow:yes;
mso-style-priority:99;
mso-style-qformat:yes;
mso-style-parent:"";
mso-padding-alt:0in 5.4pt 0in 5.4pt;
mso-para-margin:0in;
mso-para-margin-bottom:.0001pt;
mso-pagination:widow-orphan;
font-size:11.0pt;
font-family:"Calibri","sans-serif";
mso-ascii-font-family:Calibri;
mso-ascii-theme-font:minor-latin;
mso-fareast-font-family:"Times New Roman";
mso-fareast-theme-font:minor-fareast;
mso-hansi-font-family:Calibri;
mso-hansi-theme-font:minor-latin;
mso-bidi-font-family:"Times New Roman";
mso-bidi-theme-font:minor-bidi;}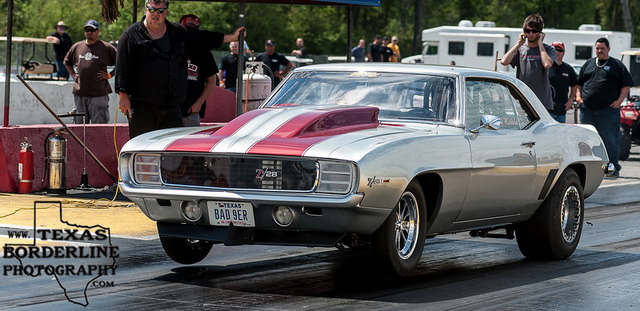 Fresh off the Leaf Spring win a month ago at Lights Out IV in Georgia, Texas racer Jason Michalak and his Bad9er Racing team visited the winner's circle again Mar. 31, at No Problem Raceway in Belle Rose, Louisiana.
In the X275 final for the Super Street Car Nationals, Michalak faced off with his TRE Racing Engines-equipped '69 Camaro (above) against fellow nitrous racer Jeff Colletta and his 582-powered Mustang.
When the green light flashed, both cars left with the candles fully lit. Colletta made a solid 4.74 pass at 151mph, while Michalak carried the front tires well past 200 feet before posting an outstanding 4.65 at 153 mph that set low ET of the event and represents the third-quickest X275 pass in the nation so far.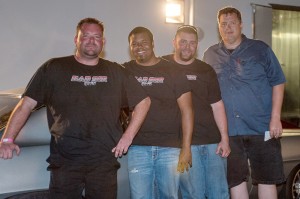 "I would like to thank TRE Racing Engines, Dave at Proformance Racing Transmissions and my crew guys, David Prejean and CJ Martin for all their help," Michalak said.
"And of course I need to thank my good friend and car owner Kyle Huettel and our tuner Billy Stocklin (far right). Actually, Billy's the one who deserves the most credit; he's the difference maker."
(Photos by Texas Borderline Photography; Click to enlarge)