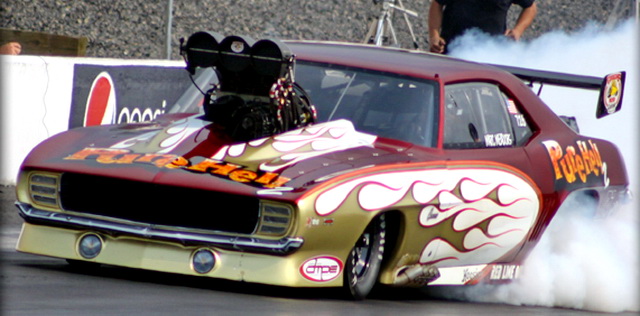 Six times this year in West Coast Outlaw Pro Mods (WCOPM) competition the Goodguys Racing Team, led by company president and driver Marc Meadors, has raced their "Pure Hell 2" '69 Camaro–and six times they've reached the final round.
Thanks to a stellar weekend performance at the 42nd annual Pepsi Nightfire Nationals at Firebird Raceway outside Boise, Idaho, Meadors has now won three of those six finals. The team's latest triumph last weekend also propelled them further into the series' points lead with just two races remaining on this year's WCOPM schedule.
Perhaps no other race on the WCOPM event schedule has more energy than the Pepsi Nightfire Nationals. Tens of thousands of fired-up fans gathered over four days to celebrate speed beneath the blistering Boise sun and were treated to spectacular performances from every kind of race car imaginable.
Eleven Pro Mods made the trip to Boise this year, setting up a two-day qualifying showdown for the eight-car eliminator field. After three rounds of quarter-mile qualifying, Meadors secured the pole position with a 6.039 at 241.41 charge.
During Sunday's late afternoon/evening eliminations, Meadors started the day's racing with a seemingly smooth 6.091 at 238.15-mph victory over number-eight qualifier Craig Cawte of Canada. But while the win might have seemed relatively easy, it proved troubling back in the pits. Warming the car up for the semi-finals, crew chief Jason Bunker discovered a faulty magneto, requiring a crazy pit thrash just to make it to the starting line.
Instead of forcing the race and taking a solo (well within his rights), fellow semi-finalist Tim "TK" Krupa took the gentlemanly route, opting to wait for Meadors and the Goodguys Gang to make it to the line. Drama aside, Meadors went straight down track to record a winning 6.057-seconds pass at 242 mph over Krupa's traction-plagued Corvette.
As the sun drifted below the horizon, the Pro Mod final came to the Firebird starting line, matching Meadors against Don Carter's white "Nitro-a-GoGo" '69 Camaro, with San Diego's Dan Myers at the wheel. In a rematch of last year's Nightfire finals, Meadors came out on top this time, delivering not only a win, but a crushing statement with a 6.037 at 242.65 shot; good for low ET and top speed of the meet.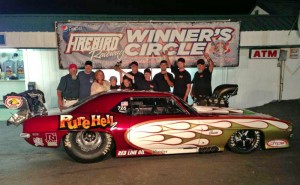 "We've finally gelled as a team after four years of racing together and overcoming many heartbreaks," Meadors said in the historic Firebird Raceway winner's circle. Joining Meadors and Bunker on the Goodguys Racing Team are crew members Billy Fereira, Danny Miller and Greg Lee.
"We've also got a top notch race car with really good equipment. We've fine-tuned our combination and have a good handle on it right now," Meadors added. "That really helps when you need your best performance on Sunday when it counts."
Meadors and the Goodguys Gang left Boise with another "Wally" trophy, a commanding lead in the WCOPM standings and a firm grasp on their race day set up. The team will compete at both remaining series events this year at Auto Club Famoso Raceway in Bakersfield, CA (Sept. 6-7 and Oct. 4-6).
(Photos courtesy Goodguys Racing Team; Click to enlarge)
West Coast Outlaw Pro Mods
42nd Annual Pepsi Nightfire Nationals
Firebird Raceway, Boise, ID
August 8-11, 2013
Final Order Qualifying
1.  Marc Meadors, Danville, Calif., 6.03, 241.41.
2.  Dan Myers, Ramona, Calif., 6.09, 211.51.
3.  Rod Burbage, Anderson, Calif., 6.12, 236.53.
4.  Mike Gondziola, Saskatoon, Sask., 6.18, 232.79.
5.  Tim "TK" Krupa, Valencia, Calif., 6.19, 231.83.
6.  John Scialpi, Phelan, Calif., 6.39, 222.44.
7.  Jeremy Hanger, Fullerton, Calif., 6.43, 217.44.
8.  Craig Cawte, Cranbook, British Columbia, 6.53, 189.03.
9.  Mike Weiss, Port Orchard, Wash., 6.65, 209.15.
10. Lee Smith, Salem, Ore., 6.81, 216.03
11. Yvonne Lucas, Maple Valley, Wash., 11.33, 76.16.
First Round Eliminations
(W) Meadors – 6.091/238.15 (L) Cawte – 6.344/220.48
(W) Krupa – 6.179/232.25 (L) Gondziola – 9.653/95.38
(W) Burbage – 6.204/236.53 (L) Scialpi – 6.730/204.96
(W) Myers – 6.064/241.74 (L) Hanger – 6.630/168.88
Semi Final Eliminations
(W) Myers – 6.450/233.94 (L) Burbage – 7.586/147.97
(W) Meadors – 6.057/242.06 (L) Krupa – 7.109/154.87
Final Round Eliminations
(W) Meadors – 6.037/242.65 (L) Myers – 8.133/115.41