Steve Matusek was simply honored that his company, Aeromotive Inc., was selected as a finalist for the SEMA Manufacturer of the Year in 2018. But competing against iconic industry juggernauts Edelbrock and Hunter Engineering for the award, Matusek felt like he didn't need to worry about writing a speech beforehand.
It turned out Matusek had to adjust on the fly and with all eyes on him.
Aeromotive was selected and received the prestigious SEMA Manufacturer of the Year Award at the 2018 SEMA Show in Las Vegas last week, a massive achievement for the company Matusek started in 1994.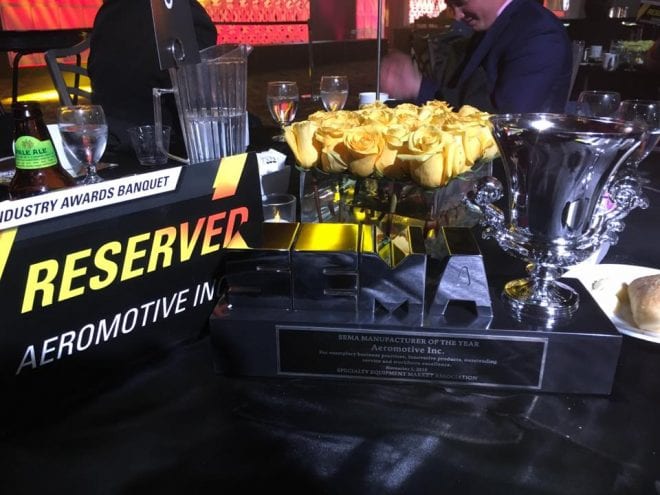 "I don't perceive ourselves as an iconic company. I'm doing this because I love the industry, I respect the history and I'm passionate about this," Matusek said. "To even be mentioned in the same paragraph as an Edelbrock or Hunter, it's beyond anything I could have imagined when I started the company. It's very fulfilling. Everyone at the company, we're all going to look back at this day. It's truly an honor and we're flattered."
It proved to be a landmark moment for a company that has become an innovative force in the industry.
Aeromotive was notified it had been nominated earlier in the year and then went through a comprehensive selection process to be selected as a finalist.
That included meeting numerous criteria in a number of fields, including outstanding business practices, innovative processes and products, investing in the well-being of employees, providing exceptional customer service and exhibiting a high degree of social responsibility.
Aeromotive received high marks in all regards, earning one of the three finalist selections before earning the award in Vegas.
The team responded to the questions as accurately as possible to reflect Aeromotive's mindset within the industry, and as the award proved, those efforts haven't gone unnoticed.
"The big thing that it reinforces is that in this country you can do everything you set your mind to," Aeromotive Vice President Jeff Stacy said. "To win an award against companies 20 times larger than us, it speaks volumes. If you have a plan, stick with the plan, build quality products and provide the best customer service, you will be successful. This is huge to us."
Aeromotive, with its innovative line of fuel delivery components, revealed a number of new items at the 2018 SEMA Show, but that's nothing new for the industry powerhouse that is a coveted brand in the drag racing world.
That's because Aeromotive has always stayed a step ahead of its competition, finding solutions to specific problems and not relying on other companies for ideas. That creativity, innovation and problem-solving capabilities has been apparent in Aeromotive's success, and earning the prestigious honor in Vegas only reinforced the company's belief that their approach has been the right one.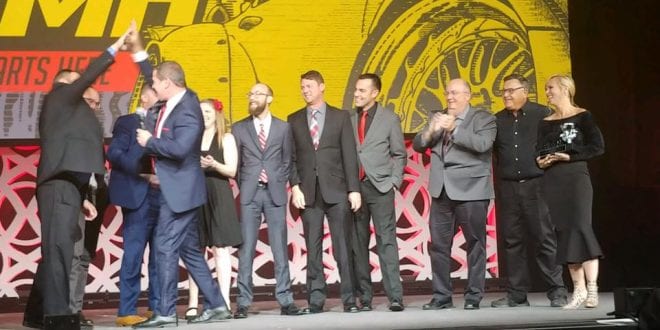 "It's a testament to how we do things. We try to do the right thing and try to take the high road," Matusek said. "We try to create products that have benefits. We like to solve problems and we love the industry. Every year we introduce a dozen new products. We're always going forward and that's going to continue."
Matusek noted the strong bond within Aeromotive for something like this to be possible, especially against two larger companies.
Both Stacy and Matusek emphasized it was a total team award, adding that it will only serve to motivate everyone associated with Aeromotive even more. That means 2019 will continue to be an exciting time for the company, and both Stacy and Matusek can't wait to see what's next.
"This is about the team, that's the beauty of it," Stacy said. "Hopefully this drives everyone to be even better. We're all kind of floating on air right now."
Added Matusek: "I think everybody is on fire now and enhanced the bond we have in the organization. It's not me, it's not Jeff, it's everybody doing the right thing, the right way. This just creates more of a cohesion between all of us, and we'll be even more aggressive, more confident going forward."