The year-old partnership between Victory Motorcycles and Matt Smith Racing is ready to reap some big benefits in 2016.
Matt Smith and wife Angie Smith introduced Victory Motorcycles to the NHRA Mello Yello Drag Racing Series in 2015, making a remarkable amount of progress while developing the new bike. But now they want more, and both riders are convinced the endless hours they're putting in this off-season will yield multiple victories in 2016.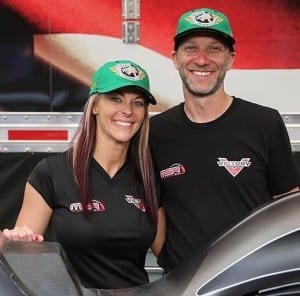 "We are 100 percent behind this deal," Angie said. "There's no 9-to-5, 40-hour work week. We've been putting in all of out time to make this program better because we want to make Victory happy and we want to be happy as racers. We want this partnership with Victory Motorcycles to last a lifetime. We want to get as many people as we can riding Victory Motorcycles. The best way to do that is win because that shows everyone how great these motorcycles are."
Victory began looking for a way to get into the NHRA Pro Stock Motorcycle class in late 2014, meeting with a handful of teams before settling on the championship-winning group at MSR. Matt is a two-time world champion, winning titles in 2007 and 2013, and already has 17 victories to date, placing him comfortably in the all-time top 10 for his class.
Angie is one of just 15 women in NHRA's 64-year history to claim a national event trophy, and her crew chief/husband Matt says she will be adding to her career total in 2016.
"She's come a long way over the last couple of years," he said. "The 2015 season was kind of a setback for her, mainly because of how the wind affects her on the Victory. She'll be a lot better in 2016. We've just got to get her some more laps. She'll be good next year."
Her slight build made the transition to the Victory a little more difficult. At one of the first test sessions with the new bike, the team discovered that the Victory's smaller fairing produced much higher wind resistance, with Angie's hand actually blown off the handlebars on one of her early runs. She kept control and stayed on the bike, but her confidence suffered. Still, as the year wore on, Angie returned to her old self.
"It took a while to get my confidence back," she said. "But toward the end of the season, I was doing a lot better. I think in 2016 we're going to be really, really good."
After spending the 2014-2015 off-season developing the new bike in conjunction with Victory, Matt raced to three finals and won 18 elimination rounds during the 2015 season. A midseason adjustment to the bodywork helped put the Victory more on par to the other manufacturers in the class.
"We went from running 13th, 14th up to fifth, sixth," Smith said. "It was a big boost, but we're still behind a little bit on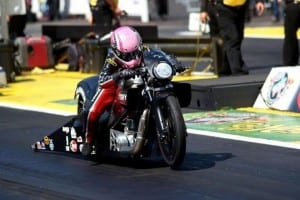 the body. Thankfully, we've made some big gains in the motor department. Elite Performance helped us at the end of the year, and we tried something with one of their combinations that helped us even more."
Elite Performance, which powered Erica Enders to two consecutive Pro Stock championships, will continue to help Matt Smith Racing in 2016 — through a partnership with Mark Stockseth and Stockseth Racing — though Smith still will build his own engines.
"We know we're not where we need to be with the bodywork and that's a big factor, one that new teams go through," Matt said. "We're hoping NHRA will give us a couple things over the winter, and then we'll go back to the wind tunnel. We'll be glad for NHRA to come with us and we hope they do because I think they will see what we've been saying if they actually see the bike in the wind tunnel."
Concessions or not, after racing to the final round of the last race of the 2015 season in Pomona, Calif., Matt is confident the performance of his Victory motorcycle will continue to rise.
"We are getting to where we are right there on par with everybody," he said. "We're still a mile an hour down from everybody, from the Buell to the Suzuki and the Harley, but if NHRA gives us just a little bit more in aero, we can be right there ready to win a lot of races and contend for the championship next year."