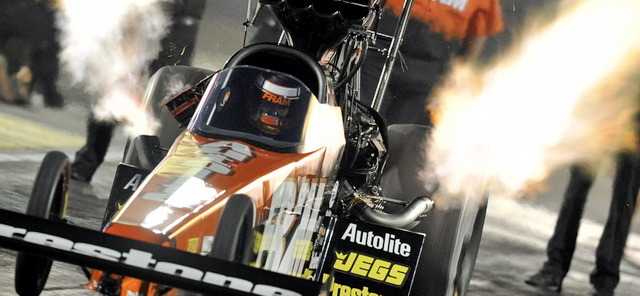 Spencer Massey (above) continued his recent surge in Top Fuel as he raced to the qualifying lead Friday at the Mopar Mile-High NHRA Nationals at Bandimere Speedway near Denver. Jack Beckman, Allen Johnson and Hector Arana Jr. also took the provisional top spots in their respective categories at the 12th of 23 races in the NHRA Full Throttle Drag Racing Series.
Massey, the current points leader in Top Fuel, was able to post a run of 3.914 seconds at 318.02 mph in his FRAM / Prestone dragster to move to the top of the qualifying order. He is riding a wave of success coming off of the most recent event in Norwalk where he defeated Steve Torrence in the finals for his fourth win of the season. He is the defending race winner at Bandimere Speedway and led the category in both qualifying sessions.
"I'm extremely surprised that nobody ran quicker tonight," Massey said. "The conditions were coming around, and the track was better than everybody thought. I thought someone would run an .87 or .88 before we ran in the final session, but nobody did. Hats off to the FRAM guys. We went out with the data that we know from last year and plugged it into a new chassis.
"We always have confidence because our team is great and the car is awesome, but obviously when you're coming off a win, no. 1 in points, and no. 1 qualifier, you have to feel happy about the race car, the team, and the situation. We just want to go down the race track two more times, have fun on Sunday, and lay the smack down on them."
Beckman took the qualifying lead in Funny Car after posting a performance of 4.131 at 297.02 in his Valvoline Next Gen Dodge Charger. If he holds the spot after the final rounds of qualifying on Saturday, it would be his first of the season. Beckman has had past success at this track with a win in 2007 and a runner-up finish in 2008.
"I love this place," Beckman said. "I came to my first Mile-High Nationals when I was stationed in the Air Force in 1984, and the next three years I drove 500 miles each way to be here because it's such a phenomenal race. Everything about this place is phenomenal for the drivers and the fans – everybody but the crew chiefs. The crew chiefs can't wait to put this place behind them because nothing they do here translates to any other racetrack.
"It's awesome to hear the excitement from the guys on our team come over the radio when they put a number up on the scoreboard. Qualifying number one is fantastic. If you can qualify in the top three, you're stacking the deck in your favor on Sunday."
Johnson powered his Team Mopar / J&J Racing Dodge Avenger to the provisional No. 1 position with a pass of 6.962 at 197.62. To date Johnson has six No. 1 qualifying positions and has three No. 1 positions at Bandimere Speedway. He has also been in five consecutive final round appearances with three wins at the track. Johnson was atop the standing after both of the qualifying sessions on Friday.
"We were really happy but nothing will make me happier than winning that Wally on Sunday to help Mopar celebrate their 75th anniversary," Johnson stated. "I tweeted something this week: We're strutting our Hemi stuff up here. All the Mopar executives are here and we really want to do well for them.
"We actually didn't make a very good run [with our 6.962 in the second session] because I deep-staged a bit, which scrubbed some time off the run. It should have gone [a new track record of] 6.93 or 6.94. But we'll take it and hopefully build on it. If the air is decent, we should be able to match that run tomorrow."
Also in Pro Stock Greg Anderson became the first driver in the category to clinch a berth into the Countdown to the Championship when he made his first qualifying attempt during the day.
The Pro Stock Motorcycle field was paced by Arana Jr. on his Lucas Oil Buell with a run of 7.238 at 184.57. He enters his sophomore season without posting a No. 1 qualifying effort. He was runner-up in the most recent event in Norwalk. His run tied the track record set by Michael Phillips in 2010.
"We haven't been able to look at the data from our run so I don't know if we can improve on it," Arana Jr. said. "But it felt smooth and went real straight, so I know it was good.
"We haven't run that motor for over year. It was actually the first Buell motor that I had ever ridden down a quarter mile while I was testing in January of 2011. This was a big confidence booster. I honestly didn't expect this motor to run as good as it did because we haven't touched it for that long."
Qualifying will continue Saturday with sessions scheduled for 12:45 p.m. and 3:15 p.m.
(Photos courtesy NHRA/National Dragster; Click to enlarge)
MORRISON, Colo. — Friday's results after the first two of four rounds of qualifying for the 33rd annual Mopar Mile-High NHRA Nationals at Bandimere Speedway, 13th of 23 events in the NHRA Full Throttle Drag Racing Series.  Qualifying will continue Saturday for Sunday's final eliminations.
Top Fuel — 1. Spencer Massey, 3.914 seconds, 318.02 mph; 2. Antron Brown, 3.923, 305.98; 3. Doug Kalitta, 3.925, 307.44; 4. Terry McMillen, 3.930, 314.75; 5. Brandon Bernstein, 3.947, 285.83; 6. Shawn Langdon, 3.957, 303.03; 7. Morgan Lucas, 4.002, 279.27; 8. Khalid alBalooshi, 4.021, 303.57; 9. Steve Torrence, 4.107, 275.28; 10. Bob Vandergriff, 4.113, 294.75; 11. David Grubnic, 4.160, 225.45; 12. Tony Schumacher, 4.232, 264.91.  Not Qualified: 13. Clay Millican, 4.530, 179.76; 14. Steven Chrisman, 5.280, 137.62; 15. Scott Palmer, 6.865, 107.46.
Funny Car — 1. Jack Beckman, Dodge Charger, 4.131, 304.05; 2. Robert Hight, Ford Mustang, 4.135, 304.53; 3. Ron Capps, Charger, 4.137, 301.54; 4. Cruz Pedregon, Toyota Camry, 4.165, 297.02; 5. John Force, Mustang, 4.188, 302.82; 6. Mike Neff, Mustang, 4.208, 301.20; 7. Courtney Force, Mustang, 4.212, 297.94; 8. Jeff Arend, Camry, 4.218, 298.40; 9. Matt Hagan, Charger, 4.224, 288.15; 10. Tim Wilkerson, Mustang, 4.237, 275.00; 11. Johnny Gray, Charger, 4.327, 283.97; 12. Bob Tasca III, Mustang, 4.386, 275.28.  Not Qualified: 13. Jeff Diehl, 4.426, 276.69; 14. Tony Pedregon, 4.434, 246.21; 15. Alexis DeJoria, 4.668, 216.93; 16. Todd Lesenko, 5.077, 169.98; 17. Todd Simpson, 5.187, 180.07.
Pro Stock — 1. Allen Johnson, Dodge Avenger, 6.962, 198.29; 2. Mike Edwards, Pontiac GXP, 6.966, 197.80; 3. V. Gaines, Avenger, 6.975, 197.88; 4. Jason Line, Chevy Camaro, 6.988, 196.93; 5. Ron Krisher, GXP, 6.995, 196.19; 6. Vincent Nobile, Avenger, 6.998, 197.13; 7. Erica Enders, Chevy Cobalt, 7.003, 196.33; 8. Jeg Coughlin, Avenger, 7.010, 196.90; 9. Greg Anderson, Camaro, 7.015, 195.87; 10. Warren Johnson, GXP, 7.037, 195.22; 11. Larry Morgan, Ford Mustang, 7.054, 195.68; 12. Deric Kramer, Avenger, 7.060, 194.80.  Not Qualified: 13. Shane Gray, 7.062, 194.52; 14. Kurt Johnson, 7.066, 194.66; 15. Steve Kalkowski, 7.166, 192.19; 16. Paul Pittman, 15.865, 57.29.
Pro Stock Motorcycle — 1. Hector Arana Jr, Buell, 7.238, 184.57; 2. Hector Arana, Buell, 7.243, 183.62; 3. Andrew Hines, Harley-Davidson, 7.290, 183.52; 4. Eddie Krawiec, Harley-Davidson, 7.314, 183.42; 5. Matt Smith, Buell, 7.321, 182.21; 6. Mike Berry, Buell, 7.321, 181.40; 7. Steve Johnson, Suzuki, 7.338, 181.37; 8. Michael Ray, Buell, 7.350, 180.26; 9. Karen Stoffer, Suzuki, 7.358, 180.96; 10. Shawn Gann, Buell, 7.375, 181.15; 11. LE Tonglet, Suzuki, 7.388, 180.48; 12. Jerry Savoie, Buell, 7.408, 175.66.  Not Qualified: 13. Michael Phillips, 7.420, 179.18; 14. John Hall, 7.447, 176.88; 15. Katie Sullivan, 7.476, 175.80; 16. Matt Guidera, 7.485, 178.50; 17. Scotty Pollacheck, 7.678, 173.34; 18. Charles Sullivan, 7.693, 170.92; 19. James Surber, 7.913, 174.62; 20. Angie Smith, 10.128, 86.99.