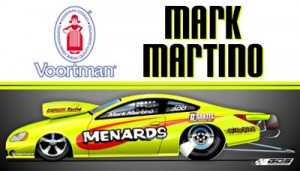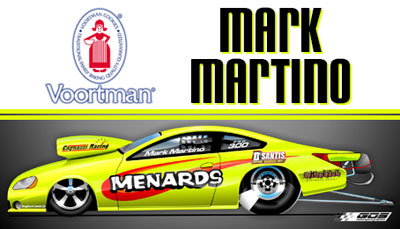 North American cookie maker Voortman, of Burlington, Ont., will sponsor Canadian Pro Stock racer Mark Martino Aug.15-18, during the Lucas Oil NHRA Nationals in Brainerd, Minn. The sponsorship, arranged through Forward Sports Marketing, involves activation of a new sales promotion with Midwest retailer Menards.
Menards stores will begin carrying Voortman Cookies in mid-August to celebrate the race team sponsorship and will offer the popular wafer cookies in vanilla, strawberry, chocolate, and coconut flavors.
"We are proud to represent a great Canadian company like Voortman Cookies and have the bright yellow Menards graphic scheme on our Pro Stock car at Brainerd," said Martino. "I think the race fans who shop at Menards will be just as excited as we are to have Voortman Cookies available through their 280 stores in the Midwest.
"Brainerd is a special place for me as this track was the first place we raced in the NHRA Pro Stock class in 2010 and qualified for our first-ever event here back in 2011."
Martino had an impressive race recently at the O'Reilly Auto Parts Route 66 NHRA Nationals presented by Super Start Batteries in Chicago, where he introduced a new combination for his racing program. He obtained a GXP chassis from Kenny Koretsky and power from engine builder Cagnazzi Racing and topped it off by adding renowned crew chief Eddie Guarnaccia Jr., along with Jamie and Jon Yates.
The race car will be on display and Martino will host an autograph session Thursday, Aug. 15, from 4 to 6 p.m. at the Menards store at 15236 Dellwood Drive in Baxter, Minn., just four miles from Brainerd Int'l Raceway. The next day, the race team will begin competing at the Lucas Oil NHRA Nationals.