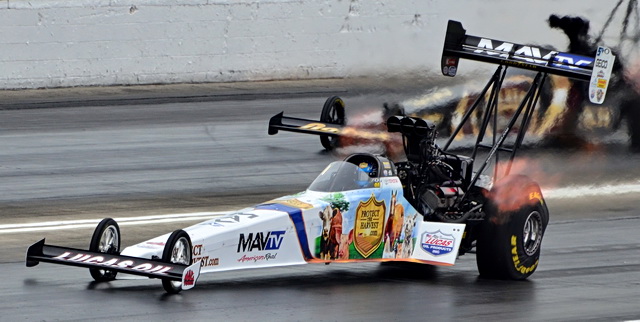 Morgan Lucas Racing announced Nov. 19, it will scale back to one full-time Top Fuel dragster for the 2014 NHRA Mello Yello Drag Racing Series, parking the ProtectTheHarvest.com/MAVTV dragster (above) driven by Brandon Bernstein.
Team owner Morgan Lucas said the decision was made to park the car right now in order to let Bernstein and the rest of the crew, including co-crew chiefs Joe Barlam and John DeFilippis, seek new employment while there are opportunities available.
"This has been a very difficult decision to make,"  Lucas said. "It's strictly a business decision but still very tough for me. I've been discussing this at great length with my father (Forrest Lucas, founder of Lucas Oil). Unfortunately, this is the nature of the motorsports business, although that doesn't make it any easier, especially when your friends are involved.
"Brandon has done a spectacular job representing our brands," Lucas said. "Protect The Harvest, MAVTV, and Lucas Oil are all better off thanks to Brandon's representation. We wish him as much success as possible in the future."
The car has been raced since 2007 with drivers Melanie Troxel, J.R. Todd, Shawn Langdon, and Bernstein behind the wheel. Troxel won twice in 2007. Todd and Bernstein each won once during their time in the car. Fifth place was the best the car finished in the championship standings with Langdon accomplishing that feat in 2010 and Bernstein doing the same in 2012.
"We tried every avenue we could to keep this car out there," Lucas said. "It just didn't happen.
"Even though we will have one less car out on the track, we're still going to be an organization capable of winning races every weekend and ultimately contending for the 2014 championship."
MLR will continue to field the GEICO/Lucas Oil dragster next year with driver Richie Crampton making a rookie of the year bid.