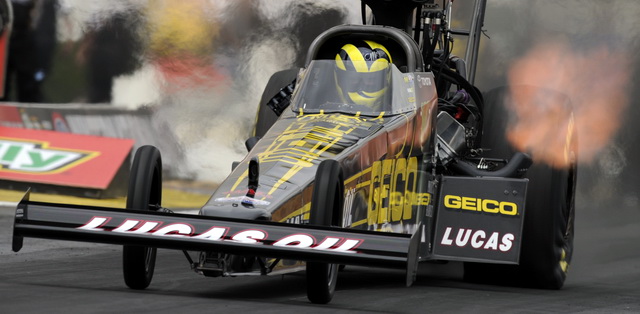 At this weekend's NHRA World Finals in Pomona, California, Morgan Lucas would like to put one last finishing touch on what has been his best season behind the wheel of the GEICO/Lucas Oil Top Fuel dragster.
"A win at the finals in Pomona would be awesome," Lucas said. "It would be a great way to both cap a great season for the team and be a good start toward a better year in 2013."
Lucas' dream season started with a No. 1 qualifier and a semifinal finish at Pomona back in February.
"We thought we had something special with this team then," Lucas said. "We thought we had a car that could run with anybody and we showed it right there in the season opener."
After that strong start, Lucas went on to collect four total No. 1 qualifiers and wins at Gainesville, Houston and Brainerd.
"It's been an exciting year for everybody on the team and we're looking forward to ending the season on a strong note."
Lucas and Doug Kalitta are in a tight battle for sixth place in the final Top Fuel standings. Kalitta leads Lucas by just 10 points for the sixth slot with four rounds of racing left.
"It's not a championship fight, but it's still important for us," Lucas said. "We're going to hope we earn some of those points back during qualifying, but realistically, we're going to have to go one round further than Doug.
"With the way the season has unfolded this year, we'll probably end up against Doug in the first or second round."
Lucas is 2-0 head-to-head against Kalitta this season.
"We had a good test in Las Vegas and we always seem to run well in Pomona," Lucas said. "I don't know if it being close to where I grew or if it's the strong number of Lucas Oil employees and their families who come to this race, but there is always a little magic with the GEICO team when we get to Pomona."
(Photos courtesy NHRA/National Dragster; Click to enlarge)