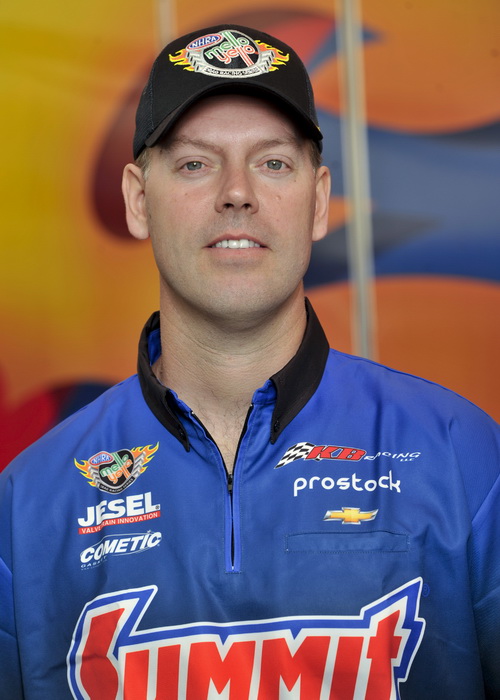 Summit Racing Pro Stock driver Jason Line (right) was uninjured in a crash earlier today at a private test session at Rockingham Dragway in North Carolina.
Line's silver Chevrolet Camaro abruptly made a hard right turn from the left lane just past half-track, slammed into the right guard wall, and barrel-rolled several times before coming to a stop. Line emerged unhurt.
"At this time, we're not 100 percent sure what caused it," Line's KB Racing teammate Greg Anderson said.
"It was the first pass down the track, and [the car] got very loose out in the middle, so Jason lifted at about the 1/8-mile mark and was basically just coasting to the finish line when it turned sideways, went straight into the right hand wall and barrel-rolled. There was a lot of damage to the car, but we will regroup. The main thing is that Jason is okay."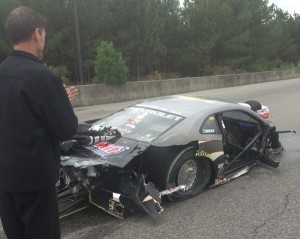 Line, a two-time NHRA Pro Stock champion, currently sits third, just 50 points behind Jeg Coughlin Jr. in first place with two races left in the 2013 Countdown to the Championship.
Although the damage to the silver car cannot be repaired in time for the next race on the tour, the NHRA Nationals at The Strip at Las Vegas Motor Speedway October 24-27, Line will finish the season in another of the Chevrolet Camaros in the KB Racing arsenal.
"We do have another car, and Jason will go forward and try to win this championship," said Anderson. "The crazy thing is, in the recent history of our team, it seems like trauma only makes us rise up and do our absolute best.
"Everything happens for a reason, and this certainly makes our challenge tougher – but don't count us out. It will just be a better story to tell when we come back and win that championship."