Jason Line (Pro Stock) and Jerry Savoie (Pro Stock Motorcycle) claimed NHRA Mello Yello Drag Racing Series world championships Sunday at the Auto Club NHRA Finals at Auto Club Raceway at Pomona.
Line clinched his third Pro Stock world championship after he raced to victory in his Summit Racing Equipment Chevy Camaro in the semifinal round, putting the points out of reach for second-place teammate Greg Anderson.
"It's been a great year and thanks to all of our competitors; they kept us honest and made us work hard right to the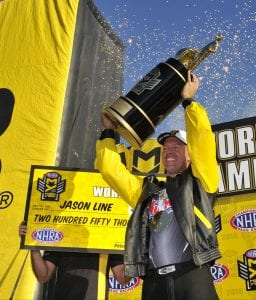 end," said Line, who also won the world title in 2006 and 2011. "I have to thank all the Summit guys, Ken Black, and all of them. It has been an incredible season and I can't believe I didn't actually mess it up. It is such an honor to be up here. We have had a great car all year. Greg [Anderson] and I have had probably the two best cars all year. If it had ended any other way, I would have been disappointed."
Line and Anderson dominated the first year of the redesigned Pro Stock class, which features electronic fuel injection, 10,500 rev-limiters, shortened wheelie bars and flat hoods. Line finished the season with a career-high eight wins in 14 final-round appearances. He led the points at 22 of 24 events and notched a career-high 65 round wins over the course of the year.
In Pro Stock Motorcycle, Savoie earned his first career world championship after he advanced to the semifinals while his nearest contenders, Eddie Krawiec and Andrew Hines, were knocked out in the quarterfinals. Savoie, rider of the White Alligator Racing Suzuki, never led the points standings until he secured the title.
"To only dream of winning one race and to come out here and put a deal together with the support of Vance & Hines and my crew and to win the championship is amazing," said Savoie, who won two races and notched four runner-ups. "I went to church this morning and the word was encouragement and to get encouraged from the people that inspire you. I want to thank everybody, especially the fans. Without these guys, this would not be possible; you make our dreams come true, and those guys are my family."
Savoie made his championship intentions known early in the season by racing to runner-up finishes in Atlanta and Englishtown, N.J. The alligator farmer entered the Countdown to the Championship fourth in points but suffered a first round loss in Charlotte, N.C., and fell to sixth. After that upset, Savoie and his team hit their stride and went on to win at St. Louis and Las Vegas and post a runner-up finish in Dallas. He was also the No. 1 qualifier at three consecutive events at the end of the season.
In other racing news, Doug Kalitta (Top Fuel), Tommy Johnson Jr. (Funny Car), Greg Anderson (Pro Stock) and Matt Smith (Pro Stock Motorcycle) were victorious in their respective categories at the 24th and final event of the 2016 NHRA Mello Yello Drag Racing Series season. The Auto Club NHRA Finals marked the conclusion of the six-race NHRA Mello Yello Countdown to the Championship playoffs.
Kalitta powered to a holeshot victory with a 3.745-second pass at 326.63 mph in his Mac Tools dragster to defeat J.R. Todd's 3.704 at 327.90 in his SealMaster dragster in the Top Fuel final. Kalitta claimed his fourth victory of the season and 42nd of his career. He sprinted past Shawn Reed, eight-time world champ Tony Schumacher and Shawn Landon in the earlier rounds. The win moved him to second in points, where he will finish for the fourth time in his career.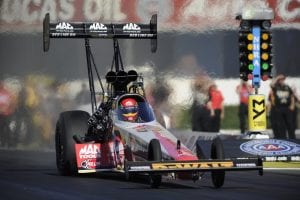 "I've been trying to win this last race for a long time," said Kalitta, nephew of drag racing legend Connie Kalitta. "The history here, for me, growing up watching Connie race over the years and to be able to win today was huge for me and for everybody on the team. It was very cool that [J.R. Todd] and I were both in the final and got to run for the money there. It will be good momentum for all of our teams and we finished off the season with some good runs."
Todd, appearing in a career-high sixth final round, knocked down Troy Buff, Richie Crampton and world champion Antron Brown en route to the final round.
In Funny Car, Johnson notched a 3.918 at 320.51 in his Make-A-Wish Foundation Dodge Charger R/T to outlast John Force's 3.918 at 321.81 on a holeshot in his Peak Antifreeze Chevy Camaro in the final. Johnson tallied his third win of the season and 15th of his career. Johnson, who posted a runner-up at this event one year ago, finished a career-high second in points. He beat Dave Richards, Robert Hight and Courtney Force in the earlier rounds.
"We're disappointed we didn't win the championship," said Johnson Jr., who had not finished higher than third in points before this season. "It's so important to do well. You have six races to really make no mistakes and we had a bad race or two there towards the middle of the Countdown. It was a little frustrating because we knew we were better than that. We had fallen down to third and we came here and knew we wanted to get back to second; we knew we could do that. You want to finish strong and show you are there to contend. You want to end on a high note because it kind of sets the tone for next season."
Force, making his eighth career final round appearance at the Auto Club NHRA Finals, outlasted Cruz Pedregon, world champion Ron Capps and No. 1 qualifier Jack Beckman before losing to Johnson Jr. in the final.
Anderson was able to beat his Summit Racing Equipment Chevy Camaro teammate and series champion Line on a holeshot in the Pro Stock final round by powering to a 6.580 at 210.24, bettering Line's 6.570 at 211.43. This is Anderson's eighth win of the season, 86th of his career and sixth at the Auto Club NHRA Finals. He finished the season second in points.
"Great day; I can't cry," said Anderson. "I did all I could do today, I did everything I could possibly do today. The only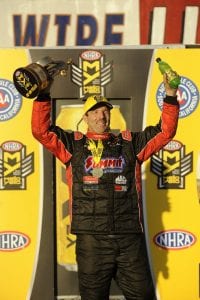 thing I can kick stones about is that I didn't do a great job on qualifying on Friday. I lost three points to Jason and those three points are a big three points. You do the best you can and sometimes you make a mistake and I did on Friday and it cost me and that was the decider. Still a great fight. Great fight all year. We had some great battles. During the last half of the year the rest of the class got in and we had some great battles with them. We overachieved this year and we're leaving here happy."
Line raced past Alan Prusiensky, Chris McGaha and two-time world champion Erica Enders before finding Anderson in the final.
In Pro Stock Motorcycle, Matt Smith rode to an 8.044 at 117.34 on his Victory Gunner to beat Angelle Sampey, who left the line early to red-light on her Buell in the final. Smith claimed his first win since 2013 with the performance. The victory moved him to sixth in the points standings.
"We haven't had the best season in the world," said Smith, who claimed his second Finals victory. "We've had a fast bike but we've had a lot of electrical problems and transmission issues. We finally solved that about four races ago and it was good for us to run as good as we have. It struggled in qualifying but it came around today. To give Victory their first win is huge. I'm so glad I was able to get it done for them. We have big plans for next year and hopefully you'll see us a lot more next year."
Sampey, who won in Englishtown, N.J., beat Scotty Pollacheck, four-time world champion Andrew Hines and Savoie in the earlier rounds.
The 2017 NHRA Mello Yello Drag Racing Series will begin at Auto Club Raceway at Pomona with the Circle K NHRA Winternationals, Feb. 9-12.