Jonnie Lindberg got the first look at the new body of the Jim Head-owned Funny Car he'll drive in 2018 about a week ago. Like the veteran owner he'll work with for a second straight year, he was simply glad for a design that wasn't red. But on the cusp of attending the NHRA test session this weekend in Phoenix, seeing the new body also got the competitive juices flowing for the two-time Alcohol Funny Car world champion who made a sizeable impression in his rookie campaign in nitro Funny Car.
"I like it; it's definitely something new," said Lindberg, who had three final round appearances in 2017. "It looks fresh. I've been up there working in the shop the last two weeks, and everyone is real excited to start the season. It feels good to go testing."
It's hard not to sense the feeling of optimism between Lindberg, Head and the rest of the team. After not testing before the season last year and not racing the first two events, Lindberg and company will head west to Phoenix to test and with the hope of racing the full 24-race schedule.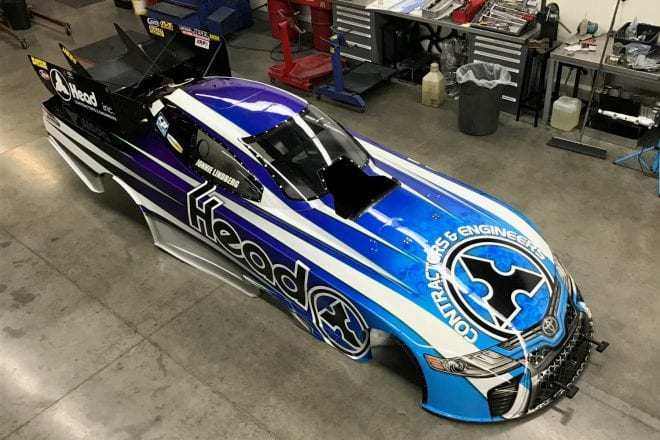 Lindberg competed at 20 events last year, putting him ever so close to claiming the final Countdown to the Championship spot. Missing that 10th spot by just more than three rounds kept Lindberg wondering what would happen with a full slate of races under his belt. He may get that opportunity in 2018 and that's a thrilling prospect for the Sweden native.
"It feels great, and we need to be there from the beginning," Lindberg said. "From my alcohol days, I've always loved Pomona. We were close to the top 10 (last year), but it's going to be tough this year and we need to be ready. We just need to be a little more consistent. We started out good, lost a little bit in the middle, tested in Indy and came back strong."
Lindberg was consistently in the 3.80s to end the season, following up his runner-up showings at his first two career Funny Car races with a late-season finals appearance in St. Louis.
There are more issues to solve and the team has already modified some of them in hopes of better reaction times, and Lindberg thinks the time in Phoenix will help the team considerably. The talented driver made impressive strides behind the wheel as a nitro Funny Car rookie and Head has repeatedly displayed his confidence in him. That helps Lindberg, who has thoroughly enjoyed his time with Head, one of the sport's free thinkers who also isn't afraid to step outside the box.
"He's a clever guy and it's been a good experience," Lindberg said. "He's very straightforward. If you ask him something, he listens and then gives his explanations.
"Every run we look at the computer together and I learn a lot about running a car like this. I like to be involved in everything and he lets me, so that's really cool. I think I become a better driver being involved like that."
Lindberg's penchant for winning and Head's ultra-competitive nature also makes for an ideal fit. It's an uphill battle in a loaded Funny Car class that features proven multi-car teams, but Lindberg isn't one to back down from a challenge. Head has always been wired the same, and the team won't be backing down from anyone in 2018.
"We try to run hard, run with the big teams and try to win," Lindberg said. "That's the good part driving for Jim – he's not there just to qualify, he's there to win. We're here to win and it's really tough, but it's not impossible."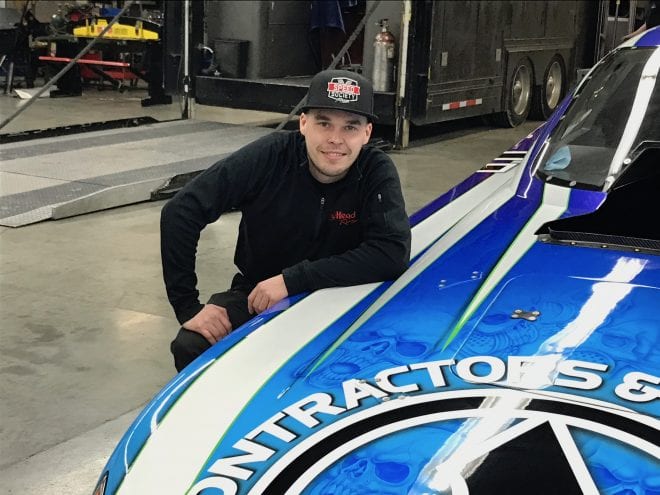 Tough, but not impossible is also the perfect way to describe Lindberg's breakneck schedule, especially if he races all 24 Funny Car events in 2018. He'll continue to tune Jay Payne's Alcohol Funny Car and will likely head back to Europe a few times to tune some Pro Mod cars. Lindberg even got a call to drive a Top Fuel dragster in Europe for three weeks, an offer he is still considering. That means no down time and busy weekends from now until November, but for a driver trying to go 330 mph, it's just the way he likes it.
"I told myself maybe I should slow down a little bit, but if I just work all the time, I don't feel tired," Lindberg said.