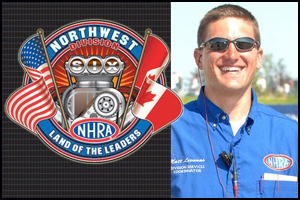 NHRA officials recently announced that Matt Levonas has been named director of NHRA's Northwest Division.
In his new position, Levonas will conduct and oversee drag racing activities at the 19 NHRA-member facilities in the Northwest Division, providing consultation to all track operators in the division, as well as supervising development of new race track activity.
"We are fortunate to have such a passionate and dedicated individual like Matt to take over as the director of the Northwest Division," said Josh Peterson, vice president of racing administration, NHRA.
"He brings great enthusiasm to the position, along with a strong work ethic and we are confident his efforts will ensure continued success in the Northwest Division."
Levonas has been involved in motorsports for most of his life, growing up in a racing family. In 2002 he joined NHRA's West Central Division (Div. 5) certification team. He also spent two years working in a variety of positions at Bandimere Speedway near Denver before joining the West Central Division full-time as a division services coordinator in 2006.
"I am very excited about the opportunity to lead NHRA's Northwest Division," said Levonas.
"The division has a great amount of history and tradition and I look forward to continuing the Division 6 legacy within NHRA and helping to grow the sport of drag racing in the Pacific Northwest.  I hope to make the NHRA experience more enjoyable for everyone in Division 6 – competitors, sponsors, track operators, and fans."
Levonas begins his new role as Division 6 Director on Dec. 1. He will be relocating to Washington from Missouri.
(Photo courtesy NHRA.com)