Danny Vaca is a familiar face when it comes to walking the pits and having a presence at the racetrack. It's a method that has worked extremely well for one of the three founders of LAT Racing Oils, thriving with a process that often goes something like this: A racer not using LAT Racing Oils has a problem, with their transmission being the most common thing. Vaca will talk to that racer, borrow from a current customer's supply – which he always replaces – with enough to make a change and the impact is almost immediate.
"They put it in and I'm telling you, the next pass they make they thought I walked on water," Vaca says. "I hate to describe it like that, but they will say, 'Dude, it did exactly what you said it was going to do.'"
It's proven to be a successful method since LAT Racing Oils was founded in 2007 and something Vaca takes a great deal of pride in. His presence at the track, which will include a number of NHRA Pro Mod and PDRA races in 2018, has given the company a distinctive edge against its competitors, but Vaca's racing background has also been instrumental in LAT Racing Oil's growth.
Vaca was a racer for years, building his own engines and doing his own research and development. He sold the car after he got married and had children, but the passion to stay in the sport remained. When his partner showed an interest in moving into the oil side of the industry, Vaca was all in and his determination showed it.
"I used a lot of different oils and experimented but I didn't really know the background about oil," Vaca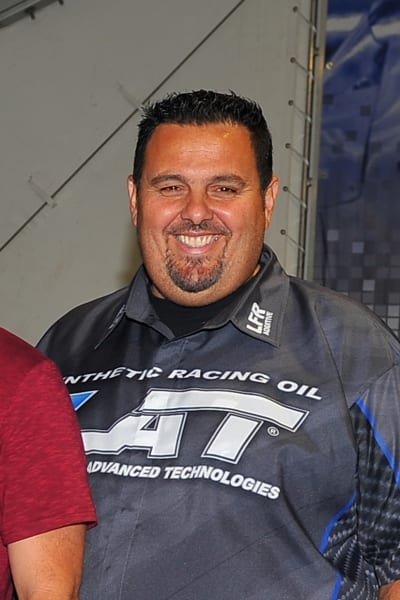 freely admits. "At that time, it took me about 2-3 years to learn the ins and outs. Not that I knew everything, but I knew a good handful to kind of get started. The most important thing I remember why the oil made sense to me is because when a racer has problems, I knew automatically what they were talking about. I could relate and work with the people.
"As I was adjusting, I was able to learn more about what a motor really needed. I think the biggest thing was I was a former racer and I built my own engines, and it helped me understood anytime someone had a problem, I related to it right away."
That has been an impactful aspect for LAT Racing Oils over the past decade, though Vaca readily admits the company suffered through the low spots any new business tackles, especially in one as fickle as drag racing. But Vaca has been dedicated in making sure his racing oils and transmission oils are at the top when it comes to quality and performance.
That comes from rigorous studying and testing, as well as plenty of interaction with racers. He's not at the track to hand out business cards and make idle conversation; he's there to make a difference, whether it is with current customers or potential new ones. That transparency has gone a long way with a customer base that is constantly growing.
"I'm not afraid to talk about what's in my oil because that customer needs to know," Vaca asserts. "That's important and I'm personable with everybody. When they become a customer, it's kind of like more of a family kind of thing. Every one of my customers has my cell number. I tell them if they're in trouble on Saturday or Sunday, call me. I'm always there for them."
Vaca readily admits that aggressive approach has made a major difference, but that aggressive mindset carries over into their intense testing and development. He understands the difference in applications for different cars and different set-ups, and recognizing those minor differences can pay major dividends for racers at the track. It leads to questions nobody else is asking, but that also leads to answers other companies aren't providing.
"When you talk to an oil person, usually they're a book-talk person," Vaca says. "I can tell by talking to them, they are taught what to say. Me, when they come up and they tell me they have this application and they say they want to run this oil, I can say, 'You don't want to run that oil. You're going to have issues.' I tell them the problem. Just because the Pro Stock cars run it doesn't mean a turbocharger is going to run that oil.
"That's what sets us apart, the knowledge that I've learned hands-on. Not putting down a formulator, but a formulator studies regular passenger cars. I had to take it into my own hands, and it was a lot of trial and error."
Vaca studies bearings, RPM range, power range, clearance and anything else to arrive at the proper answer, doing in-depth analysis that has proven to get results, all with the goal to make an oil robust enough to handle the heavy limits of a racecar.
LAT Racing Oils' top seller is its Pro ATF transmission products, which is also starting to gain heavy traction in the X275 class. The ATF products have become a dominant force in that category, while the 50-, 60- and 70-Weight oils have become wildly popular with Pro Mod racers.
Vaca says the next step for the company is suspension fluid, but business is clearly on the right track. He left in mid-April for Thailand, visiting one of his biggest clients at an international raceway that promotes LAT Racing Oils, adding another impressive sign of growth for a company continually adding dealers. Ultimately, though, the product has to work and that is where Vaca takes the most pride in the company's lineup.
"Everything is in here that you want," Vaca says. "We do have a big trust out at the tracks. That's why I walk around. They're promoting my product and standing behind my product, and we're continuing to grow."
This story originally appeared in DI #132 in May of 2018.