FireAde Racing driver Larry Morgan moved up to sixth in points in the ultra-competitive Pro Stock class with a semifinal finish at the NHRA Kansas Nationals on Sunday at Heartland Park Topeka.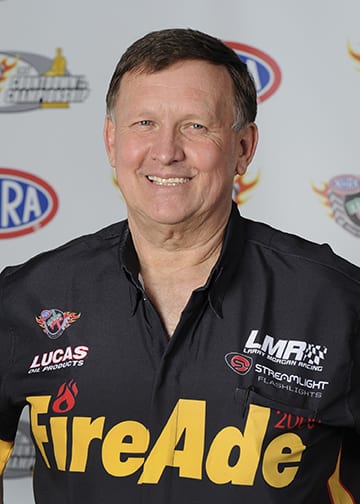 Morgan lost to eventual race winner Erica Enders, but after qualifying No. 4 and racing to the semifinals, he was all smiles.
"I'm excited," Morgan said. "We had a good weekend. We run here and we're not used to all this crazy weather. The tune-up was just off. We had a good day and I'm excited for FireAde. We are getting more rounds in and getting more TV time and people are becoming more aware of what FireAde is. Everybody ought to have one in their house."
The No. 4 qualifying position was Morgan's highest since 2007, and his semifinal appearance helped him move up one spot in the standings. He now has one victory — in Charlotte — one semi, and three quarterfinal finishes in eight races.
'"You know what, we're happy," Morgan said. "We gained some points on some people and we moved into sixth. We picked up rounds on guys who were ahead of us, and we've got some momentum now."
And it came at his 599th career race, with race No. 600 scheduled to be in Englishtown, N.J., in two weeks.
"That's pretty good," Morgan said. "I don't know whether you need to congratulate me at the next race or kick me in the butt for doing that many races."
Morgan was solid throughout Sunday, making a first-round run of 6.605 seconds at 208.62 mph to beat Bo Butner's pass of 6.616 at 207.75 mph. He then got a second-round win when Vieri Gaines red-lighted, still making a good run of 6.610 seconds at 208.55 mph.
That matched Morgan up against Enders, the No. 1 qualifier who ended up having low elapsed time of every round this weekend. Morgan got the jump on the 2014 Pro Stock champion with a .007-second reaction time, but Enders ran him down with a run of 6.579 seconds at 208.94 mph as Morgan finished with a 6.609-second pass at 208.68 mph.
"I tried to kick her butt," Morgan said. "She knew I was there. I guarantee she was worried about me. Hey, we had a pretty good day. If we would've made a run like we did Saturday, we might've gone to the final, but we changed the setup around, and it probably cost us."