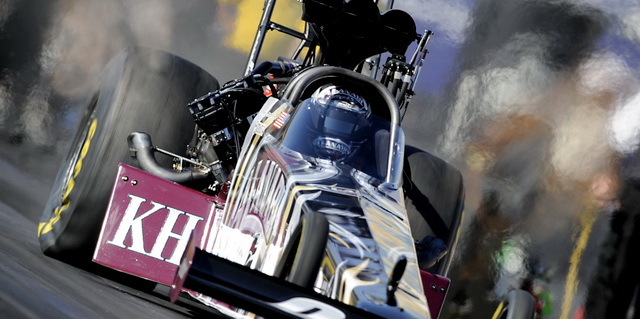 Top Fuel driver Shawn Langdon (above) was quickest Aug. 22, in his 8,000-horsepower category during the first of two days of testing at Lucas Oil Raceway at Indianapolis. NHRA teams are utilizing the two-day open test to prepare for the 58th annual Mac Tools U.S. Nationals presented by Auto-Plus, Aug. 29-Sept. 3, the world's most prestigious drag race.
Langdon powered his Al-Anabi Racing dragster to a 3.783 second run at 318.54 mph to lead the group of Top Fuel dragsters who participated in the test. Langdon has already qualified for the Full Throttle Countdown to the Championship playoffs, but is still looking for his first victory of the season.
"It was a really good run," Langdon said. "That 3.78 is what we have been looking for and working for all year. Obviously it is testing and it is the first day, but it just kinda shows good insight into what the track will hold for next weekend on the night sessions. We know the track will be really good and the weather is pretty good as well, so hopefully we can keep our head on straight and we can keep up and run with these guys."
Schumacher, an eight-time winner of the Mac Tools U.S. Nationals in Top Fuel, continued to use his canopy-covered U.S. Army dragster and was pleased with the performance he and his team turned in on the first day of testing. Schumacher posted a best effort of 3.801 at 323.50.
"It was good," said Schumacher, who has one win this season and is third in the points standings. "The track was really good. It is Indy, so this is a big week. It is the week leading up to the race; just a huge, huge race. Our car went out and did exactly what it was supposed to do and it made a good run. We can really get after it tomorrow."
Several other cars made full passes, including four-time season winner Massey, who posted a 3.811 at 323.66 in the FRAM/Prestone dragster, series points leader and defending race winner Antron Brown had a 3.817 at 318.84 in his Matco Tools dragster and Steve Torrence, a three-time winner this year, posted a 3.851 at 293.51 in his Capco Contractors dragster. Bob Vandergriff, Khalid alBalooshi, Brandon Bernstein, Brady Kalivoda and Rit Pustari also made testing attempts.
Jack Beckman led a group of four Funny Cars during the test with a 4.118 at 282.66 in his Valvoline/NextGen Dodge Charger and was followed by Tony Pedregon in his Pedregon Racing Toyota Camry with a 4.172 at 266.95. Veteran drivers Jim Head and John Force also made half-track and shut-off runs.
Only one Pro Stock car was at the test. Local racer Steve Schmidt posted a time of 6.749 at 204.85.
Five Pro Stock Motorcycles were on hand and defending world champ Eddie Krawiec was the quickest with a 6.940 at 174.64 on his Screamin' Eagle Vance & Hines Harley-Davidson. His teammate, three-time world champ Andrew Hines, clocked a test effort of 6.967 at 176.01 on his Harley-Davidson.
"Testing went real well, we were just trying to break in some tires," said Hines, a three-time season winner who along with teammate Krawiec (six wins) have won all nine Pro Stock Motorcycle races this season.
"We scuffed in two new ones today, put four runs on each and they are looking pretty good. They are pretty shady off the start, but after a couple of runs they come right in and we will have some good tires for the Countdown. The main thing was to come out here and make laps and get the bikes shook down and everything worked out well."
Former Mac Tools U.S. Nationals winners Matt Smith and Steve Johnson also participated in the test, along with Texas rider Michael Ray. Smith posted a 6.961 at 191.10 on his Buell, while Johnson rode his Suzuki to a best run of 7.014 at 190.54. Ray clocked a 6.984 at 190.46 on his Buell.
(Photos courtesy NHRA/National Dragster; Click to enlarge)