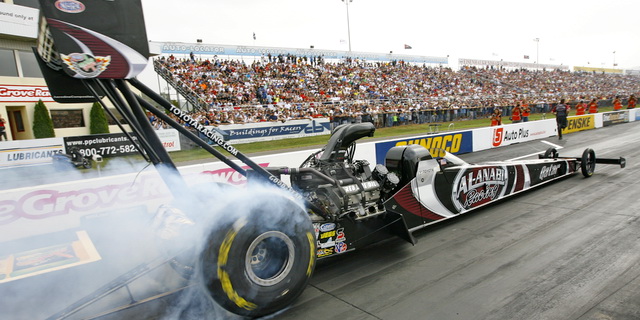 Top Fuel driver Shawn Langdon (above) and Funny Car's John Force both extended their points leads and edged closer to world championship titles by racing to victories on Sunday at the Auto-Plus NHRA Nationals at Maple Grove Raceway.
Jeg Coughlin (Pro Stock) and Matt Smith (Pro Stock Motorcycle) also were winners at the fourth of six playoff races in the NHRA Mello Yello Drag Racing Series Countdown to the Championship.
Langdon powered his Al-Anabi Racing dragster to a run of 3.779 seconds at 323.81 mph to beat defending world champion Antron Brown in the final round and close in on his first career world championship.
Langdon earned his class-best sixth win of the season and seventh of his career by topping Brown and his Matco Tools dragster, which went 3.806 at 322.04 in Brown's second straight final round appearance.
"We have a good grasp on things, but there's two races left and anything can happen," Langdon said. "The competition level is so tough right now so you can't take anything for granted."
Langdon, who qualified No. 2 and won for the first time at Maple Grove Raceway, beat Leah Pruett in an entertaining peddle-fest, Bob Vandergriff and Doug Kalitta to reach the final round and extend his Top Fuel lead to 83 points over Kalitta with two races remaining. Langdon went 3.794 at 324.67 to beat Kalitta's 3.827 at 324.90 in a thrilling side-by-side semifinal matchup. Spencer Massey trails Langdon by 86 points in third.
"We had a little bit of luck and you need that on Sundays," Langdon said, referencing his first round win against Pruett. "Going into the semifinals, that was a huge pressure situation. As a driver, I'm just trying to calm myself down. This Al-Anabi team knows how to win championships and I'm just trying to do the best I can. My mentality is just don't mess anything up."
In Funny Car, Force claimed his second straight win and extended the points lead he gained in Saturday qualifying by beating rookie Chad Head (left, far lane) in the final round, going 4.106 at 313.37 in his Castrol GTX Ford Mustang.
The victory gives Force, a 15-time world champion, a 65-point lead over Matt Hagan, and is his third this season and 137th in his career. Head appeared in his second career final round in his Head Racing Toyota Camry. The victory also gave Force seven victories at Maple Grove Raceway, the most for any NHRA competitor.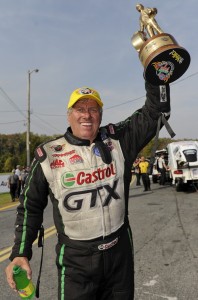 "You give credit where it's due, and (crew chief) Jimmy Prock and this team is just great," Force said. "What I look at as most exciting is the teamwork with this group. To get this win meant a lot to me, but they all mean a lot. I've got a good hot rod right now."
Force beat Countdown contenders Ron Capps and Cruz Pedregon, as well as Jeff Arend to move to the championship round, going as quick as 4.061 at 317.12 on Sunday. Hagan fell in the second round to Capps and will have to make up ground at the next two events to catch the red-hot Force.
"What we have right now is consistency," Force said. "We had to beat good competition (Sunday). We stayed with our strategy and stayed with what we knew we could do."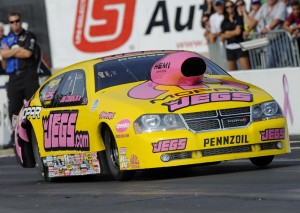 Pro Stock's Coughlin moved into the points lead and earned his fourth victory this season with a holeshot victory against defending world champion Allen Johnson. Coughlin, who has 56 career wins, posted a winning time of 6.616 at 208.75 in his JEGS.com Dodge Avenger, and his quicker reaction time overcame Johnson's quicker, but losing Team Mopar Dodge Avenger, which finished in 6.588 at 209.39.
"To come out with the points lead certainly feels fantastic, but we've got a lot of racing left," said Coughlin, who had an impressive .004 reaction time in the final round. "We'd love to say this thing is all but over, but there's a lot of racing left and we're looking forward to it. To get that win in such a huge final round, that was big for us."
Coughlin, whose four wins at Maple Grove tied Warren Johnson for the most in Pro Stock history, leads Mike Edwards by 45 points and Jason Line by 48 points. Coughlin earned a crucial semifinal win against No. 1 qualifier Line on Sunday, and also defeated Larry Morgan and Shane Gray en route to the victory.
"In our case, with the way things have played out, we made a pretty good jump and we're happy to have the points lead," Coughlin said. "We're racing hard and we're racing smart, and that's how we raced this weekend."
In Pro Stock Motorcycle, points leader Matt Smith zoned in on his second world championship by beating defending world champion Eddie Krawiec in the final round. Smith rode his Viper Motorcycle Company Racing Buell to a winning performance of 6.936 at 193.32 to earn his second straight victory, third this season and 16th in his career. Krawiec went 6.965 at 190.43 in the final round on his Vance & Hines Screamin-Eagle Harley Davidson in his second final round appearance during the Countdown.
"I can't say enough about our crew," Smith said. "We hurt our good motor (Saturday), but things worked out for us. All in all, we beat big competitors in the semifinals and finals, extended our points lead and I'm really happy right now."
Smith's second career win at Maple Grove Raceway pushed his lead to 125 points against Hector Arana Jr. The King, N.C. native, who won his first world championship in 2007, beat Michael Ray, John Hall and Chaz Kenney to reach the final round.
"This thing's not over yet," Smith said. "I'm still looking at every round as just 20 points. But we'll be strong, I guarantee you, in Vegas."
The NHRA Mello Yello Drag Racing Series continues Oct. 24-27 with the NHRA Toyota Nationals at The Strip at Las Vegas Motor Speedway.
(Photos courtesy NHRA/National Dragster; Click to enlarge)
MOHNTON, Pa. — Final round-by-round results from the 29th annual Auto-Plus NHRA Nationals at Maple Grove Raceway, the 22nd of 24 events in the NHRA Mello Yello Drag Racing Series:
TOP FUEL
ROUND ONE — Brandon Bernstein, 3.787, 321.58 def. Khalid alBalooshi, 3.810, 320.20; Sidnei Frigo, 3.905, 310.27 def. Morgan Lucas, 6.175, 103.08; Shawn Langdon, 5.504, 172.81 def. Leah Pruett, 6.265, 77.39; Tony Schumacher, 3.767, 326.40 def. Terry McMillen, 3.857, 322.81; Antron Brown, 3.811, 321.88 def. Billy Torrence, 3.808, 325.92; Doug Kalitta, 3.779, 326.63 def. Brittany Force, 3.803, 324.12; Bob Vandergriff, 3.820, 320.58 def. David Grubnic, 3.876, 270.00; Spencer Massey, 3.806, 323.97 def. Clay Millican, 3.797, 322.27; QUARTERFINALS — Langdon, 3.823, 322.73 def. Vandergriff, 3.856, 317.94; Massey, 3.808, 322.96 def. Frigo, 3.872, 319.67; Brown, 3.847, 321.50 def. Bernstein, foul; Kalitta, 3.810, 324.12 def. Schumacher, 5.627, 129.92; SEMIFINALS — Langdon, 3.794, 324.67 def. Kalitta, 3.827, 324.90; Brown, 3.831, 320.74 def. Massey, 3.840, 320.58; FINAL — Langdon, 3.779, 323.81 def. Brown, 3.806, 322.04.
FUNNY CAR
ROUND ONE — Chad Head, Toyota Camry, 4.639, 227.54 def. Robert Hight, Ford Mustang, 9.384, 77.42; Alexis DeJoria, Camry, 4.077, 310.70 def. Jack Beckman, Dodge Charger, 4.542, 188.62; Courtney Force, Mustang, 4.083, 316.15 def. Blake Alexander, Charger, 4.148, 302.41; John Force, Mustang, 4.076, 314.17 def. Jeff Arend, Charger, 19.723, 35.50; Matt Hagan, Charger, 4.100, 317.05 def. Tony Pedregon, Camry, 5.736, 122.53; Ron Capps, Charger, 4.175, 278.17 def. Johnny Gray, Charger, 4.367, 222.36; Del Worsham, Camry, 4.121, 313.15 def. Tim Wilkerson, Mustang, DQ; Cruz Pedregon, Camry, 4.459, 224.51 def. Bob Tasca III, Mustang, 4.803, 183.37; QUARTERFINALS — Capps, 4.095, 314.68 def. Hagan, 5.751, 129.99; Worsham, 4.121, 311.49 def. C. Force, 4.125, 303.03; Head, 4.162, 303.57 def. DeJoria, 4.114, 305.77; J. Force, 4.061, 317.12 def. C. Pedregon, 5.376, 141.02; SEMIFINALS — Head, 4.131, 309.20 def. Worsham, 4.126, 312.93; J. Force, 4.089, 314.17 def. Capps, 4.713, 173.81; FINAL — J. Force, 4.106, 313.37 def. Head, 10.002, 65.47.
PRO STOCK
ROUND ONE — Vincent Nobile, Dodge Avenger, 6.612, 208.59 def. Mark Martino, Pontiac GXP, 6.615, 208.81; Erica Enders-Stevens, Chevy Camaro, 6.605, 208.62 def. Buddy Perkinson, Camaro, 6.603, 210.18; Shane Gray, Camaro, 6.617, 208.26 def. V. Gaines, Avenger, 6.592, 210.54; Jeg Coughlin, Avenger, 6.597, 208.88 def. Larry Morgan, Ford Mustang, 6.616, 208.42; Mike Edwards, Camaro, 6.591, 209.98 def. Steve Kent, Camaro, 6.655, 206.92; Jason Line, Camaro, 6.584, 210.14 def. Kenny Delco, Chevy Cobalt, 6.693, 206.13; Allen Johnson, Avenger, 6.573, 209.46 def. Greg Stanfield, Camaro, 6.642, 207.21; Greg Anderson, Camaro, 6.607, 208.07 def. Richie Stevens, Camaro, 6.605, 209.26; QUARTERFINALS — Coughlin, 6.606, 209.14 def. Gray, foul; Anderson, 6.639, 209.01 def. Edwards, foul; Line, 6.596, 210.37 def. Nobile, foul; Johnson, 6.588, 209.43 def. Enders-Stevens, 6.595, 209.59; SEMIFINALS — Coughlin, 6.615, 208.39 def. Line, 6.607, 210.01; Johnson, 6.595, 209.17 def. Anderson, 6.633, 209.20; FINAL — Coughlin, 6.616, 208.75 def. Johnson, 6.588, 209.39.
PRO STOCK MOTORCYCLE
ROUND ONE — Andrew Hines, Harley-Davidson, 6.960, 189.20 def. Steve Johnson, Suzuki, 6.968, 190.70; Michael Ray, Buell, 6.881, 192.36 was unopposed; LE Tonglet, Suzuki, 6.988, 190.54 def. Scotty Pollacheck, Buell, foul; Eddie Krawiec, Harley-Davidson, 6.932, 192.14 def. Adam Arana, Buell, foul; John Hall, Buell, 6.898, 192.00 def. Shawn Gann, Buell, 7.003, 189.63; Hector Arana Jr, Buell, 6.893, 192.80 def. Wesley Wells, Suzuki, 7.474, 139.54; Hector Arana, Buell, 6.909, 193.88 def. Joe DeSantis, Suzuki, foul; Matt Smith, Buell, 6.900, 193.10 def. Chaz Kennedy, Buell, foul; QUARTERFINALS — Krawiec, 7.018, 189.47 def. H. Arana, foul; Smith, 7.012, 190.32 def. Hall, foul; Tonglet, 6.987, 190.19 def. Arana Jr, foul; Ray, 6.960, 191.38 def. Hines, 7.008, 190.30; SEMIFINALS — Krawiec, 7.005, 190.40 def. Tonglet, 7.002, 189.34; Smith, 6.991, 190.43 def. Ray, 7.003, 189.95; FINAL — Smith, 6.936, 193.32 def. Krawiec, 6.965, 190.43.
MOHNTON, Pa. — Final sportsman results from the 29th annual Auto-Plus NHRA Nationals at Maple Grove Raceway. The race is the 22nd of 24 in the NHRA Mello Yello Drag Racing Series:
Top Alcohol Dragster — Robin Samsel, 5.568, 248.25  def. Brandon Booher, 5.512, 258.71.
Top Alcohol Funny Car — Paul Noakes, Ford Mustang, 5.612, 258.12  def. Mickey Ferro, Chevy Monte Carlo, 5.599, 258.52.
Competition Eliminator — Russell Joly, Chevy Cobalt, 7.407, 165.66  def. Calvin Hill, Pontiac Grand Am, broke.
Super Stock — Dan Fletcher, Chevy Camaro, 10.575, 112.20  def. Tom Sheehan, Chrysler Sebring, foul.
Stock Eliminator — Sal Biondo, Ford Mustang, 9.839, 123.94  def. Don Pires Jr., Chevy Nova, 11.607, 99.36.
Super Comp — Patrick Myers, Dragster, 8.908, 169.38  def. Tom Stalba, Dragster, 8.935, 167.57.
Super Gas — Charlie Kenopic, '27-T Ford, 9.926, 144.94  def. Iggie Boicesco, Chevy Corvette, 9.954, 163.26.