Ford fans can now take their 2015 Mustangs to the next level of sound and performance with the announcement of Kook's 2015 Mustang 5.0L complete exhaust system.
Kooks' 2015 Mustang 5.0L long tube stainless steel headers come with either 1 ¾ inch or 1 7/8 inch primaries and 3 inch collectors. Other features include:
· 3/8 inch laser cut flanges in the headers
· Welded oxygen sensor bungs with scavenging spikes in the collectors
· Ball-and-socket connections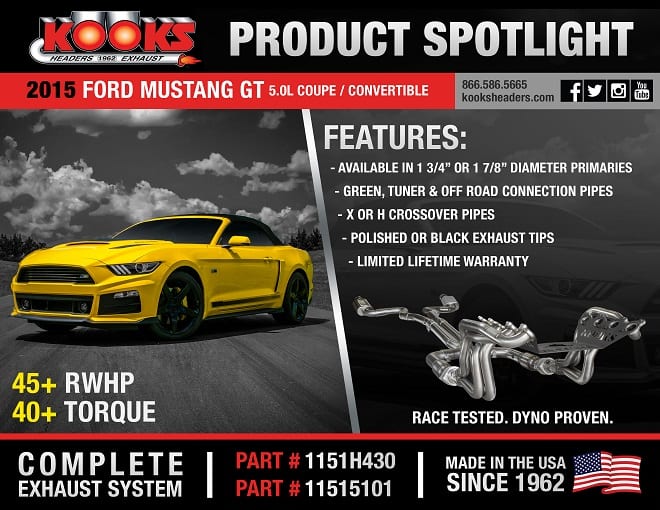 Kooks' new 2015 Mustang headers will connect at the factory connection point with OEM-style connection pipes, and will be available in Kooks' ultra high-performance "GREEN" cats, standard race cats or without cats, providing customers with the performance gains from running Kooks' long-tube headers, while still allowing customers to run another manufacturer's cat-back exhaust system or factory exhaust. The new 2015 Mustang 5.0 exhaust system is made from Kooks' CAD-designed and CNC mandrel-bent 304 grade stainless steel tubing and, as all Kooks products, manufactured right here in the USA.
Always with an eye toward innovation, Kooks also released a new COMP specific 3-inch complete exhaust system, designed to fit the Coupe and Convertible. Once the Kooks long-tube headers are installed, a full 3-inch Race X-Pipe connect to the headers with a ball-and-socket style connection. The 3-inch mandrel-bent 304 grade stainless steel tubing carries the exhaust all the way to the rear end, where a pair of Kooks' 3-inch oval race mufflers hang, complimented with a set of 4-inch double wall tips and available in black or polished finishes.
Kooks also offers an axleback system that connects to the OEM-factory tail pipes with a cut-point. This axleback exhaust comes with 4 inch tips (polished or black) and 3 inch oval race mufflers.
For more information on the new 2015 Ford Mustang 5.0L complete exhaust system from Kooks, or any of their other innovative systems, call 704-768-2288 or go to www.kooksheaders.com.