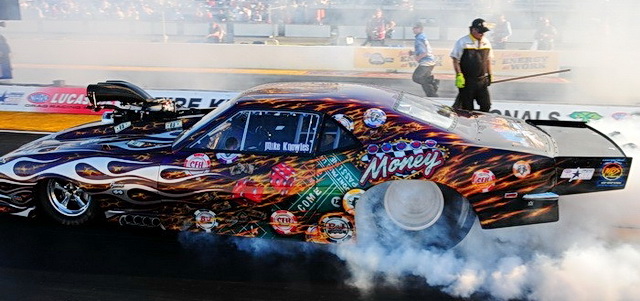 Mike Knowles finished the 2012 NHRA PRO Modified season one round out of the top 10 in points, but for 2013 Knowles and his "Blown Money" team are excited at the prospect of a much higher finish.
"Last season had it's ups and downs but in the end everything worked out for the best. My crew is much tighter knit now and I feel more in control. Me and my guys work very well together," Knowles said.
"We've finished some off-season testing a few weeks ago and ran into some issues with the car but, were able to regroup and get things figured out. That's a good feeling. It really gave us some confidence and excitement heading into this year."
The "Blown Money" team had hoped to debut their new Tim McAmis Race Cars "Mob Themed" Mustang this weekend, but will instead shoot for a Charlotte debut if testing goes well before then.
"The new car is something else," said Knowles. "I can't wait to get the fans reaction to it. The attention to detail from Tim and his guys is second to none. It's really a unique piece."
Knowles and the rest of the NHRA Pro Modified Series teams are scheduled for three qualifying sessions, with two on Friday (1:45 p.m. and 4 p.m.) and one on Saturday (11:30 a.m.) prior to the first round of eliminations (1:45 p.m.).
Racing will continue with the second round on Sunday during professional eliminations.
(Photo by Roger Richards/CompetitionPlus.com)