Keith Haney's Mid-West Pro Mod Series aims to please racers and tracks
The Midwest is packed full of Pro Modified drag racers, but the area's doorslammer competitors typically need to travel across the country to go racing. Longtime Oklahoma businessman and racer Keith Haney is changing that, though, with the formation of the aptly named Mid-West Pro Mod Series (MWPMS). He's trying to make the series a win-win-win situation for racers, tracks and the organization.
"The main reason for starting it is because we really don't have anything in this area that brings all the Midwest guys together and gets them racing," Haney says. "All the Midwest guys are driving over to the East Coast to go racing, and it costs a lot of money to get there. We decided we're going to do a series close to home."
Mid-West Pro Mod Series rules were designed to allow racers who use almost any power adder – Roots-type blowers, screw-type superchargers, turbochargers, ProChargers, and nitrous – to race together in one unified class.
"They can all run together, we just had to come up with a common rule. So I got together with Wes Buck, Jeff Pierce, Billy Stocklin, Jim Sackuvich, Brandon Pesz, Todd Martin – a whole group of guys – and asked what we can do to bring them all together, and this is what we came up with. Since then, we've had three races. We've had full fields at almost all of the races, and the fields are full of color. You'll have a Jim Sackuvich running an Eddie Rogers. Now everybody's together.
"The fans in the stands, in my opinion, they don't know the difference between a nitrous car and a screw car, other than one has a hood scoop and the other has a (injector) hat sticking out. All they care about at the end of the day is close racing," Haney continues.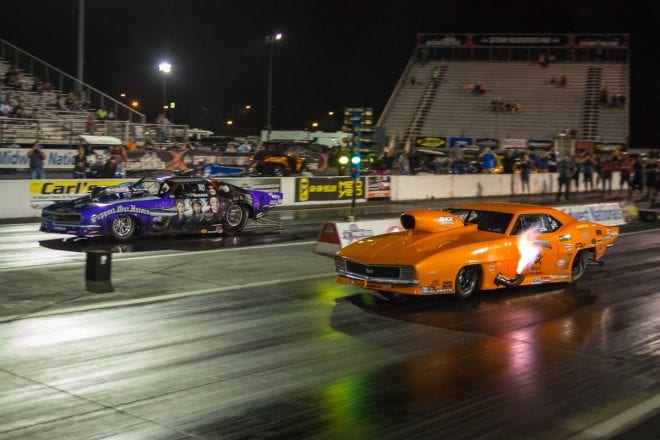 Mid-West Pro Mod Series events are actually races within a race. Promoters and tracks looking for a thrilling Pro Mod show to join established events, such as PSCA's Heads-Up Hootenanny and San Antonio's Night of Fire, can book in the Mid-West Pro Mod Series to compete at their events. The unique format is an added benefit for MWPMS racers, as the guaranteed run schedule is tighter than most other series.
"It's a day-and-a-half show," Haney says. "You go to a race in most sanctioning bodies – and it doesn't matter if it's PDRA, NHRA or IHRA – the shows are four days long. The guys have to be off on Wednesday to get to the track on Thursday, then they're not traveling home until Sunday after the race. Well, with us, we want to do the show in a day and a half. Friday night, qualifying starts at five or six o'clock. You get two (sessions) then, one on Saturday morning, you go racing Saturday evening. We're the main show, so you go racing Saturday evening, you're done at 10 or 11, then you're driving home. We only race within bigger events, but we ask that they start us at a certain time and we try to end at a certain time."
As the co-owner of Tulsa Raceway Park, Haney took into consideration the track owner and promoter viewpoints when he was developing the MWPMS format. With multiple 2018 races already booked at St. Louis and Tulsa, as well as ongoing negotiations with four other tracks, Haney's plan to make the series attractive to race venues seems to be working.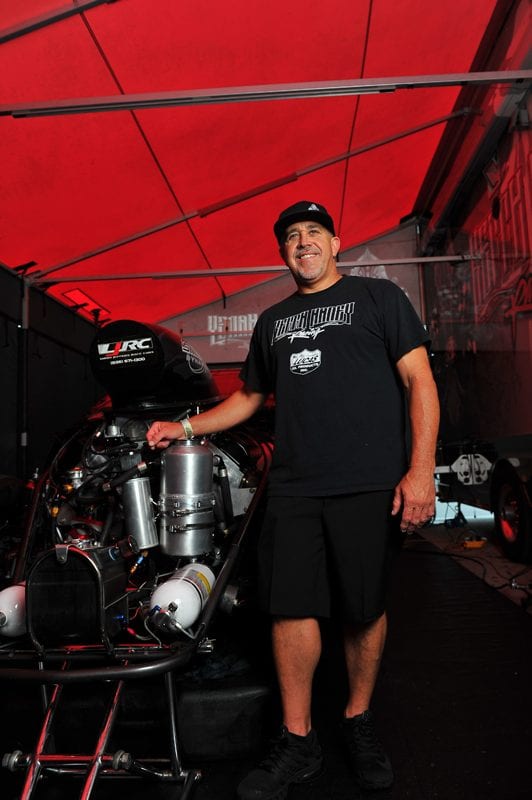 "We have tracks from all over calling us because we actually take nothing from the gate, nothing from the concessions – we want nothing – and we're bringing money. The tracks just need to guarantee a purse. We bring in cash sponsorship money, that way the tracks don't have to go find it. We make it so the tracks can make money. That's all we care about – we want the race tracks to make money and for us to have a great, safe place to race," Haney says.
Haney's unique perspective as a racer, business owner and track owner have guided him throughout the development of the Mid-West Pro Mod Series. Along with his passion and the support from race teams, tracks and sponsors, it's that perspective that will likely ensure the success of the series. For Haney, it just makes too much sense.
"I think this is what should happen with racing," Haney states. "If they've already got an established event at a race track, why wouldn't you want to be in that event? Like San Antonio, I'm excited about going there. None of us have raced Pro Mod there. We're going to be a part of their Night of Fire, which is their biggest race of the year. They're going to have people in the stands, which will make our sponsors happy. The track is going to be happy. They're adding another show into their show. We're partnering with these tracks. We're giving them a live feed and a tech guy. We give them $5,000 this year, but it will be $6,500 next year. They get all the entry fees, crew pass fees, spectator fees, concessions – what track wouldn't want that? We do (at Tulsa), and that's why we have two races here. It makes it where you can cover your expenses, the tracks get to make a little money, and guess what? They're begging you to come back next year."