After a successful debut of his "Enigma" Drag Radial car, Keith Haney Racing will unveil his "Notorious" race car for the PDRA Nationals next weekend at Osage Casino Tulsa Raceway Park. Keith Haney will drive Notorious, his Lucas Oil/RacingJunk.com Chevrolet, at the PDRA opener March 10-12.
"We've all gotten away from what racing was," Haney said. "Back in the day, you had 'the Snake' and 'the Mongoose' and you knew them by their cars. You had names for all these cars; it wasn't the driver. Fans knew the car by its name.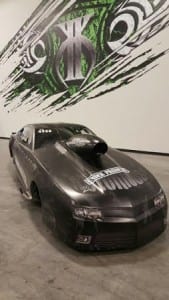 "We did that with our Drag Radial car, the Enigma. We brought Enigma out, and on the side of the car was, 'You Know My Name.' Was it a little cocky? Absolutely. Did we go shock the Drag Radial world? Absolutely. Are we the fastest nitrous car in the world? Yes. That's what I want to do with Notorious."
Haney's Notorious is a nod to days gone by in drag racing, and he hopes to make it as famous as any race car.
"Naming a car is what it's all about," Haney said. "We want the fans to know the car. There are a million Camaros, but there's only one Notorious. We need to remind ourselves that the fans go for the cars, just like in NASCAR. It's the M&Ms car, the Lowe's car. We've gotten away from that in drag racing.
"The new Notorious is going to come out and shock the Pro Nitrous world. We're going for a championship, we're going for records, we're going for No. 1."
Haney has two of the best tuners in the world working on Notorious, Brandon Pesz and Brandon Switzer. Plus, his Keith Haney Racing team is second to none.
"I've got the Dream Team tuning," Haney said. "How great is it to have the first race of the year at Tulsa, where I'm a co-owner with Todd Martin. What a great way to start the year."
Sponsors Lucas Oil, RacingJunk.com, Switzer Dynamics, Pesz Performance & Tuning, Reher-Morrison, M&M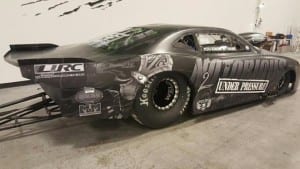 Transmission, and Menscer Motorsports Shocks help make Haney's PDRA team possible, and he continues to appreciate the support from wife Dee and children Timber, Alex, Madison, and Logan.
Haney's family of car dealerships includes Suburban Chevrolet in Claremore, Okla.; Classic Chevrolet in Owasso, Okla.; Miami Auto Supercenter in Miami, Okla.; Regional Hyundai in Broken Arrow, Okla.; Nissan of Muskogee, Okla.; and Bartlesville (Okla.) Chrysler Dodge Jeep Ram.