POMONA, Calif. – The season-opening event of the 2019 NHRA Mello Yello Drag Racing Series concluded Monday at the 59th annual Lucas Oil NHRA Winternationals presented by ProtectTheHarvest.com at Auto Club Raceway at Pomona.
Doug Kalitta (Top Fuel), Robert Hight (Funny Car) and Bo Butner (Pro Stock) were victorious in their respective categories at the first of 24 events during the NHRA Mello Yello Drag Racing Series.
Kalitta took home the Top Fuel victory with a 4.014-second pass at 269.29 mph in his Mac Tools dragster to defeat defending world champion Steve Torrence in the final round. Kalitta defends his Winternationals crown after winning the season-opening event last season as he now increases his career win total to 45.
"This place has always been very special for me," Kalitta stated. "To have success here is more than you could imagine for me. We were fortunate to get by the Capco guys but we're going to keep at it. We are really hungry, and we've got Rob (Flynn, crew chief) and Troy (Fasching, crew chief) doing just an awesome job. I'm just really proud of them."
After qualifying in the seventh position, Kalitta took down Scott Palmer, Billy Torrence and Terry McMillen on the road to victory.
S. Torrence was the No. 1 qualifier for the event and defeated Steve Faria and Mike Salinas as he recorded his seventh consecutive final round appearance and 15th of his career.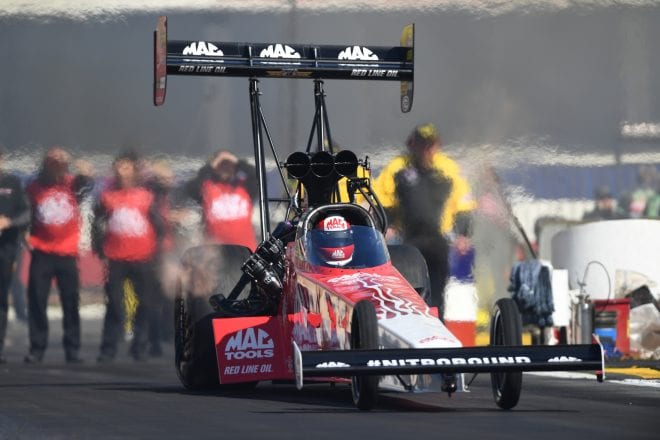 Hight powered to the win with a run of 3.881 at 329.75 in his Auto Club of Southern California Chevrolet Camaro SS to take down Jack Beckman. After finishing as the runner-up at the 2018 Winternationals, Hight emerged victorious at the season-opening event for the fourth time in his career.
"You look at the Funny Car class and I think its tougher this year than last," Hight said. "To come out here and be the No. 1 qualifier and win the race, that's quite an accomplishment for this team. We're going to have to be on our game all year long."
Hight sat atop of the category following qualifying and took down Terry Haddock, Bob Tasca III and team owner John Force en route to his 46th career win.
Beckman reached his first final round since Brainerd last season, after besting Phil Burkhart Jr., Cruz Pedregon and teammate Tommy Johnson Jr.
In Pro stock, this was a rematch of the 2018 Winternationals. Butner defended his event title against teammate Jason Line after driving to a 6.522 at 211.59 run in his Jim Butner's Auto Chevrolet Camaro. He locked in his eighth career victory.
"We were really struggling during qualifying," Butner stated. "I definitely feel like we had the best car all four rounds today. I feel like we have a great car and team this year and I'm looking forward to keep going. We're going to try and win them and the KB Racing team is as strong as ever."
Butner entered eliminations third in qualifying before taking down Alan Prusiensky, Chris McGaha and two-time world champion Erica Enders.
The 2019 NHRA Mello Yello Drag Racing Series season continues with Magic Dry Organic Absorbent NHRA Arizona Nationals at Wild Horse Pass Motorsports Park Feb. 22-24.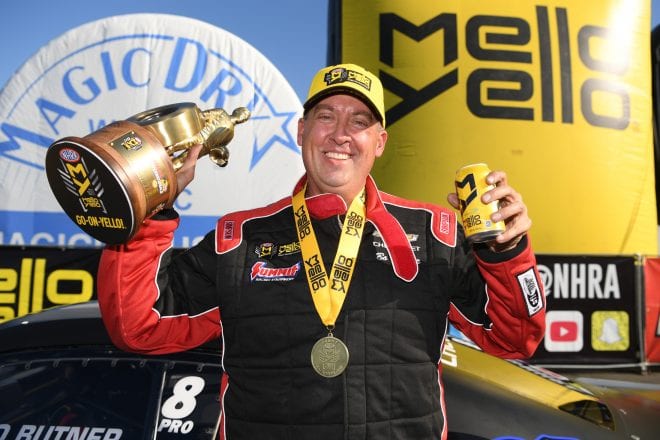 Monday's final results from the 59th annual Lucas Oil NHRA Winternationals presented by ProtectTheHarvest.com at Auto Club Raceway at Pomona. The race is the first of 24 in the NHRA Mello Yello Drag Racing Series:
Top Fuel — Doug Kalitta, 4.014 seconds, 269.29 mph def. Steve Torrence, 4.008 seconds, 240.25 mph.
Funny Car — Robert Hight, Chevy Camaro, 3.881, 329.75 def. Jack Beckman, Dodge Charger, 3.880, 329.42.
Pro Stock — Bo Butner, Chevy Camaro, 6.522, 211.59 def. Jason Line, Camaro, 7.160, 148.58.
Top Alcohol Dragster — Shawn Cowie, 5.156, 279.73 def. Matt Sackman, 5.299, 276.18.
Top Alcohol Funny Car — Brian Hough, Chevy Camaro, 5.412, 269.56 def. Doug Gordon, Camaro, 5.498, 273.22.
Top Fuel Harley — Doug Vancil, Weekend, 6.277, 227.34 def. Tii Tharpe, JTR, 6.322, 223.50.
Competition Eliminator — Scott McClay, Dragster, 7.251, 179.06 def. Doug Lambeck, Sunfire, 8.449, 157.83.
Super Stock — Ryan McClanahan, Chevy Cobalt, 8.414, 157.03 def. Rick McKinney, Olds Cutlass, 10.597, 122.81.
Stock Eliminator — Doug Gibson, Chevy Camaro, 10.702, 113.32 def. Duane Dickens, Chevy Nova, 11.525, 112.09.
Super Comp — Kevin Wright, Dragster, 8.908, 175.14 def. Val Torres Jr., Dragster, 8.916, 166.91.
Super Gas — Pete Zak, '27-T Ford, 10.732, 107.74 def. Evan Kowalski, Chevy Corvette, Foul – Red Light.
Top Dragster presented by RacingRVs.com — John Taylor Jr., Dragster, 7.105, 191.24 def. Zach Sackman, Dragster, 6.256, 221.85.
Top Sportsman presented by RacingRVs.com — Bart Smith, Chevy Monte Carlo, 6.976, 194.83 def. Mike Ferderer, Pontiac Grand Am, 7.061, 194.83.