Justin "Lil' Country" Swanstrom had a lot of eyes on his tangerine orange Speed & Truck World '14 Camaro as he made his Radial vs. the World debut at the U.S. Street Nationals at Bradenton Motorsports Park last weekend. The 22-year-old former no-time grudge racing star confirmed his own confidence and proved his haters wrong when he qualified No. 2 in a field of radial veterans and notched a first-round win.
"Having run no-time, I've always known what I could run," Swanstrom said. "Did I think I would go that fast down there? Probably not right out of the gate. But I had a lot of people say that I wouldn't qualify in Radial vs. the World, that when I switched over I would be a class filler, I would be wasting my time. I had a lot of doubters and a lot of haters that were against me."
Swanstrom wasted no time proving his place in the field. He wheeled his Pat Musi Racing Engines 959ci-powered "Alcatraz" Camaro to a 3.726-second blast at 195.10 mph in the second and final qualifying session to qualify No. 2, missing the top spot by two thousandths.
"For me to go down there and bust out that 3.72, it shut a lot of people up," Swanstrom said. "I knew I would do all right, but I didn't think I would do that good, that fast."
Moving into eliminations, Swanstrom lined up alongside Paolo Giust and his Jim Salemi-tuned, supercharged "Black Betty" '69 Camaro. Giust was back in action after coming in contact with the retaining wall during Friday's lone qualifying session.
"I knew he had rubbed the wall Friday night, but he had potential to run low .70s, so I didn't take him lightly," Swanstrom said. "Going into that first round knowing we ran the .72, I told Dad (Corey "Big Country" Swanstrom) we were just going to run the same number, try to cut a light and see what happens. Paolo ended up running an .80 and we ended up going .73."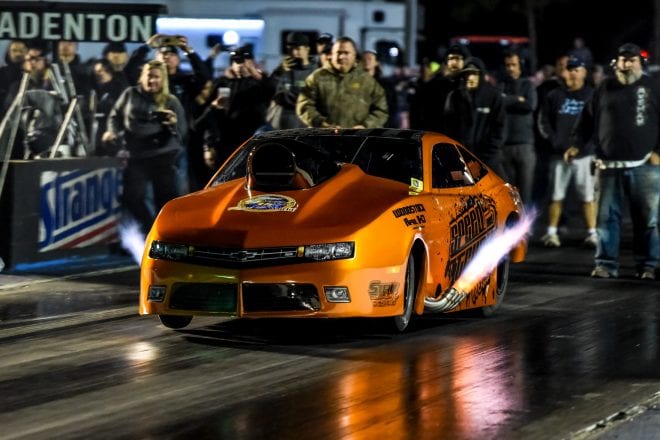 Radial vs. the World veteran Mark "Woody" Woodruff was waiting for Swanstrom in the second round. Swanstrom left first with a sizable holeshot advantage, but the cold Florida track wasn't holding his nitrous-assisted power as Woodruff went on to run a 3.769 at 209.79 in his turbocharged Corvette.
"I tried to just duplicate and race the track," Swanstrom said. "I thought that would be a number to win. We went out there and .7 seconds into the run it just kicked the tires."
Still, Swanstrom was understandably satisfied with his first outing in one of drag racing's most competitive classes.
"It was an honor just to run with those guys," Swanstrom said. "You had the best in the business there: Woody, (Mark) Micke, DeWayne Mills, Stevie Jackson. To be able to just run with those guys is an honor to me. I've always wanted to run Radial vs. the World. And to be able to qualify up front and go past first round, I was happy with the weekend.
"I'm just now getting my feet wet. I'm getting ready for Georgia in a couple weeks. I feel good about going to Radial vs. the World and I feel good about the year."
Swanstrom's next shot at Radial vs. the World glory will come at Donald "Duck" Long's Lights Out 10, Feb. 13-17, at South Georgia Motorsports Park in Valdosta, Ga. His debut performance has him believing even better numbers are right around the corner.
"Jamie Hancock holds the record for nitrous cars (3.68) and (Jeff) Naiser is No. 2 with a 3.722 and now I've been 3.726. I'm knocking on their door," Swanstrom said. "At Lights Out I plan on taking both of them out as the quickest nitrous car in the world. I'm pretty confident going into that race. Hopefully we'll go rounds and maybe we'll get lucky and we'll win it."
Beyond Lights Out, Swanstrom and his Zephyrhills, Florida-based team have big plans for their Radial vs. the World rookie season. Swanstrom has partnered with Mike Stavrinos of Speed & Truck World in Fort Lauderdale. In addition to applying the new look on the Camaro, Stavrinos will also share the driver's seat with Swanstrom.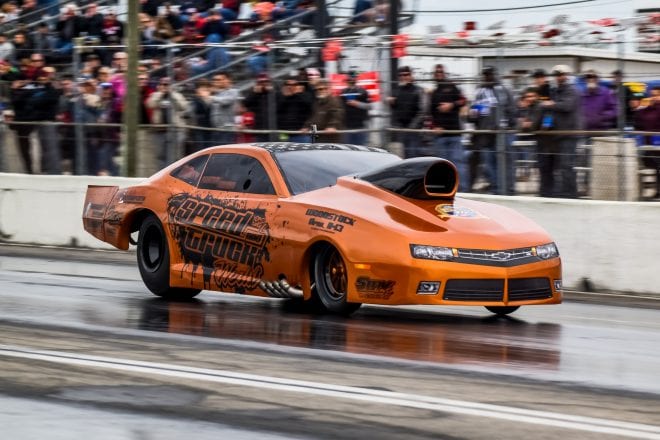 "I'm going to run Lights Out and he's going to drive at Sweet 16," Swanstrom said. "We're just going to switch off throughout the year. It helps us both out and it helps me tremendously with parts and being able to afford this big-ass hobby I got. It will also help out when he's driving and I get to get behind the computer with my dad and I get to learn more also."
Swanstrom said he was blown away by the support he's received as he makes the switch from big-money grudge racing to Radial vs. the World. His sponsors include Team Z Motorsports, Santhuff's Shocks, Carolina No-Time Productions, Fast Forward Racing Engines, Bell Groves Enterprises, Payso Productions, Signature Metal Fab Racing, R&R Fabrications and Stav Ink.
"My car is like a rolling billboard right now – I got stickers everywhere," Swanstrom laughed. "But I have a lot of support coming from the no-time world, a lot more than I thought I would get. I appreciate everyone who's come on board for 2019."
Photos by Chris Sears