Justin Swanstrom sits in his pit area at Darlington Dragway with his feet kicked up in a fold-up tailgating chair. Condensation drips from the cold Gatorade bottle in his cup holder, but Swanstrom isn't sweating a thing. While announcer Steve Logan makes the call over the PA system for Radial vs. the World competitors to make their way to the staging lanes for the fourth qualifying session, all Swanstrom can do is sit and wait until his grudge race against PDRA Pro Nitrous star Jay Cox. The two drivers are locked in for a big-money race at 2 p.m., one of the numerous high-profile grudge races taking place during the second annual Wooostock event put on by Keith Berry, Lance Stanford and Travis Harvey.
"There's not much I can do at this point," Swanstrom says. "Here in a couple hours I'll get ready to make a shakedown, make sure everything is good to go. Then I'll get ready to go back up there and do my deal at 2 – not a minute later."
Swanstrom and his father, Corey "Big Country" Swanstrom, rolled into the rural South Carolina track early Friday morning after driving through the night from their home in Zephyrhills, Florida. They planned to leave Wednesday night, but a last-minute service call came in to their business, a vacuum and video service that cleans and inspects storm and sewer lines. Upon arriving at Darlington, Swanstrom unloaded his "Armageddon" '04 Mustang and proceeded to make a series of test passes in preparation for his Saturday-night race with Cox, who was brought in to drive and tune Al Boogie's Camaro.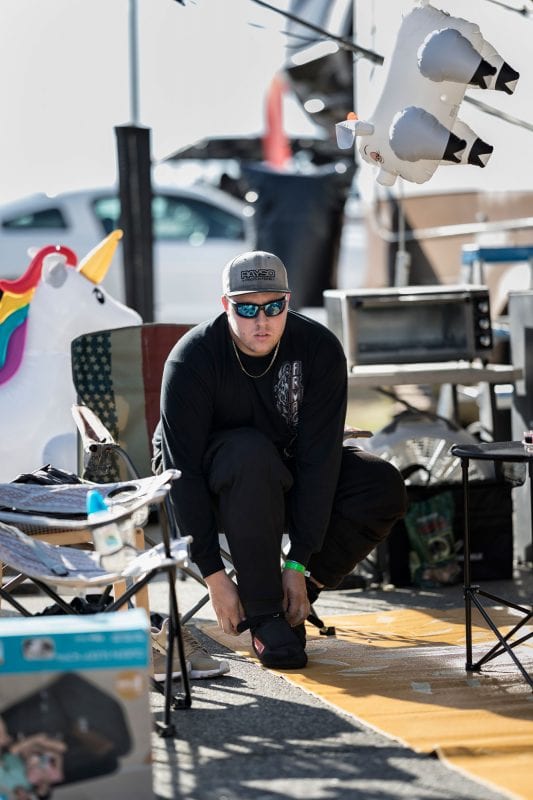 There's an unlikely calm surrounding Swanstrom's pit area. He's mere hours away from making one run worth $10,000. One of the most feared nitrous tuners in the Southeast will be in the other lane. Rather than pacing around frantically or poring over data and pondering a tuneup change that really shouldn't be made, Swanstrom is laid back, chatting with one of his crew guys about a new Instagram post from Demi Lovato, a pop star who he very publicly crushes on. Make no mistake, Swanstrom understands the intensity of what is about to take place. He just doesn't seem to feel the pressure.
"With my grudge races, nothing is guaranteed," Swanstrom points out. "Hell, no race is guaranteed, but I race against the top line of the guys. Me and Dad, our name and all that requires us to race against the top guys. Like this afternoon, I'm going up against Jay Cox in a big-tire wheelie bar car. I'm staying on 315s. This will be a real test of our abilities. I believe I have a good chance. We're going to see what happens. That's just how it goes."
This type of racing is just about all Swanstrom knows. He made his first pass in a '91 Mustang with a naturally aspirated big-block Ford at age 14 after a few years playing around in Jr. Dragsters. He tried running in X275, but the all-motor combination wasn't enough to contend with the power adders filling the class. Swanstrom then upgraded to a nitrous-assisted small-block, but his first big move in X275 came when he purchased the silver "Skywalker" Mustang he used to reset the small-block world record. The need for continuous improvement led the Swanstroms to move on, though.
"That's when we got introduced into grudge racing," Swanstrom remembers. "I was probably 16. I ran 'Skywalker' and another car called 'Hand Me Down', which was the naturally aspirated car that I turned into a small-block nitrous car. I started running grudge races with that. Well, then I graduated from the small-blocks. I sold the 'Skywalker' Mustang and bought Barry Mitchell's old black Mustang that he ran X275 with. That's kind of where my grudge scene really started to take off and people started noticing."
Swanstrom's stable grew again a year later with the addition of "Armageddon", his '04 Mustang motivated by a 959 ci Pat Musi Racing Engines power plant. It's carried the outspoken Floridian to numerous big-money grudge victories, but it too will be replaced soon.
"The only reason I got the car was it was a much lighter car, lower center of gravity – it was just a better car. I had kind of reached the limits of 'Apocalypse' and how fast I could go with it. Now I just bought another car, a 2015 Camaro. That's where we're at right now."
The 22-year-old no-time racing star sat down with DRAG ILLUSTRATED at Wooostock for a wide-ranging interview about his racing for big money, doing things his way and growing with the rapidly expanding grudge racing world. No topic was left off the table and no punches were pulled.
You made your grudge racing debut at Carolina Dragway in 2015. What do you remember about your first grudge racing experience?
I don't know, dude; it was so long ago. I just watched the video the other week when it popped up on my timeline. I was excited because I won. I was young and I was young in that there was nothing really that I could do wrong because I was still learning. I didn't know no better to do something wrong, so I would just know what my routine was to do and that was it – I didn't know anything to go out there and do anything wrong. I ended up winning the race. We actually ran him twice that night, won both times. Track was a little tricky, it got a little loose down there on the other end and shook the tires around 500 feet. Car got sideways and I had to pedal it a couple times, but I won those two races. Ever since then we've just been hooked on grudge racing.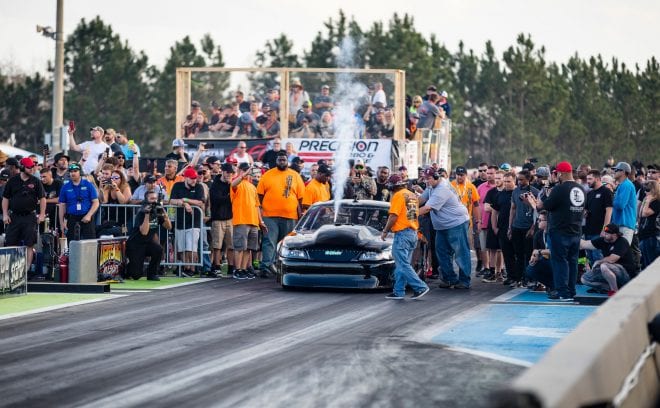 Do you think your youth was an advantage in that your competitors underestimated you?
There's a lot of guys that didn't take us that seriously. When we first came over to grudge racing, I had a lot of haters tell me we didn't belong over here and we wouldn't last or this isn't our kind of racing, blah, blah, blah. To this day, I'm one of the top guys in grudge racing. And I'm very humble – I'm not saying that in a cocky way, I'm just saying I'm still standing tall, me and Pops and my team. We can do what we need to do.
You're obviously very serious about racing, but you're also known for having fun at the track. Your pit area at Lights Out – complete with a bumpin' stereo, an inflatable unicorn and plenty of lawn chairs and coolers – was known as party central in Valdosta.
My crew likes to party. There's times where we drink water, then there's different times. Hell, I went and bought a whole case of moonshine for this weekend. Jay Cox and his crew and my guys, we're all going to have a good time. It's one big family. We're serious when it comes to racing, but at the end of the night, when I say racing's done, let's load the car up and we go ahead and get us some pork chops – those are beers – and we have us a good time at night. Then we get up the next morning and we get back at it.
Your pit was probably the only area in rural South Georgia where Demi Lovato's music could be heard. You even have her name sprawled out in bright pink across the back window on "Armageddon". What's the story there?
I'm a huge Demi Lovato fan. Everyone's seen the deal on the back of the car. I'm hoping one day something will reach out to her. I've gotten somewhat far out to her manager. I'm still trying. There's a lot of people who make fun of me for it and shit, but I have thick skin, so nothing bothers me. If I want it bad enough, I'll end up doing something to make it happen.
You've mostly stuck to grudge racing since making the move from X275, but you did run Outlaw Drag Radial at Donald Long's Lights Out 8 last year. Why did you do that?
The only reason why I went there and ran that was because I had everybody telling me that I went to the grudge racing scene because everybody's slower and I couldn't keep up in class racing. We ended up winning the event – think I went like a 4.16 with 'Apocalypse'. It wasn't for a lot of money. I think it only paid like five or six grand, but the biggest reason we did it was to prove to people that we belong anywhere.
There's a lot of haters out there, a lot of people who don't give us credit, but we stay doing what we gotta do, and that's all it takes. I don't have to hire a tuner to come in and tune my stuff. Dad don't have to hire a driver to come in and do it. If we want to get up and go racing, I don't have to call nobody and make sure I'm able to do anything or get permission to do something. Whenever I'm ready, I'm ready.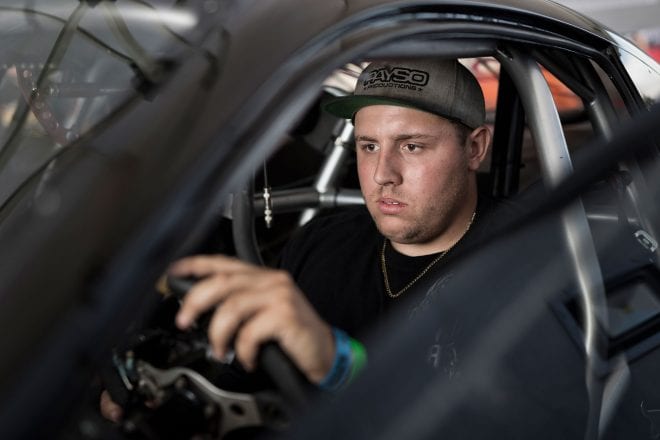 Is tuning something that interests you, or do you leave that to your dad?
I help out a little bit, but he really handles that part. Whenever the car needs to come into the pit, I do all the servicing. I do have a crew: Joey Willard, Sean Burton, Dennis Rogers, Roderick Gregg, Tyler (Swanstrom) and my main man, our little crew chief, Bryan Geisler. They've been with me since the start. I keep my team nice and small. Whenever the car comes into the pits, we turn it all around while Dad goes inside the motorhome and goes over the tuneup. I've gotten to the point now where I can set them guys loose and they can turn the car around and I go up in the motorhome with Dad and we just talk about what we're going to do for the next outing or next race. We come up with a solution and I go out there and make the changes and that's it. Both of our inputs are put in before we go out there and make a deal.
Another area where you work closely with you dad is in organizing the No-Time Shootouts at Duck X Productions' Lights Out and No Mercy races at South Georgia Motorsports Park in Valdosta, Georgia. How did all of that start?
We've always talked about throwing our own race, but I've always told Dad as much as we work and as much as we race, it would be hard to do our own race. I always go to Lights Out just to watch the race because I like to watch the Radial vs. the World guys. Donald Long, he lives 2 miles from my house – him and my dad grew up together. Me and Dad were talking about doing our own race and we decided to ask Donald if he'd be alright if we brought a 29/315 Extreme No-Time class, meaning there's only a couple rules to it. There's No-Time cars only, any chassis you want as long as it's got doors and it's on a 315 tire or smaller. He thought about it for a couple days, called us back and we told him we could get him 16 cars. We got 16 cars to commit. Actually, 18 cars but the two alternates weren't able to race. We ran the first race. Donald actually put five grand of his own money on top of the pot, so I think the pot was for $37,000. We ran right behind Radial vs. the World. I tell everybody, the grudge game ain't no slouch. Those are Radial vs. the World-caliber cars with no time on the board. We ran the first race and everybody seemed to like it.
Within one hour after the race being over with, we had a guy from RPM Transmissions, he called Donald and said he wanted to sponsor five grand for the following race in February. Donald called us, we called the racers and they all said they wanted to do it again, so we went ahead and put the race on at Lights Out. Then Donald came and asked us if we wanted to run a Sweet 16 No-Time Shootout at his Sweet 16 race for Radial vs. the World. We only got 12 cars to sign up for that, but we were still able to run at the Sweet 16.
What is it about no-time racing and the Lights Out spectacle that works so well together?
The reason we were able to get 16 cars in the No-Time thing and it was so successful is because of the environment. That race is so big that everyone wants to be there. Everybody wants to be a part of it. That's why it wasn't that hard to get 16 cars. Hell, we had 16 people with $2,000 deposits put up within 24 hours. And we're going to continue to do it. We're going to have another shootout at No Mercy in October. Same rules, same $2,000 buy-in.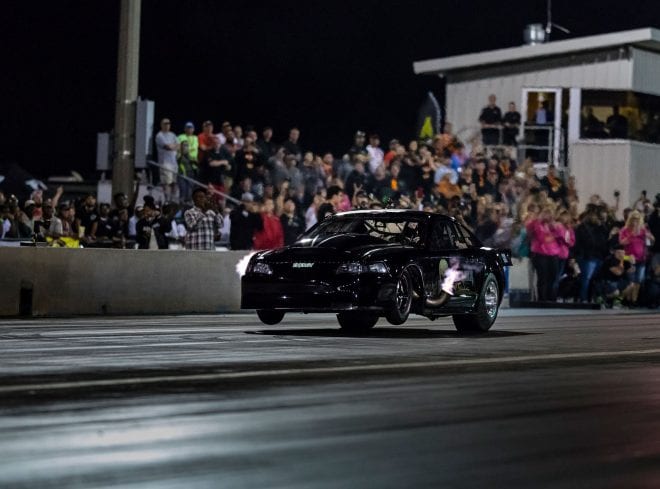 How impressed were you with the fan reception of the No-Time Shootout at Lights Out?
I knew the fans were going to be there. In the no-time deal, these fans travel everywhere to go see these cars. When I go to races wherever, I have a lot of people who come out just to watch me and other guys like Timmy Meissner. It don't matter if it's 500 miles away. They'll travel from state to state to watch us race. I knew the fans would be there. Donald already has a fan base, so his race is already the biggest race in the world. The no-time thing just put a little more icing up on top of the cake. Everything was good. It was nice and smooth, we were able to finish the race and everyone had a good time.
On top of the No-Time Shootout at Lights Out 9, you also took on a few highly-publicized grudge races. Your races with J.R. Gray were major highlights from the event. How did all of that come about?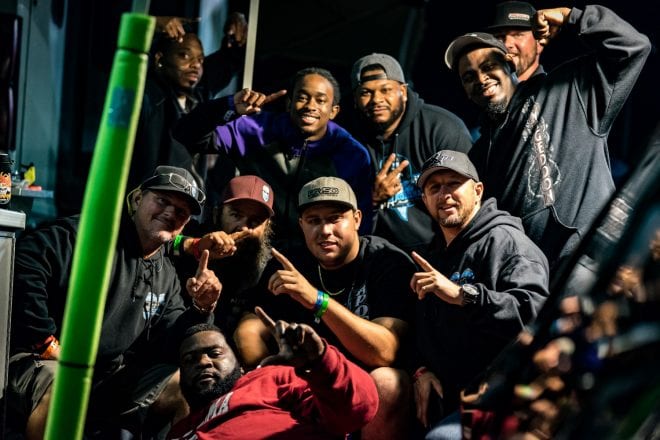 Me and J.R. are actually good friends, but we still race each other. I'd race my own grandma if she had her own car. I'll race anybody, it don't matter. I raced J.R. twice before that race there. I ran him in Michigan last year. I had a hiccup on the line, the car didn't leave. He won that race, took quite a bit of money from me – right around nine grand. That kind of stumbled me because I didn't get a chance to do anything. I ended up running him at Lights Out again. The track was kind of tricky. It had rained the day before, so the track wasn't too good. Me and Dad, we were sitting there trying to figure out what we were going to do to be able to go down the track. We put both our heads together and finally got it. I went out there and went .001 red. I gave the race away – he kicked the tires.
The one that matters was the one to get the Drag Illustratedcover. Wes (Buck) came over and asked me if I'd be cool with the winner getting the Drag Illustratedcover and I told him 'Hell yeah!' J.R. was cool with it, so that's what we did. We ran for that, plus the pot was up to $10,000. We ran the race and I won, so I got to take home the money and get the cover of Drag Illustrated.
This wasn't something that just came up out of nowhere, though, right?
All my races are locked in before I go to the event, unless I'm already at a locked-in event and I just happen to race someone else too. I always have a locked-in race because there's a lot of people who will talk and say they're going to run you, but at the end of the day, unless you've got a locked-in deal, it's all just talk.
Like this race I'm doing today was locked in two months ago. We set up a date and put a deposit up. We got Willie Dog, who is our DP man, so he holds the deposit. We sent two grand to Willie Dog and Boogie sent two grand to him also. Willie Dog holds the deposit money just in case someone doesn't show up. You're supposed to race at 2 o'clock, so at 2:01, if the other dude's not there, there's no fighting or arguing; the DP man just hands the other guy his money.
Most people in drag racing don't necessarily understand how these big grudge races start. Who calls out who? How do you lock in the race and work out the details?
Willie is usually my DP man. There's only a few people out there you can trust – Willie, Mike Hill, Lance Stanford, Jake Harper. You have certain people you can trust to hold all the money. When it comes down to making the final decision if something happens on the track, you've gotta have someone who both teams trust. I call Dog up or Pops will call Dog up and we'll get a three-way call with the other guy. Even if it's on (Willie Dog's) radio show or if it's in private or if we're talking at the track and we lock in a race a month down the road, it's always the three parties getting together to get the agreement down. The DP man writes it all down on paper so there's no confusion when the time comes.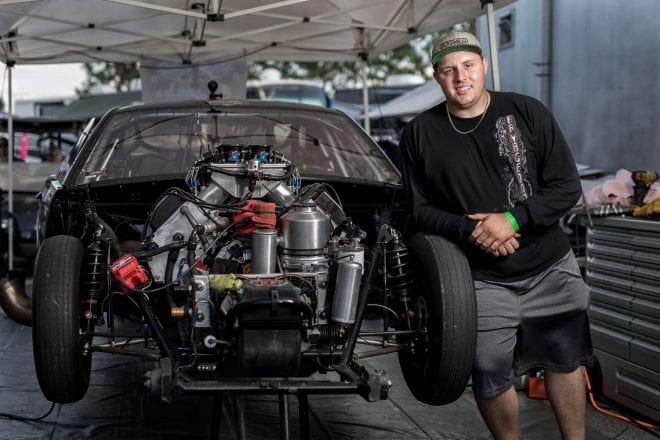 You've talked before about the economics of grudge racing, how it just makes more sense to race one guy for five or ten grand rather than sit at the track for two or three days, make a few qualifying runs and several rounds of eliminations for less money. Can you expand on that?
Well, I always tell people you can lose a lot of money in this game. Knock on wood, I haven't lost more than I've won, but you can lose a lot of money.
You take the Radial vs. the World guys. That's the millionaire club. Those guys have endless pockets and they can do what they want, when they want. Me and Dad, we work hard, and a lot of the other guys in this grudge deal work hard to do what we do and there's a big gamble. But I don't like to go to the event, make three or four shakedowns, then you have to run four rounds of elimination to win, so now you're at eight runs. At the end of the day you're only making three or five grand. Yes, Radial vs. the World pays $50,000 or $100,000, but you're up against the millionaire club. They have an endless budget and three engines sitting in the trailer. It's just not worth it to us.
Yes, I did go run Donald's race, but I was doing that just to prove a point that we could compete and win it. I told everybody we was going to win it and we ended up actually taking the win.
There's no reason for us to go out there and put all those runs and damage on the equipment for that little bit of money when I can go out there and just make one shakedown and make a pass for the same pot. Hell, we're racing a race this weekend where the pot is already at $15,000. I'm making one hit. One pass for $15,000. There's more money in the grudge racing than there is in class racing unless you are running that Radial vs. the World class and you're running up against the best. One day I hope our pockets will allow us to do that. If I was able to get a sponsor or something, I have the equipment and everything to go run up front with those guys. I just don't have the pockets to keep running up front with them.
Whether it's racing at major events like Lights Out and Wooostock or getting exposure on TV shows like Street Outlaws and Grudge Race, no-time racing seems to be at an all-time high. Do you see that being reflected in the fan attendance and car counts at these races?
There's a lot of people coming to the no-time races. It's getting bigger and bigger. The promoters are getting better with the races. They're having more classes so everybody has a place to race. The one thing that's tricky is you have the main promoters like Donald Long, Jake Harper, Lance (Stanford) and Travis (Harvey). Then you have a lot of these other guys that like to run their deal. Payso runs his events up north. You have your main promoters like that who always throw good races, but then you also have other guys who are trying to become promoters or are promoters trying to get bigger. The problem is now everybody is trying to be a promoter. You'll have four or five races within a 200-mile radius. All it does is just split everybody up, but that's what it is and you have to deal with it.
Grudge racing is growing. Tyler Crossnoe is putting on his Outlaw Street Car Reunion race in Bowling Green, Kentucky, and he's adding a no-time deal. Donald Long has been doing it. Lance Stanford and Travis Harvey, they run the Carolina No-Time series. I run that sticker on the side of the car. I help those guys, they help me. The more people work together, the bigger this deal can get.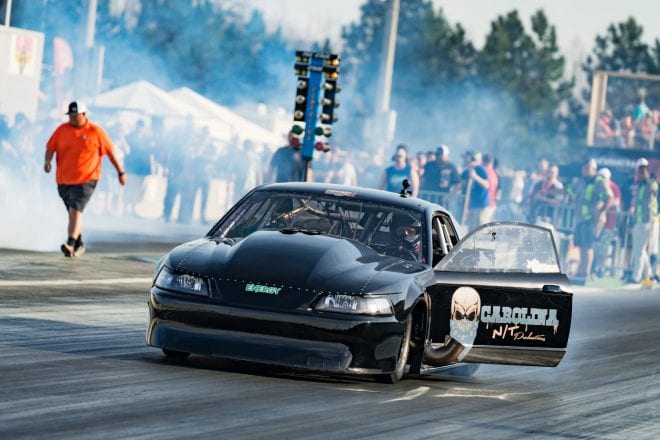 Speaking of the Outlaw Street Car Reunion, that will be the last big race for Armageddon, right?
It's a great-working car. I love it. I've won a lot of races with it, lost some. But my plan is to run a couple more races with it: this weekend, then I'm going to put the car on 28s and go run it in Bowling Green and that's my last race. Me and Dad have already decided we're not going to take on any more races. We're not scheduling more events. I'm going to break the car down, service the engine, put a new crank in it and get everything ready. I have a 903 Pat Musi motor back at the house. I'm going to put that back in
"Armageddon" and I'm going to start getting ready to put this new car together. My big motor will go up in there. I have to do some things to it – change some chassis stuff and get the car rewired, things like that. So it'll be a little while before that car comes out, but I'll have it all ready and tested before Donald's race in October.
Grudge racing doesn't really have any major milestones like class racing – big event wins, elapsed time or speed records or season championships. How do you set your next goal? What's the next step for you?
Man, I really want to go run Radial vs. the World and Pro Nitrous. I'm going to stay in the grudge game, but like I said, our pockets can't keep up with the RVW guys, but if I had a sponsor – and I'm actually talking to somebody right now – my dream is to go run against the Radial vs. the World and Pro Nitrous guys.
This story originally appeared as the cover story in DI #132 in May of 2018.
Photographs by Rick Belden and Randy McCuddy