Five-time world champion Jeg Coughlin Jr. is ready to go back to the drawing board after failing to qualify his JEGS.com/Mopar Dodge Avenger for Pro Stock eliminations early in June at the 43rd annual NHRA SuperNationals at Old Bridge Township Raceway Park.
"We had a tough run," Coughlin said. "We've got the whole puzzle in front of us; we've just had a lot of struggles putting the pieces together the right way."
Coughlin only made it down the track one time under power in four qualifying attempts during the weekend. His lone full pull clocked in at 6.663 seconds at 207.46 mph. The No. 16 qualifier had a best lap of 6.628 at 208.39 mph.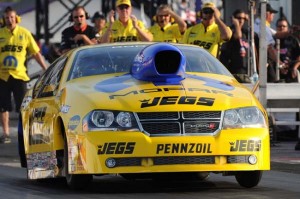 "We changed motors before Q4," Coughlin said. "The other one was down on power after it took two beatings on Friday when we shook the tires both times. It showed in Q3 this morning, when we went down the track but were down about 80 horsepower, which was reflected in our elapsed time."
The Q4 run was almost a carbon copy of the tire shaking runs from Friday.
"I'm not sure where we're going to go from here," Coughlin said. "I think that we'll come up with our most aggressive plan yet. So far we've been taking a wait-and-see approach. I think it might be time to corral the troops up and see where we need to go.
"What we've been doing has not been well-received by the car, and the only thing we can do is work even harder fix it. Drag racing can be humbling. We're putting in the same amount of work it takes to win a championship, which we know from personal experience, we just haven't been rewarded yet."
Coughlin said he's had similar bad starts to the season in the past, so no one on Team JEGS is close to panicking.
"In 2002 we had some DNQs early in the year, and were able to rebound big time." Coughlin said. "There's a lot of racing left in the season, but it's always better to get the ship turned around sooner than later."
Coughlin and the JEGS/Mopar Dodge Avenger's next race is the June 15-17 Thunder Valley NHRA at Bristol Dragway at Bristol, Tenn.
Photos courtesy JEGS