John Force raced to his 149th career Funny Car victory and first in over a year on Sunday at the first stop on the three consecutive race Western Swing at the Dodge Mile-High NHRA Nationals at Bandimere Speedway.
Leah Pritchett (Top Fuel), Greg Anderson (Pro Stock) and Hector Arana Jr. (Pro Stock Motorcycle) were also winners in their respective categories at the 14th of 24 events on the 2018 NHRA Mello Yello Drag Racing Series schedule.
Force was in his 13th career final round at Bandimere Speedway and was pitted against Ron Capps. In his Peak Chevrolet Camaro SS, Force was able to leave the line ahead of Capps for a winning pass of pass of 4.075-seconds at 315.42 mph to the losing run of 4.067 at 308.71. This is his eight win at the facility.
"I found myself with all of the crashes at probably the lowest I've been, probably worse than '05 when I crashed and was fighting to get back," said Force. "The fire is back in me, I'm fighting."
Force became the winningest Funny Car winner at Bandimere Speedway and this is his first win at the facility since 2016. He defeated Matt Hagan, Cruz Pedregon, and Courtney Force to advance to the finals.
Pritchett dominated the Top Fuel category during the course of the weekend en route to her second win of the season and the seventh in her career. Piloting her Dodge Mopar 1320 dragster she was No. 1 qualifier for the second consecutive event and the 10th time in her career. She faced Doug Kalitta in the finals and raced to a winning pass of 3.831 at 316.45 to the losing run of 3.852 at 319.82.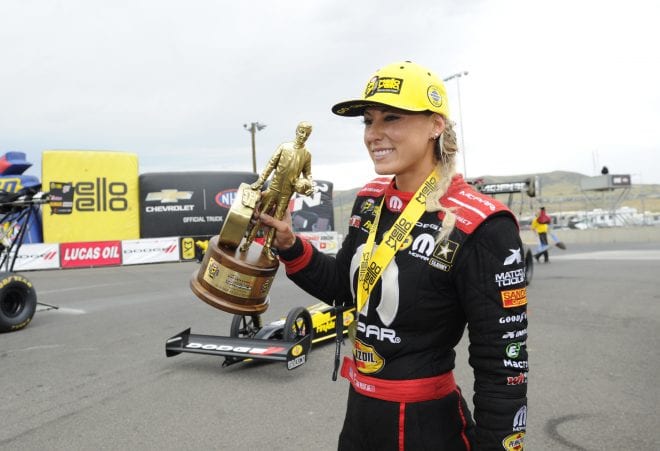 "Our crew has really impressed, attitude of gratitude, as high as the altitude here," said Pritchett following the victory. "They chipped away at it and didn't let themselves get down earlier this year when we were in a slump and they didn't let me get myself down in a slump either. I always have my confidence in them and they have their confidence in me and this weekend we pulled it all together."
Pritchett defeated Terry Totten, Scott Palmer, and Clay Millican for her win at Bandimere Speedway.
In Pro Stock, Anderson raced to his first win of the year, third at the facility and the 91st in his career when he defeated his teammate Jason Line in the finals. Anderson's 6.943 at 196.53 pass in his Summit Racing Equipment Chevy Camaro to the losing run of 6.947 at 196.19 gave him the victory to snap his winless streak. Anderson also retook the points lead in the category.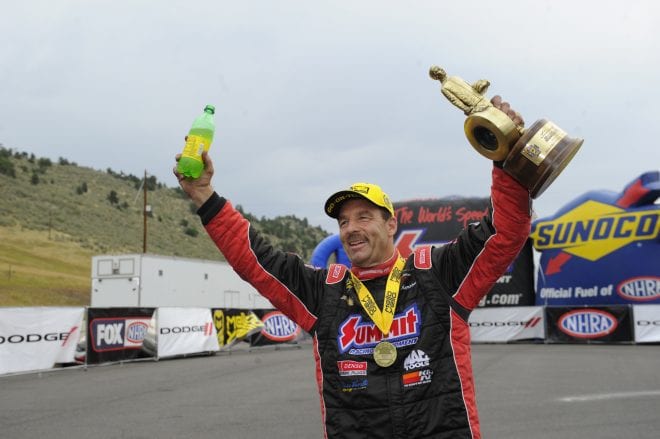 "We have had a heck of a battle this year, we have had great running cars but we have made mistakes on Sunday and haven't been able to close the deal," said Anderson. "The class is so tough right now, it is so hard to win. The bottom line is we haven't put forth our best effort on Sunday, we haven't lost giving it our best shot and today we did."
Anderson defeated Joey Grose, Vincent Nobile, and Jeg Coughlin Jr. to advance to the finals.
Arana Jr. raced to his first win since the St. Louis event in 2015 on his Lucas Oil EBR for his 12th career win when he bested Jerry Savoie in the finals. Arana Jr. was victorious at the start of the race when Savoie red lit. Arana Jr. went on to record a pass of 7.170 at 185.89. This was the first final round of the year for Arana Jr.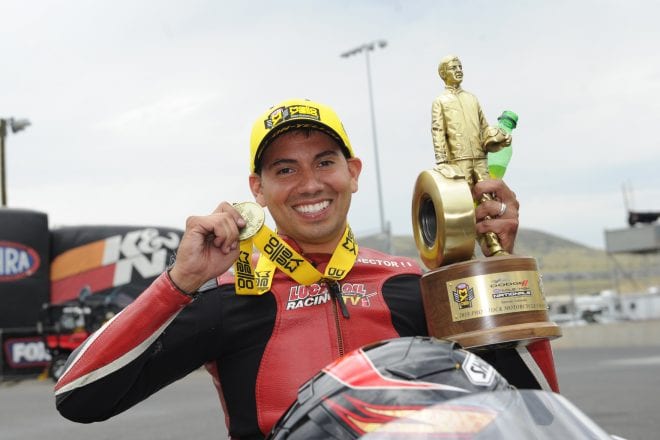 "We have had a fast bike all the time, just been working on consistency and then when the bike was good I was making little errors," said Arana Jr. "Dedication, hard work, and practicing to bring it all together. Finally got over some hurdles over here and now we should be back on track."
The 2018 NHRA Mello Yello Drag Racing Series season continues with the Toyota NHRA Sonoma Nationals at Sonoma Raceway July 27-29.