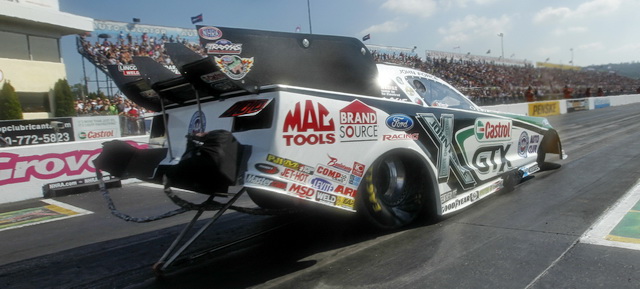 John Force (above) qualified in the No. 1 position and became the new Funny Car points leader on Saturday at the 29th annual Auto-Plus NHRA Nationals at Maple Grove Raceway.
Morgan Lucas (Top Fuel), Jason Line (Pro Stock) and Michael Ray (Pro Stock Motorcycle) also will lead their categories into Sunday's 11 a.m. eliminations as No. 1 qualifiers at the 22nd race of the season and the fourth of six playoff races in the NHRA Mello Yello Countdown to the Championship.
The 15-time world champion moved into the points lead for the first time this season after his time of 3.987 seconds at 323.50 mph from Friday in his Castrol GTX Ford Mustang held up through Saturday's two qualifying sessions. Force went a Saturday-best 4.036 at 315.12 mph during the final qualifying session and now leads Matt Hagan by five points.
Force, who will race Jeff Arend in the first round of eliminations, earned his fourth No. 1 qualifier of the season and 144th in his career. A victory at the historic track would also give Force seven for his career at Maple Grove Raceway, sending him past Angelle Sampey for the track's all-time lead.
"(Crew chief) Jimmy Prock swings for the fence and the guys are really working hard," Force said. "I've got a good racecar right now and what was exciting to me was to see the fans in the stands. It sure feels good to be running well. I struggled as a driver earlier in the year and my guys stayed by me."
Force's daughter, Courtney Force, qualified second after going 4.025 in her Traxxas Mustang. Her speed of 329.42 from Friday was disallowed after a review of the timing data by NHRA officials. Defending world champion Jack Beckman is third with a run of 4.034 at 318.99 in his Valvoline/MTS Dodge Charger, while Hagan will start from the fourth position.
Lucas paced the Top Fuel category with a 3.772 at 314.90 to earn his third No. 1 qualifier this season and 11th of his career in his GEICO/Lucas Oil dragster. Lucas, who is currently fourth in points, will face off with Sidnei Frigo to kick off eliminations. He will also take a strong amount of momentum into eliminations after putting together a Saturday-best pass of 3.787 at 322.19 during the final qualifying session.
"This track just continues to hold up to its reputation," Lucas said. "It's a smooth track and it's just an awesome race track. I'm just happy with going down the track four times, but I'm really happy with having the lowest time two of the four sessions. That's a big deal for us."
Points leader Shawn Langdon qualified second in his Al-Anabi Racing dragster after going 3.776 at 325.14. Tony Schumacher will enter eliminations from the third position after powering his U.S. Army dragster to the finish line in 3.778 at 323.97. Countdown racer Steve Torrence did not qualify for eliminations.
In Pro Stock, Line earned his second top qualifying position of the season and 35th of his career with a run of 6.573 at 210.70 in his Summit Racing Equipment Chevy Camaro on Saturday. Line jumped past Friday's top qualifier Allen Johnson with two stout performances. Line, who is currently third in the points standings, was the only driver to reach the 6.57 mark during Saturday's two sessions and will meet Kenny Delco in the first round of eliminations.
"This has always been a good Pro Stock track and we've had success here in the past," said Line, a two-time winner at Maple Grove Raceway. "It's a big deal for us to be No. 1 and everything matters right now. It shows we have a good race car and this Summit Racing Camaro is running well right now. I like coming up here and it's a big deal to peak at this time of year. We're putting in a lot of effort and hopefully we can have a big day (Sunday). We need a win."
Johnson, the defending world champion, was bumped to the second position after his Team Mopar Dodge Avenger went 6.579 at 210.34 on Friday. Points leader Mike Edwards stayed in third with his run of 6.580 at 210.64 in his Interstate Batteries/I Am Second Camaro.
Ray raced to his third No. 1 qualifier of the season and his career in Pro Stock Motorcycle, as his 6.857 at 193.38 on his Sovereign Star-Racing Buell from Friday couldn't be topped during Saturday's two sessions. Ray, who is fourth in points, is seeking his first career win at Maple Grove Raceway, which would also propel him back into the championship mix.
"We were definitely going after a little bit today, but we had to get some parts ready for (Sunday)," Ray said. "We're exactly where we want to be. I did a couple things on my end to change the reaction time and showed a huge increase, and we're excited for (Sunday). We've got a long road to go to try and get back in this championship."
Hector Arana Jr., who is tied for second in points with his father Hector Arana Sr., qualified second with a 6.862 at 194.55 on his Lucas Oil Buell, squeaking past Arana Sr. and his 6.871 at 195.19. Points leader Matt Smith will start eliminations from the No. 4 position after his Viper Motorcycle Company Racing Buell couldn't improve on Friday's run of 6.889 at 193.10.
(Photos courtesy NHRA/National Dragster; Click to enlarge) 
READING, Pa. — Sunday's first-round pairings for eliminations for the 29th annual Auto-Plus NHRA Nationals at Maple Grove Raceway, the 22nd of 24 events in the NHRA Mello Yello Drag Racing Series.  Pairings based on results in qualifying, which ended Saturday. DNQs listed below pairings.
Top Fuel
1. Morgan Lucas, 3.772 seconds, 322.19 mph  vs. 16. Sidnei Frigo, 3.897, 304.60; 2. Shawn Langdon, 3.776, 325.14  vs. 15. Leah Pruett, 3.869, 319.98; 3. Tony Schumacher, 3.778, 323.97  vs. 14. Terry McMillen, 3.863, 321.50; 4. Brandon Bernstein, 3.788, 324.44  vs. 13. Khalid alBalooshi, 3.843, 320.89; 5. Antron Brown, 3.793, 324.98  vs. 12. Billy Torrence, 3.821, 320.58; 6. Doug Kalitta, 3.808, 322.27  vs. 11. Brittany Force, 3.820, 323.58; 7. Bob Vandergriff, 3.809, 323.04  vs. 10. David Grubnic, 3.819, 322.96; 8. Spencer Massey, 3.813, 319.98  vs. 9. Clay Millican, 3.814, 323.66.
Did Not Qualify: 17. Steve Torrence, 3.996, 311.05.
Funny Car
1. John Force, Ford Mustang, 3.987, 323.50  vs. 16. Jeff Arend, Dodge Charger, 4.188, 305.01; 2. Courtney Force, Mustang, 4.025, 318.54  vs. 15. Blake Alexander, Charger, 4.156, 300.20; 3. Jack Beckman, Charger, 4.034, 318.99  vs. 14. Alexis DeJoria, Toyota Camry, 4.145, 307.02; 4. Matt Hagan, Charger, 4.035, 319.45  vs. 13. Tony Pedregon, Camry, 4.139, 306.88; 5. Johnny Gray, Charger, 4.067, 313.88  vs. 12. Ron Capps, Charger, 4.110, 311.56; 6. Robert Hight, Mustang, 4.072, 315.86  vs. 11. Chad Head, Camry, 4.109, 307.16; 7. Tim Wilkerson, Mustang, 4.072, 312.42  vs. 10. Del Worsham, Camry, 4.084, 313.37; 8. Cruz Pedregon, Camry, 4.077, 311.13  vs. 9. Bob Tasca III, Mustang, 4.081, 313.00.
Did Not Qualify: 17. Paul Lee, 4.329, 287.72; 18. Mike Smith, 6.062, 119.05.
Pro Stock
1. Jason Line, Chevy Camaro, 6.573, 210.87  vs. 16. Kenny Delco, Chevy Cobalt, 6.676, 207.43; 2. Allen Johnson, Dodge Avenger, 6.579, 210.34  vs. 15. Greg Stanfield, Camaro, 6.648, 208.23; 3. Mike Edwards, Camaro, 6.580, 210.64  vs. 14. Steve Kent, Camaro, 6.639, 208.52; 4. Jeg Coughlin, Avenger, 6.581, 209.95  vs. 13. Larry Morgan, Ford Mustang, 6.620, 208.78; 5. V. Gaines, Avenger, 6.586, 210.60  vs. 12. Shane Gray, Camaro, 6.616, 209.65; 6. Richie Stevens, Camaro, 6.587, 210.50  vs. 11. Greg Anderson, Camaro, 6.598, 209.85; 7. Erica Enders-Stevens, Camaro, 6.587, 210.11  vs. 10. Buddy Perkinson, Camaro, 6.591, 210.21; 8. Vincent Nobile, Avenger, 6.589, 209.95  vs. 9. Mark Martino, Pontiac GXP, 6.590, 209.69.
Did Not Qualify: 17. Rodger Brogdon, 6.679, 207.94; 18. John Gaydosh Jr, 6.757, 204.35; 19. Frank Gugliotta, 6.758, 204.85.
Pro Stock Motorcycle
1. Michael Ray, Buell, 6.857, 193.38  vs. Bye; 2. Hector Arana Jr, Buell, 6.862, 195.19  vs. 15. Wesley Wells, Suzuki, 7.139, 187.89; 3. Hector Arana, Buell, 6.871, 195.19  vs. 14. Joe DeSantis, Suzuki, 7.037, 188.36; 4. Matt Smith, Buell, 6.889, 193.49  vs. 13. Chaz Kennedy, Buell, 7.015, 188.17; 5. John Hall, Buell, 6.914, 192.88  vs. 12. Shawn Gann, Buell, 7.010, 191.29; 6. Adam Arana, Buell, 6.934, 192.99  vs. 11. Eddie Krawiec, Harley-Davidson, 6.993, 189.15; 7. LE Tonglet, Suzuki, 6.957, 191.84  vs. 10. Scotty Pollacheck, Buell, 6.980, 190.00; 8. Andrew Hines, Harley-Davidson, 6.973, 189.90  vs. 9. Steve Johnson, Suzuki, 6.975, 191.54.