Just days after the 2016 season started at the NHRA Winternationals in February, veteran Top Alcohol Funny Car driver Todd Veney shocked the alcohol racing world when he announced via his Facebook page that he would not be returning to drive Jay Blake's Permatex/Follow A Dream Camaro. Instead, the second-generation driver accepted an offer to become a pit producer for the new NHRA on FOX broadcast team. Veney always dreamed of being the driver of a top-notch alcohol Funny Car, but the offer to be a part of the historic new television package was too tempting.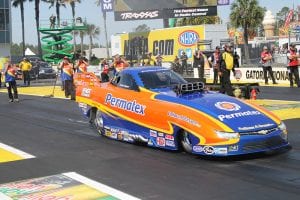 Drag racing is all Veney has ever known, and that's exactly why he was hired as a pit producer despite having zero experience working in television. His father is the legendary Ken Veney, who was the seventh-winningest driver in NHRA history when he retired from driving alcohol cars in 1985. Todd began campaigning his own IHRA Top Alcohol Funny Car in 1995 before switching to NHRA competition in 2000. He drove for Jeff McGaffic from 2000 until 2002 and Blake in 2003, then went back to fielding his own car with Ken serving as the crew chief. The father-son team won the younger Veney's first NHRA divisional event in 2006, but Todd is perhaps best known as the driver of Jay Blake's familiar orange-and-blue Permatex machine since 2010. Driving for Blake, the only blind crew chief in motorsports, Veney won several NHRA divisional and regional events, as well as his first national event last year. He also earned the NHRA East Region championship in 2012.
Outside of the driver's seat, Veney first worked as a writer and statistician for NHRA's in-house magazine National Dragster when he was fresh out of college. It was a job that Veney enjoyed having, and a job that enjoyed having Veney just as much, as evidenced by the crowd of National Dragster staffers and media members who flocked to congratulate their former colleague when he won the NHRA Summit Racing Equipment Nationals in Norwalk last year. Veney has also written on a freelance basis for dozens of publications, companies and fellow racers over the years. He actually already had a full-time job as a technical writer from his home base in Indianapolis when he was offered the FOX gig. At 50-years-old, Veney maintains both positions, traveling to all 24 NHRA Mello Yello Series events and completing his other work when the "LIVE" light goes out. It's an incredibly demanding schedule, and driving one of the best alcohol floppers in the country just didn't fit in.
"The whole thing just came out of nowhere," Veney said in his initial announcement. "I was already entered for all 13 races this season, but you can't work a full-time job, do a TV show every other weekend, and race. This is probably the hardest decision I've ever had to make, but I'm going to be an actual grownup for once and choose work over racing."
Speaking to us between flights on the NHRA's "Western Swing", Todd Veney revealed to DRAG ILLUSTRATED the reasoning behind his decision and what racing life has been like since peeling his name off the window of an alcohol Funny Car and placing it on the back of a producer's chair.
Some people might not know that you previously worked for National Dragster. How did your experience there help you transition to your new role at FOX?
National Dragster was a great job for a kid right out of college, and I did it for almost 20-years because I loved being at the races, right on the guardrail, in the pits, in the tower – right in the middle of everything – getting to know all these people I always looked up to. It kept me in the sport for a long time, and I'd never have been considered for this job if I hadn't done it, but this whole TV deal is completely different. It's just unbelievable – being in the production truck with the producer, the director, all these people and all this equipment. It all just kind of came out of nowhere a couple days before the season started. I didn't know anything. I didn't know the difference between a producer and a director.
Your official title is Pit Producer. What does that entail? What does a usual week or weekend look like for you?
You're responsible for two or three cameras and two or three pit reporters – two for most shows, three when it's live on FOX. Pit producers decide where reporters and cameras go and are a liaison between them and the production truck. You have your idea of what stories to follow and they have theirs, and you go with whatever's best. A lot of times it'll be the same thing because they love it as much as you do and they're following everything just like you are. Sometimes, you tell a cameraman where to go next, and he's already there. You're part of a team. There's TV screens everywhere in the truck, nine voices in your headset at different times, and you're right there when all these decisions are being made and even a part of some of them. The amount of effort and the number of people required to get one little piece on the air is incredible. First day, I thought, 'This is just like drag racing.'
After being involved on the inside now, has that changed the way you view the shows when they air?
Oh, hell yeah. Now when I watch a show, I notice all these things that made it better and know how hard that was to do and who made each thing happen and it just makes you respect them and the whole process even more. There's a lot of talented people on this crew, people who've worked Super Bowls, the World Series, the Olympics. They didn't call me because of my extensive knowledge of live sports TV production. I'm here for what I know about the sport from being around it all my life. Everything happens at the same time – all these people doing all these things all around the track. When Tim Wilkerson hit the wall three pairs into live coverage of the Topeka race, I thought my head was going to explode because when everybody's talking at once, nobody can hear anything. I had no idea how we were going to fill all that time, but everybody stepped up, and when I got home and watched it I thought it was one of our better shows. Live TV is as badass as any pit thrash I've ever been a part of. What you see on TV was not necessarily produced in that order. I was watching Doug Kalitta do a burnout on one screen at Pomona and thought, 'Didn't he already run?' About 10 seconds later, I'm like, 'He did, you dumbass. This is coming off tape. Him coming down the return road on that other screen is live.'
How hard was it for you to make the decision to retire from driving to take the job with FOX?
I never said I 'retired.' I just try not to think about it. The first race Jay ran without me driving – Gainesville – I went down to the starting line to watch first round, saw that car come around the corner and turned right back around and walked out to the parking lot and left. I still go see Jay and all the guys every race, but I definitely haven't been back down on the starting line when that car fires up. If my wife sees something on Facebook, she knows not to tell me. And if there's a Division 1 race or a national event Jay's at – I don't look.
You earned your first national event Wally at Norwalk last year. How rewarding was that, especially with it being a home race?
That was the best thing that ever happened to me on a drag strip. We won a couple other races last year that meant more to me personally because we outran everybody instead of lucking out in the final – but they weren't national events. We qualified No. 3, which I think was my highest ever, but I got a single in the final when DJ Cox shut off on the burnout. It was like a dream. I've had that exact dream … you're in the final, so close, then you wake up. I was like, 'Wait a minute. He really is climbing out of that car, isn't he? This is really happening. Just stage before something breaks.' Never have I been that glad to have a car go back into forward after the burnout. And damn if I didn't break two pushrods right off the starting line.
Now a little over halfway into the season, do you have any second thoughts about the move? Especially when the Alcohol Funny Cars come to the line?
Wanting to drive a race car will never go away – everybody told me that – but if I wanted to race, I guess I'd still be racing. When I told Jay, he asked if I could drive one more time, the Gainesville points meet right before the Gatornationals. I called my dad, and he said, 'What's the best thing that could happen? You won 11 points meets instead of 10? Who cares? You know what'll happen if you get in that thing one more time thinking someone else will be driving it five days later. You'll never want to get back out.'
I doubt anything is ever going to be a bigger thrill than driving, and nothing will ever replace that feeling when you're going across the finish line in the final round, you never saw the other guy, and the chutes hit right as the win light comes on. I had to fight back tears every time. It's like my dad said: There's a million reasons people quit racing, but it's never because they didn't want to drive the car anymore. It was for a reason, and this is a damn good reason. Ten years ago I was 40, still lived in a crummy one-bedroom apartment and drove a piece-of-crap pickup with 200,000 miles on it because every dollar I made went into running my own car. I was broke all the time and never cared one bit. That's what I had to do, to try to get somewhere as a driver. And it's not like I'm anybody, but it turned out better than I thought it would. Now I'm 50. I don't want to do that anymore. I've got a full-time job on top of this. I can't do all three – race, work, and do this on the weekends, and this is the greatest side job in world history. It just felt right from the beginning, like the day I met my wife, or when I went out to California to work for NHRA when I was 22-years-old and didn't know one person. I knew it's what I should do.
Do you think you'll get the itch to drive again, or have you moved on?
I'd love to race right now, but I don't want to quit doing what I'm doing. It was too hard to get here. It took me until I was 30-years-old to save up enough for my first race car, and then when I got it I couldn't afford to run it. I didn't run an NHRA event till I was 35 and didn't win jack shit till I was 40. Jay asked me to be his driver again when I was 44, and whatever was the worst year we had in the last six years was way better than any year I ever had with my car. Hell yes I want to race again. That's never going away.