IHRA Pro Stock racer Cale Aronson, of Chillicothe, MO., is on the road to recovery following a high-speed accident which left him critically injured on April 25, 2015. Aronson lost control of his Mustang during final eliminations at the IHRA Palm Beach Nationals, crossing the centerline before striking the retaining wall and flipping. His car slid to a stop in the Palm Beach International Raceway shutdown area.
Aronson was transported via helicopter to St. Mary's Hospital in Palm Beach, Fla, where he underwent surgery on April 28 to repair damage when he sustained a C-5 compressed vertebra. He is expected to make a full recovery following a lengthy rehab process.
"Basically I had a bruised spine," Aronson explained. "I still have some difficulty with my upper body movement, but everything has a tingling sensation. I have feeling throughout my body."
Once Aronson was stabilized following the surgery, he was transferred to Jackson Memorial Hospital in Miami, and placed under the care of renowned spinal cord injury specialist Dr. Barth Green. Instrumental in the transfer was the Gwynn Family, whose son Darrell, suffered a spinal cord injury during a racing accident in April 1990.
Aronson admits he's experienced a rollercoaster of emotions in the days following his accident.
"My focus hasn't changed much in wanting to get busy in rehab and move forward," Aronson said. "The most important thing to me is taking care of my family. The inability to do that is enough to frighten anybody. At the same time, I always felt this was a condition I'd be able to recover from. Plus I try to never try to think negatively like that.
"I'm not saying I didn't have negative thoughts, but I try to focus more on the how to make the best of any situation. The hardest part is the lack of being able to bond, to wrap my arms around and hug my wife."
Aronson credits wife Tinzy with her unwavering support as an inspiration throughout the ordeal. He also credits the legions of fellow racers and race fans as inspiration.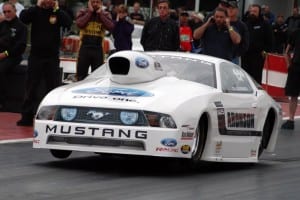 "Your support was a large part of what inspired me to fight through this time," Aronson said. "Some of those who stepped up to show support, you helped Tinzy and myself so much. It's overwhelming when you are a small family team like we are. We do this because we love it. It's important to see what we do is appreciated. It's done a lot for my family."
Godspeed Ministry, the official chaplain for the IHRA, has set up a Bridge the Gap fundraiser for the Aronson Family to help defray medical expenses: http://godspeedministry.com/ws/?p=1287
Care packages and letters may be sent to:
Bupa International Patient Services Center
DTC Building, Ground Floor Central 152 for patient Cale Aronson
1080 NW 19th Street
Miami, FL 33136