Induction Solutions, a leader in nitrous technology, is proud to announce the release of the NPC-2006 Nitrous Power Commander. The latest in progressive nitrous controller technology, this new product combines decades of experience in many genres of drag racing to simplify wiring and tuning in order to maximize the performance of a vehicle.
"We're really proud to bring the NPC-2006 Nitrous Power Commander to the market. We work with racers every day on the tech line and have addressed many problems that they've encountered in the real world and eliminated them with this controller," commented Steve Johnson, president and founder of Induction Solutions.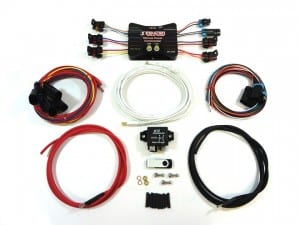 It is no secret that Drag Radial, No Time, and No Prep racing is sweeping across the nation and the NPC-2006 Nitrous Power Commander is a must-have to maximize performance in traction-limited categories. One look at the main control module and the simplicity is quite apparent. By creating a simple-to-install progressive nitrous controller it reduces the risk of wiring issues that will affect performance. As for the NPC-2006 Nitrous Power Commander's progressive control capabilities, the unit has been in testing for the past several months in a variety of applications to ensure the reliability and functionality operate as designed. With bench testing and real-world validation completed, Induction Solutions has released the NPC-2006 Nitrous Power Commander. It carries an introductory price of $825.
Features
• Modern 32-bit ARM microcontroller operating at 72Mhz to provide extremely accurate timing functions and quick response times.
• Integrated data logging feature and viewing via PC software. Data may also be exported to a CSV (comma separated value) format file that can be opened with spreadsheet software and/or imported into other data viewing software.
• USB interface provides easy connection to PC and/or laptop to adjust settings, retrieve data log, and provide the ability to load new controller firmware as updates become available.
• Two stage high-amperage solenoid output drivers integrated into the controller with dedicated heavy-duty power inputs for the solenoids.
• Power and ground connections for the solenoids with weatherproof automotive connectors to simplify installation and reliability.
• The pulse frequency (hertz) of all solenoids can be the same or adjusted individually, if desired.
• Graph style editing of the progressive ramp with individual settings for nitrous and fuel solenoids.
• Integrated +12 volt outputs for each stage that can be used for timing retard activation. The outputs can be configured to operate based on controller inputs, time, engine rpm, nitrous percentage, and fuel percentage.
• One additional output that provides a ground signal when active to control a third stage with no progressive features, shift light, throttle stop, etc. This output can be configured to operate based on controller inputs, time, engine rpm, nitrous percentage, and fuel percentage.
• Integrated rpm window switch functions.
• Transbrake/clutch input activation delay timer. This function can be used to ignore the input while making a shift, after the launch, for manual transmission applications.
• Fully potted with epoxy to protect the unit from vibration and moisture.